Miles Teller's Facial Scars Fully Explained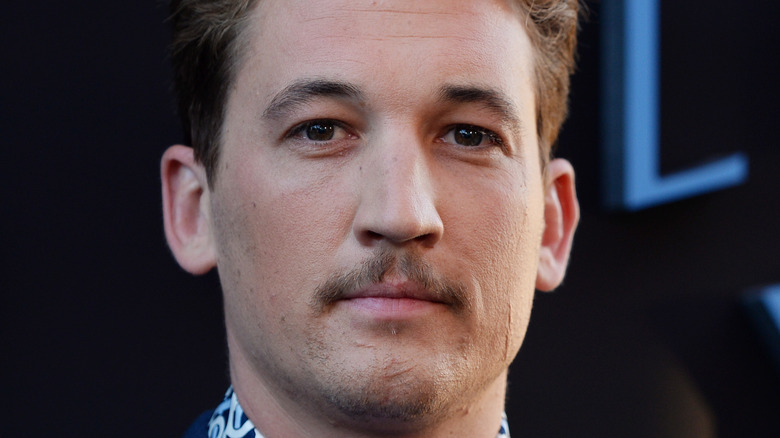 Amanda Edwards/Getty Images
Miles Teller has appeared in some serious commercial and critical hits off the silver screen, including "Top Gun: Maverick," "Whiplash, "Rabbit Hole," and "Footloose." But there was a time when he had a tough time booking gigs as a newbie in Hollywood. As he tells it, it was all down to some very noticeable scars on his face.
"When I first started auditioning, people were straight up just like, 'Yeah, Miles is a good actor, [but it] doesn't make sense for this character to have scars,'" Teller told ABC News in 2016. "They [the scars] used to be really bad." But he credits "Rabbit Hole" director John Cameron Mitchell, who cast him in the breakout role, for realizing that the scars were actually a strength for the character, as his character had been involved in a car crash that happens offscreen. 
It turns out, the story behind Teller's scars is eerily similar to his "Rabbit Hole" character, and involved an incident that almost claimed his life. 
Miles Teller's face was badly lacerated in a 2007 crash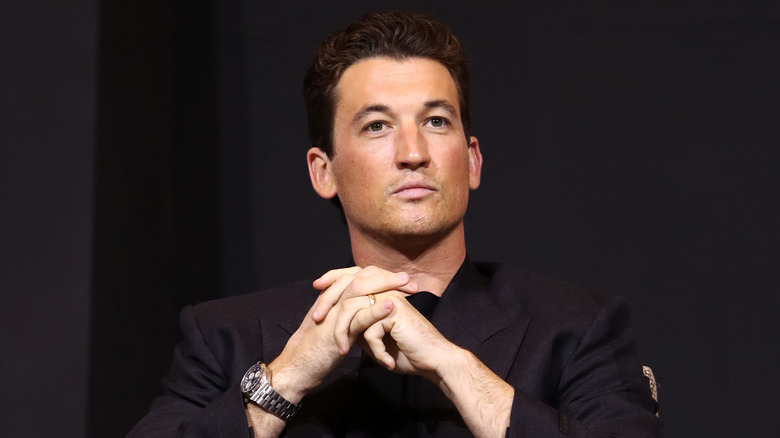 Chung Sung-jun/Getty Images
"War Dogs" star Miles Teller has revealed that he almost never made it as a big Hollywood actor, but not for lack of talent. He was involved in a serious car crash that nearly claimed his life, and thus left his face badly scarred. As he told The Guardian in 2016, he was a passenger in a car with friends in 2007 when it skidded off the road at 80mph and flipped eight times. He was thrown 30 feet from the car and knocked unconscious. 
"Everything was fine except for my face," he told the outlet, noting that doctors told him, under normal circumstances, he'd be dead. Speaking with ABC News, he said the crash left him with facial scars and gravel still embedded in his face to this day, along with a broken wrist and 20 staples holding his shoulder together. 
Luckily, after playing opposite Oscar winner Nicole Kidman in "Rabbit Hole," his scars proved an asset for other roles, as it did in 2013's "The Spectacular Now" where a character is hit by a car, and "Whiplash" which also includes a collision scene where Teller's car rolls with him inside it. 
While the scars from the 2007 crash are slowly healing with laser treatment, it would seem car accidents, and facial trauma, would turn up in his life again years later.
Miles Teller got into another serious crash in 2016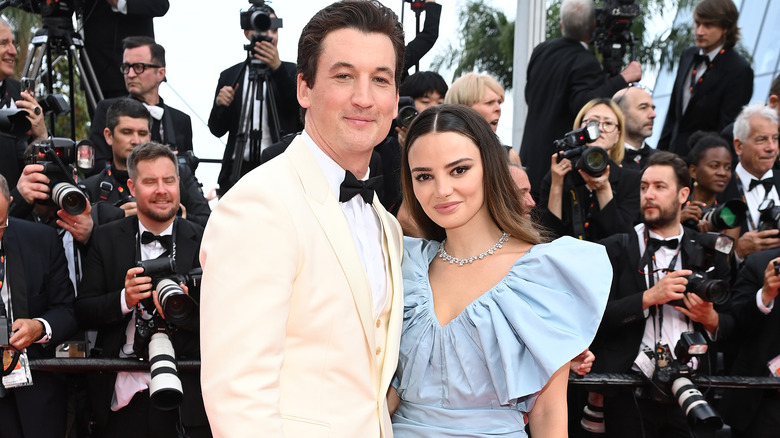 Pascal Le Segretain/Getty Images
In 2016, Miles Teller found himself in yet another scary and dangerous collision on the road, when his Ford Bronco, carrying him and then-girlfriend (now wife) Keleigh Sperry was cut off by an Uber driver, per E! News. The Bronco flipped, but luckily both Teller and Sperry walked away from the crash with only minor injuries. "Happy we could walk away," he tweeted at the time to reassure fans he was okay. 
TMZ reported at the time that the "Fantastic Four" actor was so enraged by the incident that he shouted expletives at the other driver and allegedly had to be restrained from hitting her. Pictures of the crash published by the outlet reveal a pretty scary crash, and TMZ later obtained the 911 call where Sperry can be heard calling emergency services to the scene. 
While the 2016 crash was unlike his 2007 crash in terms of injuries, Teller's valuable kisser received further damage when he was reportedly punched in his face in 2021 while in Hawaii. The alleged attacker was said to be his wedding planner who claimed he was owed $60,000 for the Teller-Sperry nuptials in 2019.