The Desire James Caan Expressed One Year Before His Death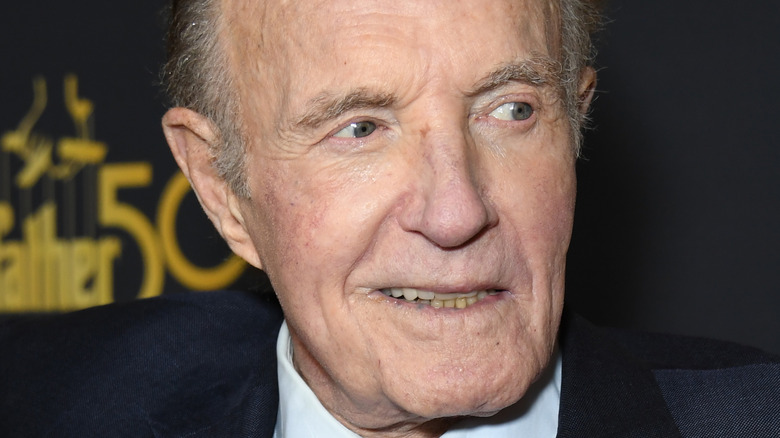 Jon Kopaloff/Getty Images
Hollywood is still reeling over the tragic death of actor James Caan, who died on July 6. Caan's family confirmed his passing through one of Caan's latest favorite forms of communication: Twitter. Caan was active on the platform in recent years, even earning the nickname "America's Twitter grandpa," and fans took notice — particularly how he ended every post with "End of tweet." When his family confirmed his death on the social media platform, some fans probably couldn't help but smile at the inclusion of "End of tweet."
The actor, best known for portraying Sonny Corleone in 1972's "The Godfather," somehow eschewed typecasting and played a variety of notable roles throughout his lifetime, per Rolling Stone: a revenge-seeking cowboy in "El Dorado," a football player with a terminal illness in the 1971 television movie "Brian's Song," a career criminal attempting one last score before going straight in "Thief," a vulnerable romance novelist held captive by a psychotic Kathy Bates in "Misery," a gangster paying to sleep with a gambler's wife in the 1992 comedy(!) "Honeymoon in Vegas," and the estranged father of one of Santa's helpers in the holiday classic "Elf." Caan told CBS Sunday Morning, "I fought to always never be the same person. I mean the fun of being an actor is being somebody else for three months."
And yet Caan still didn't feel satisfied. Though he died at age 82 and has more than 137 credits on his IMDb page, there was still more Caan wanted to do.
James Caan never wanted to quit acting
Though he played many interesting roles over his 60-year career, with at least one credit every year from 1961 to 1983, James Caan took a hiatus from acting between 1983 and 1987, while he recovered from substance use and grieved the death of his sister from leukemia, per Los Angeles Times. "Sometimes it takes terrible things in your life to make you realize what's really important," he said then. "I realized that passion is the most important thing in my life. And I had lost that passion about the movie business." He returned in 1987 following a similar schedule: at least one credit, often more, nearly every year between 1987 and 2021 — even releasing projects during the shuttered pandemic. And yet, despite all these disparate endeavors, in a July 2021 interview with CBS Sunday Morning, he still felt unfinished.
"I want to do a good piece of work. I'm frustrated, I'd love to do a real character thing," he told host Ben Mankiewicz. "I can't take it easy. To me, I enjoy working. I love to work with good people. I have more fun when I'm working, and I have a lot of laughs. And I get respect too sometimes."
Caan worked until his death at age 82, appearing in the 2020 television movie, "JL Family Ranch 2," and the 2021 comedy, "Queen Bees," opposite Ellen Burstyn in a sort of assisted-living "Mean Girls." He'll return to his gangster roots in the 2023 film "Fast Charlie," currently in post-production.
James Caan didn't like where movies were headed
Though James Caan clearly expressed his desire to never stop working, it was less clear what roles he still hoped to play. "I always look to do something different," he told the Los Angeles Times in 1990. But there were certainly movie genres he repudiated when he returned to the screen in 1987.
"I also think one of the reasons for the self-induced hiatus was that it was better than having to act in that whole spree of kid movies going on," Caan said. "I just didn't see myself being a goonie, or captain of a spaceship." We all know now what a juggernaut "Star Wars" has become, and the writing was long on the wall when installment three, "Return of the Jedi," premiered in 1983. According to Filmsite, all but three of the highest grossing box office films for that decade were special effects blockbusters, including "Raiders of the Lost Ark," "Ghostbusters," "Back to the Future," and "Batman." Caan had already turned down roles in "Star Wars," "Superman," and "Close Encounters of the Third Kind," per Mental Floss.
The '80s also ushered in the era of coming-of-age teen films like John Hughes' "Sixteen Candles," "Stand by Me," and "The Goonies," and Caan knew his brand wasn't in demand then. "I think the directors were taking themselves way too seriously," he said. "And it's my belief that they would hire actors who didn't distract from either their prowess or the special effects."