Steven R. McQueen Was On This Popular Teen Drama Before Chicago Fire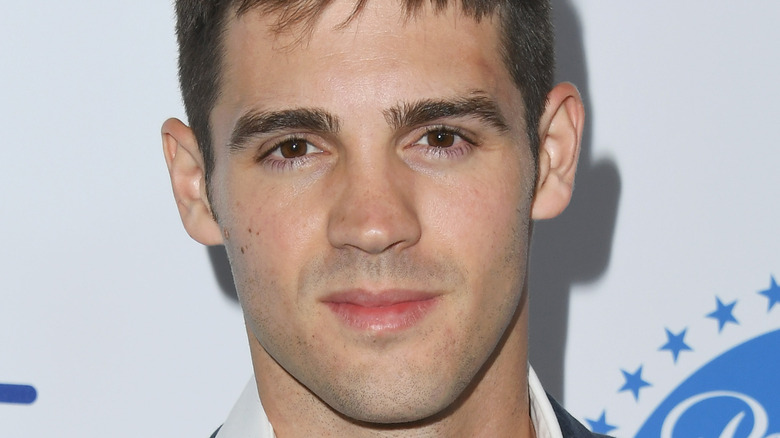 Jon Kopaloff/Getty Images
Actor Steven R. McQueen has a history of landing roles on prominent television series from early on in his acting career. The performer has a talent for acting in his blood, as his grandfather is the late legendary entertainer, Steve McQueen. In 2014, Steven spoke to The Wrap about how watching his grandfather's movies inspired him to pursue acting as well. "I was like, 'Wow, this guy's pretty cool. Maybe, I want to give this a shot,'" he said. 
In 2010, Steven opened up to Seventeen about his love for performing and how he "couldn't see [himself] being anything else" besides an actor. "I think the beautiful thing about acting is you don't really know who you are," Steven said. "You're able to be whatever you want any day during the week." His interest in acting led to Steven beginning his professional roles with a part in the series, "Threshold," in 2005, when he was just a teenager. He then played a recurring character on the drama series, "Everwood," and later earned the part of Jimmy Borelli in "Chicago Fire." Prior to this gig, however, Steven appeared in a fan-favorite teen series that helped further his career.
Steven R. McQueen played Jeremy Gilbert in The Vampire Diaries
Years before audiences grew to know him as his "Chicago Fire" character, Jimmy Borelli, actor Steven R. McQueen played a large role in the popular drama series, "The Vampire Diaries." McQueen portrayed character Jeremy Gilbert in the long-running show for six years, but eventually left the part behind in 2015. He later returned for the show's finale episode in 2017.
In 2015, McQueen talked to Just Jared about how he felt after he had finished his final taping for "The Vampire Diaries." He said, "... A lot of the people on the cast, crew, the writers, they are family at this point ... It's tough to say goodbye. But in the other regard, it's exciting. It's exciting to see what comes next." 
The same year he left "The Vampire Diaries," McQueen would go on to earn a spot in "Chicago Fire." He told Viben on Films in 2016 that he felt compelled to play Jimmy because "he is a character trying to do good" who "wants to be a hero and [is] willing to put his life on the line to do so." McQueen would play Jimmy for a time before branching out into more roles.
Steven R. McQueen moved on to movie roles
After Steven R. McQueen left "The Vampire Diaries," he decided to join the "Chicago Fire" cast as character Jimmy Borelli. During a 2015 Showbiz Junkies interview, McQueen expressed how he enjoyed playing a variety of emotions in the show. "... Since this is a newer character for me, I kind of like [that] I get to see more parts of Jimmy with every episode," McQueen said. "So I'll see like some episodes where he's just a super nice guy and some moments where he kind of snaps, and it's fun."
In 2016, after 25 episodes on the show, McQueen departed "Chicago Fire." That same year, executive producer Michael Brandt explained to TV Line that the decision was plot-driven and related to Jimmy's clashing with Chief Boden. "With Jimmy's character, it just felt like he needed to stand up for what he believed in, but Boden needed to stand up for what he believed in, and those two things couldn't live together," Brandt said. "It was driven by the story and who the characters have evolved into." Since leaving "Chicago Fire," McQueen has shown his acting range with some recent film roles, such as playing lead parts in the Hallmark movie "Home by Spring" and the 2020 western, "The Warrant," per IMDb. There's no word yet on McQueen's next acting venture, so time will tell when this talented star may return to the screen!