What's The Real Meaning Of True Love By Kanye West? Here's What We Think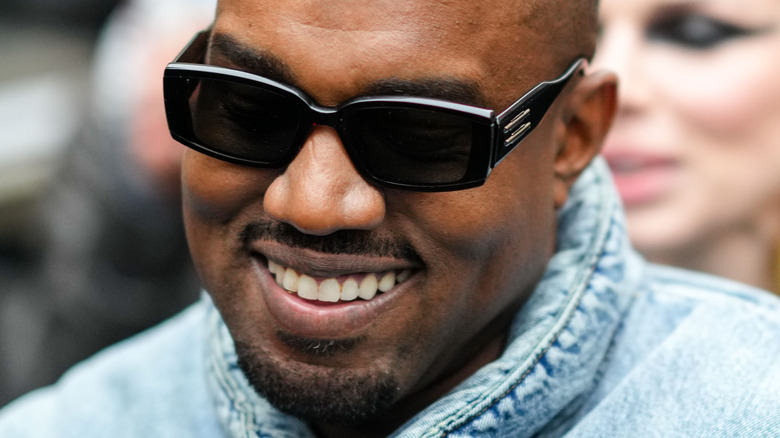 Edward Berthelot/Getty Images
Long before "True Love" was widely released, fans could smell the drama coming just from the "Donda 2" tracklist. Kanye "Ye" West's love life became a public spectacle in 2022, with the rapper engaging in constant and public beef with ex-wife Kim Kardashian and her new beau, Pete Davidson. When he announced a song on his upcoming album would be called "True Love," fans geared up for the impending roast.
"If kanye drops 'selfish' and 'true love' on Spotify uncensored ill beat skete myself and remarry him and kim for the freeskies," one Twitter user wrote. "Skete" is, of course, the unflattering nickname Ye coined for Davidson during one of his frequent Instagram tirades against the comedian. Although the posts have since been deleted, Lad Bible memorialized one of the captions in which Ye penned, "UPON MY WIFE'S REQUEST PLEASE NOBODY DO ANYTHING PHYSICAL TO SKETE IM GOING TO HANDLE THE SITUATION MYSELF." 
As Fader recounts, "True Love" was first released to Ye's streaming service in May 2022, and its lyrics didn't disappoint. However, it quickly becomes clear that Ye isn't just rapping about romantic love, and the feature of late rapper XXXTENTACION only adds more nuance to the track.
Kanye raps about his kids in True Love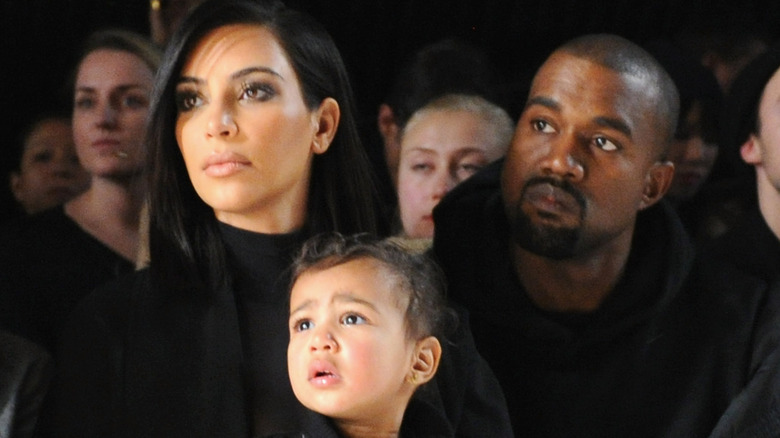 Craig Barritt/Getty Images
While there are obvious allusions to Kanye "Ye" West's former relationship with Kim Kardashian in the "True Love" lyrics, the rapper's love for his children takes center stage. As Parade notes, the couple had four children together: North, Saint, Chicago, and Psalm. Though their one-of-a-kind names are left out of the song, it does contain lines (via Genius) that acknowledge Ye's status as a father, including, "Wait, when you see the kids? I'll see y'all tomorrow." 
Most specifically, Ye seems to add fuel to the ongoing custody battle between him and his ex-wife. He raps, "Wait, when I pick 'em up, I feel like they borrow / When I gotta return them, scan 'em like a barcode / Wait, no hard feelings, but these feelings hard though." These lines are slightly more subtle than the caption of a now-deleted Instagram post by Ye. Seemingly upset by an alien pin on his daughter's backpack, Ye wrote (via The Shade Room), "This was on my daughters back pack when I was 'allowed' to see her last week This is why I go so hard for my family ... As the priest of my home Don't worry Northy God is still alive." Kardashian replied, "Please stop with this narrative, you were just here this morning picking up the kids for school." 
The shade throughout the song is undeniable, but it takes on a somber tone. After all, Ye's children aren't the only ones acknowledged in the track.
The song features the late XXXTENTACION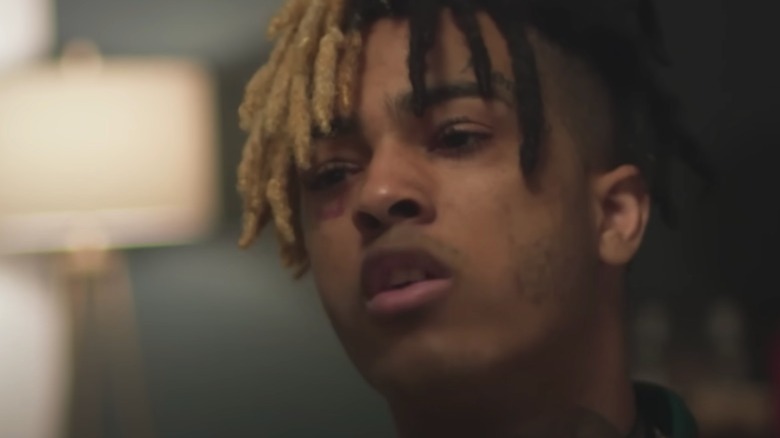 Hulu/YouTube
Although XXXTENTACION died in 2018, Kanye "Ye" West's choice to feature him posthumously on "Donda 2" gave fans another opportunity to appreciate the artist's tremendous talent. John Cunningham, a friend and collaborator of X, gave insight into how the song came to be in a press release (via Billboard). "Ever since X first started singing 'True Love' around the house in early 2018, it stood out to both of us as a special song," he said. The rapper didn't get a chance to finish the track before his death, but Ye helped to bring it all together. 
"It felt like the song was always meant to be finished by him," Cunningham shared. In the chorus of the song, X croons, "True love shouldn't be this complicated / I thought I'd die in your arms, I thought I'd die in your—". In the touching touching refrain, X's contribution is echoed by lines from Ye, directed at X's son, "Daddy's not gone, you see the light on / Daddy's at home, tell Gekyume." 
According to XXL, Gekyume is a name that X coined himself, which he defined to mean "a different state" or the "next universe of thought." Tragically, X died before his girlfriend, Jenesis Sanchez, had given birth to his boy. The inclusion of his son's name in the song adds to the legacy that X leaves behind, and reinforces family as the real meaning of "True Love."