How Maya Hawke Influenced Her Stranger Things Character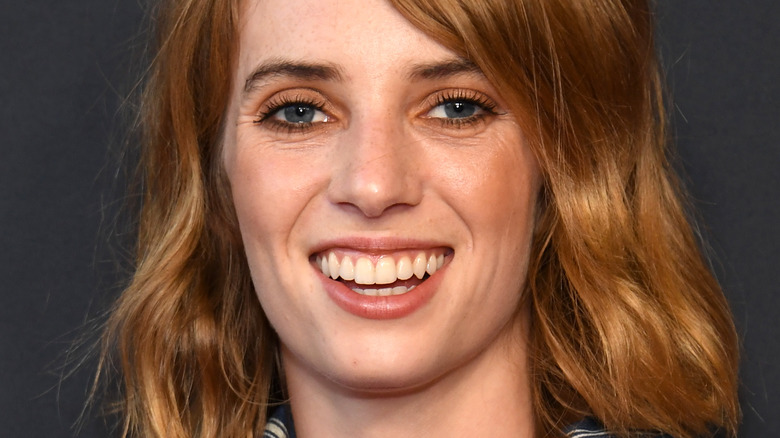 Jon Kopaloff/Getty Images
Since dropping on July 1, viewership time for "Stranger Things" Season 4 Volume 2 has already hit 1.1B hours, and the show "sits as the No. 1 series on the Most Popular English TV List," per ScreenRant (as of this writing). In other words, it feels like the whole world has already binge-watched "Stranger Things." In fact, TechRadar reports that it's broken records left and right — second only to mega-popular horror-thriller series "Squid Game."
Odds are, you already know that "Stranger Things" is about a group of teenage kids intent on saving their town of Hawkins, Indiana from otherworldly monsters. While the gang consists of fan-favorite characters like Steve Harrington (Joe Keery), Mike Wheeler (Finn Wolfhard), Dustin Henderson (Gaten Matarazzo), Max Mayfield (Sadie Sink), and Eleven (Millie Bobby Brown), a teenager named Robin Buckley (Maya Hawke) joined the motley crew back in Season 3. Robin played a vital role in saving the world — prior to Big Baddie Vecna's arrival on the scene — and instantly endeared herself to fans in the process.
The daughter of Hollywood royalty Ethan Hawke and Uma Thurman, Hawke isn't a newcomer on the acting scene. Previously she appeared as a flower child in Quentin Tarantino's "Once Upon a Time in Hollywood" and starred as Jo March in the 2017 "Little Women" miniseries, via IMDb. Still, it's her work in "Stranger Things" that's really put her on the map. Therefore, it feels kismet that the character of Robin was reworked to better suit Hawke's unique persona.
Robin Buckley is just like Maya Hawke IRL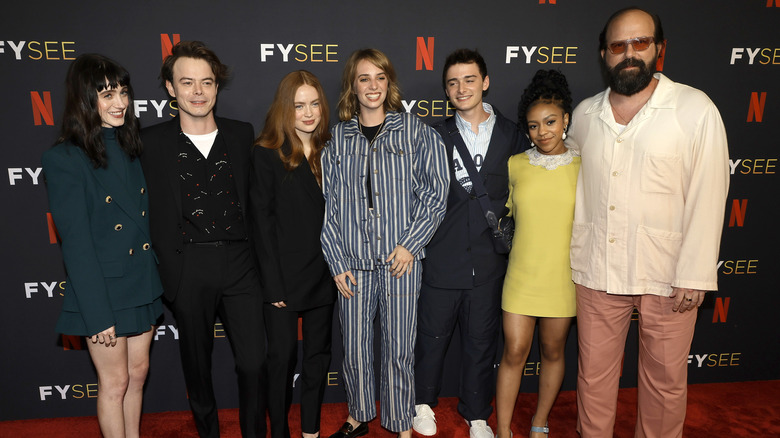 Kevin Winter/Getty Images
Since debuting on "Stranger Things," Maya Hawke established a pattern of fast-talking speech that sets her character, Robin Buckley, apart from others. Robin will often hilariously monologue about why the gang's plan is or isn't a good idea, and her nervousness leads her into long-winded, one-sided convos. It's an endearing quirk, but one that showrunners Matt and Ross Duffer only wrote into the character after spending time with Hawke. "They are such good writers," the actor gushed on "The Tonight Show Starring Jimmy Fallon."
She explained that the Duffer Brothers had noticed her habit of talking really fast on set when she was nervous, and then spun it to their advantage. "They wrote me so much dialogue this season," she said. "And they were like, 'No, no! Don't worry. You'll do it in two minutes. You'll do it real fast.'"
Apparently, Hawke's true personality helped flesh out Robin, who was originally thought of as a "sarcastic, bored with her life, down to earth, Madonna wannabe, cool girl from school but that no one notices," Hawke told WWD. But as Hawke took on the role, she bled into Robin more and more. "I'm a super joyful, exuberant person, especially on set; I bring a lot of energy, maybe from nerves or something, but [the Duffer brothers] kind of tapped into that and then started to write the character more along those lines," Hawke shared. The result is a character fans love obsessing over.
Maya Hawke wants people to empathize with Robin's sexuality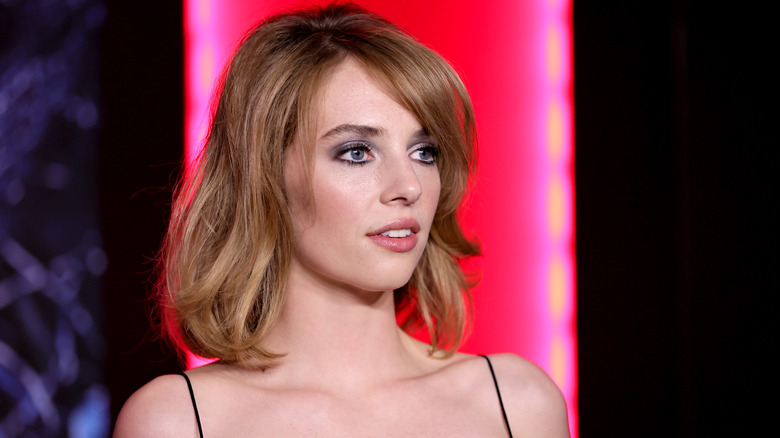 Theo Wargo/Getty Images
Speech patterns aside, Maya Hawke put her personal stamp on the character of Robin Buckley in more ways than one. Fans know that she is Steve Harrington's sidekick — and as the town's ladykiller, there was speculation over whether Robin and Steve would ever get together in the show. But Robin put the kibosh on a possible romance between the two of them by revealing that she likes girls, not boys. 
Apparently, the twist re: Robin's sexuality was a decision that Hawke and the Duffer brothers agreed upon together. "Throughout filming, we started to feel like she and [Steve] shouldn't get together, and that she's gay," the actor told The Wall Street Journal in 2019. "Even when I go back and watch earlier episodes, it just seems like the most obvious decision ever."
Robin's sexuality wasn't decided on right away, but something that became clear once Hawke put her spin on the character. "It was kind of a collaborative conversation, and I'm really really happy with the way that it went," she said in an interview with Variety. "Sometimes we can have empathy for people on screen that we wouldn't normally have empathy for in real life," she added, speaking on the scene in which Robin comes out. "If I can hope for anything, it's that maybe some people fell in love with Robin and that helped them fall in love with girls who love girls and boys who love boys."