The Truth About Why Anna Wintour Always Wears Sunglasses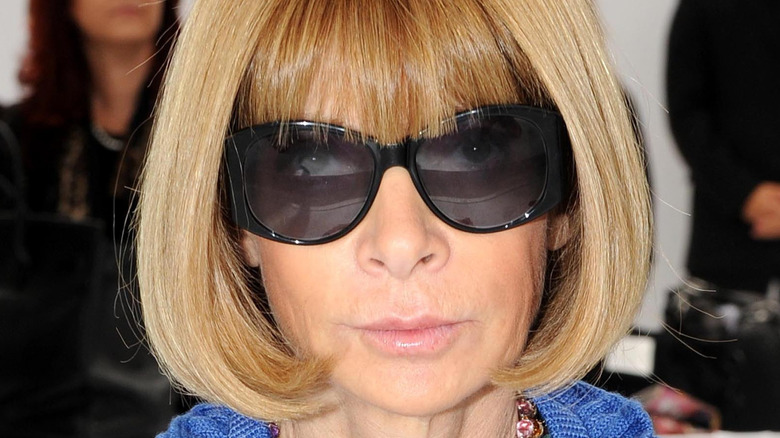 DELBO ANDREA/Shutterstock
Anna Wintour always seems to attract the public's curiosity. Wintour rarely grants interviews, but when she does, everyone in the room sits up and listens. After all, she's considered fashion royalty, if not also the queen of style. As editor-in-chief of Vogue, Wintour is very influential in choosing what's in and what's out in the fashion world. However, she did admit in an interview with CNN back in 2019 that she's often been unfairly criticized for her own appearance. She explained, "Sometimes there has been a certain level of personal criticism directed at me that, possibly, might not have been (used against) a man in a similar position," but added that she's too "focused" to let what others say bother her. That, and she's also too busy taking selfies with Kim Kardashian to worry about anyone's opinion of her, obviously.
While style might often be at the forefront of her mind, a lot of fashionistas can't help but wonder why Wintour always has her signature shades on, even when she's indoors. That's not because she's trying to avoid the glaring spotlight each time she's in it, but for a totally different reason instead.
Anna Wintour doesn't want you to know what's on her mind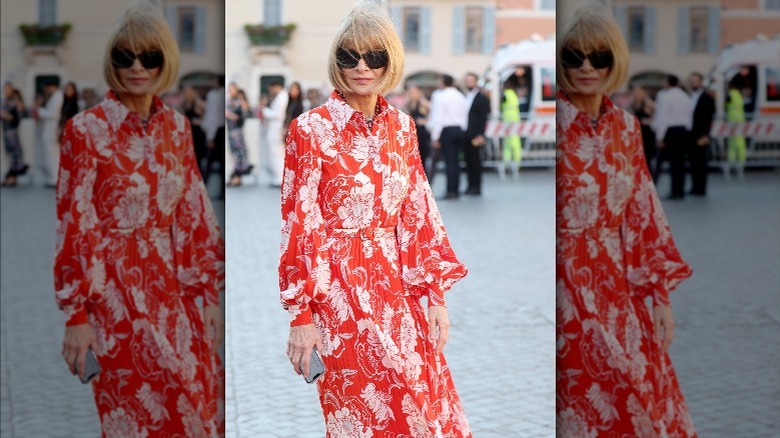 Jacopo Raule/Getty
While some people prefer a lean and mean poker face, Anna Wintour would rather grab her shades to hide her true feelings about everyone in the room. Wintour said that one of the reasons why she's rarely seen without her oversized glasses at runway shows is because she doesn't want to give anyone the wrong impression with her facial expressions. In other words, she wants to keep her feelings about runway shows to herself or at least until she's ready to pick and choose the right style for the cover of Vogue. She told CBS News in 2009, "Well, they're seriously useful. I mean, I can sit in a show, and if I'm bored out of my mind, nobody will notice. And if I'm enjoying it, nobody will notice. So, I think at this point they've become, you know, really armor."
As she summarized to CNN's Christiane Amanpour in 2019, her dark sunglasses are "incredibly useful because you avoid people knowing what you're thinking about."
And while it might appear like Wintour is sitting in darkness at front row Louis Vuitton and Chanel shows, she's not someone who prefers the color black, even though that's her favorite color for her shades. In fact, there's a good chance that you might be breaking the No. 1 rule in her fashion book by wearing her least favorite color — and for this reason, too.
Anna Wintour is not a fan of all black outfits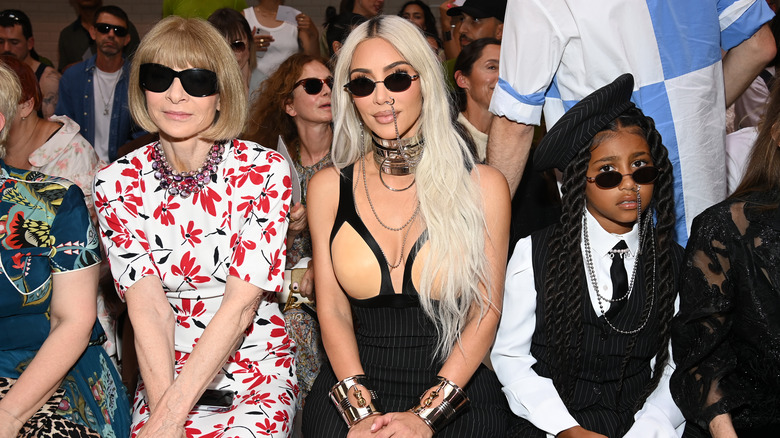 Pascal Le Segretain/Getty Images
Anna Wintour likes to add a splash of color when it comes to her carefully chosen (or so we assume) outfits. If there's one thing fans will never see Wintour in (other than maybe a pair of Crocs), it's the color black from head to toe. During a video interview with Vogue, Wintour was interrupted by one of her assistants, who presented her with all-black clothes for the December lead. Wintour replied with, "Virginia, where is the color?" 
In another moment, when model Karlie Kloss asked her what she would never wear, the fashion editor promptly answered, "Head to toe black." In a seperate installment of "Go Ask Anna," Wintour said wearing black just "seems too gloomy, as if one's going to a funeral." She also said that she can't leave the house without her sunglasses, her Starbucks, and her phone. 
With that said, it sounds like Wintour really doesn't want you to know what she's thinking just in case she sees you on the street wearing that all-black outfit she obviously despises.