Fellow Stars Are Defending Florence Pugh Over Her Controversial Dress Choice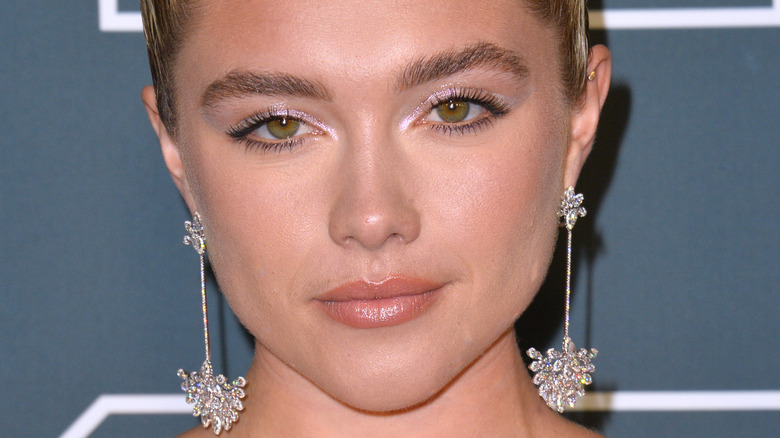 Featureflash Photo Agency/Shutterstock
Once again, Florence Pugh has been forced to defend her life choices to strangers on social media. The "Black Widow" star wore a sheer pink tulle Valentino gown at the fashion house's couture show in Rome on July 9, per HuffPost. Pugh's nipples were partially visible through the fabric... and the Internet had a lot to say about it. 
In her July 10 Instagram clapback, Pugh acknowledged that she knew the dress would garner attention, writing, "Whether it be negative or positive, we all knew what we were doing." Pugh added, "What's been interesting to watch and witness is just how easy it is for men to totally destroy a woman's body, publicly, proudly, for everyone to see," with many of these critics including their job titles "and work emails" in their public profiles. 
Pugh also seemed frustrated by her can't-win situation, writing, "So many of you wanted to aggressively let me know how disappointed you were by my 'tiny t**s.'... Why are you so scared of breasts? Small? Large? Left? Right? Only one? Maybe none?" Luckily, Pugh isn't fighting this battle alone. After publishing her response, some notable celebs are speaking out on her behalf.
Regé-Jean Page stood up against sexist comments about Florence Pugh
The Duke of Hastings has spoken. "Bridgerton" alum Regé-Jean Page was one of several stars to condemn the misogynistic discourse surrounding Florence Pugh's sheer Valentino gown. In an Instagram Story on July 10 (via Us Weekly), Page invited men to be more proactive in speaking up. "Take a look at yourself fellas. Then take a look at your mates and step up when it's time to step up," Page wrote. "When the boys are out of line, have a word," the "Gray Man" actor suggested, adding, "The weird thing about misogyny is men actually listen to other men, so do your bit, cos the next few years in particular are gonna be a really good time to listen, and take some responsibility, for everyone's sake."
Other celebs also praised Pugh's blunt address of her body scrutiny. Joey King wrote in Pugh's comments, "You are truly so amazing. You put into words what so many feel but can't articulate," while Aubrey Plaza exclaimed, "ok this is what i been sayingggg."
Pugh has spoken out several times in the past about embracing nudity. Compared to her native England, Pugh told Radio Times (via Yahoo!) in 2018 that American moviegoers were "quite scared of bums and nipples." Appearing topless in such films as Netflix's "The Outlaw King," per Bustle, Pugh said, "We watched lots of European films when we grew up, so nudity has never been a problem for me."