Inside Trixie Mattel And Katya's Relationship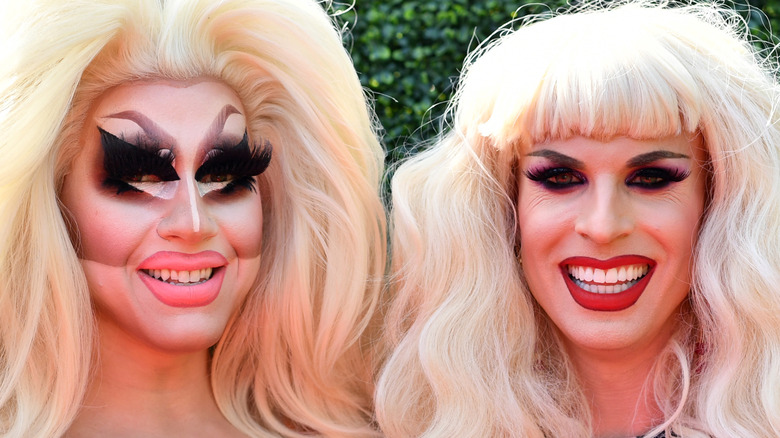 Emma Mcintyre/Getty Images
"RuPaul's Drag Race" has started many a feud, but it also birthed several iconic friendships — one of them being between Trixie Mattel and Katya Zamolodchikova.
The two were participants in the seventh season of the hit reality television series, but as fans know, the start of their friendship wasn't well-documented on camera. "They didn't really show it but on 'Drag Race,' we really got close," Mattel said of her friendship with Katya on "Bestie$ for Ca$h" in 2015, adding that they were practically attached at the hip when they both got eliminated. "And then after 'Drag Race' for a while, we were talking on the phone like every other day."
The famous duo used the show as a springboard for success, and with luck and hard work, they managed to create a media empire out of their unique bond. But what most people don't know is that their friendship wasn't smooth sailing. At one point, they almost turned their backs on each other.
Trixie Mattel and Katya are besties and business partners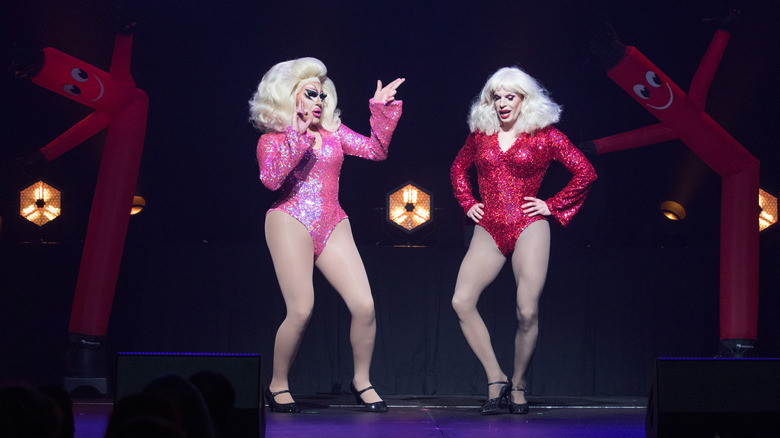 Rick Kern/Getty Images
Trixie Mattel and Katya Zamolodchikova have been friends since they starred on "RuPaul's Drag Race," but it wasn't until they exited the show that they actually formed a solid bond. In an interview with Hello! Magazine, the drag icons explained that their friendship blossomed when they realized how much they had in common.
"When I listen to other best friends and I listen to how they met, it's so fateful and exciting and when I tell you, ours was a tepid, barely a boil, a simmer that slowly rose to heat," Mattel quipped, explaining that they became good friends because neither of them was a "typical drag queen." 
"We had a fun chemistry and so just ended up doing the web series from that and so it started really simply," Katya said of their first project. "We weren't that close of friends in the beginning, we didn't know that much about each other. It was never pitched as 'two iconic best friends', it actually turned into a close friendship." Now, though, they have released hundreds of episodes of their web series "UNHhhh," and they also have their very own TV show, "The Trixie & Katya Show." They both acknowledge that part of their appeal is their genuine bond. "What you watch our show for is the organic friendship," Mattel told Fast Company. "People always say they love our show because they feel like they're hanging out with their friends."
Trixie Mattel and Katya almost had a falling out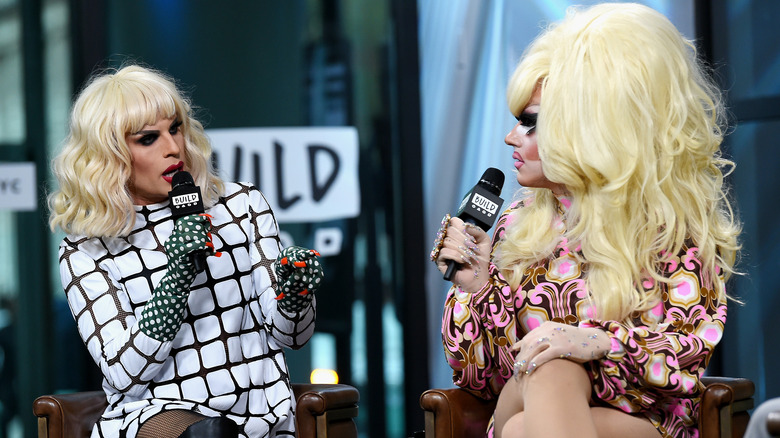 Ben Gabbe/Getty Images
Besties Trixie Mattel and Katya didn't hit it off from the get-go, and to this day, they don't spend time much together outside of work. "We're the type of people, both of us, that we don't need a lot of hours with friends every week. So we'll meet up at the studio or my house but we don't go out to bars and go to dinner," Katya told Hello! Magazine.
But there was also a point in time when their friendship almost ended. Katya confessed to having what she calls a "total psychotic break," per Billboard, which led to her hiatus in the industry. They also stopped talking for a time, but luckily, Katya got better and the two rekindled their friendship. "Not to sound corny, but [Trixie has] taught me the real power and value of forgiveness," she said on the "Shut Up Evan" podcast. "[Trixie] just kind of waited it out. And forgave me."
Now, they're better than ever and back to conquering the world in their own way. "We do our thing together, and it's always fresh and fun ...  And I think there were many moments where I was actually able to look at her in the wings of the show and during the little break and say earnestly, 'Oh, I really love doing this with you,'" Mattel told Out of touring with Katya. "It's nice to have those moments. I think we're entering the earnest era."