Why Lisa Rinna Called Out Kathy Hilton Over Donald Trump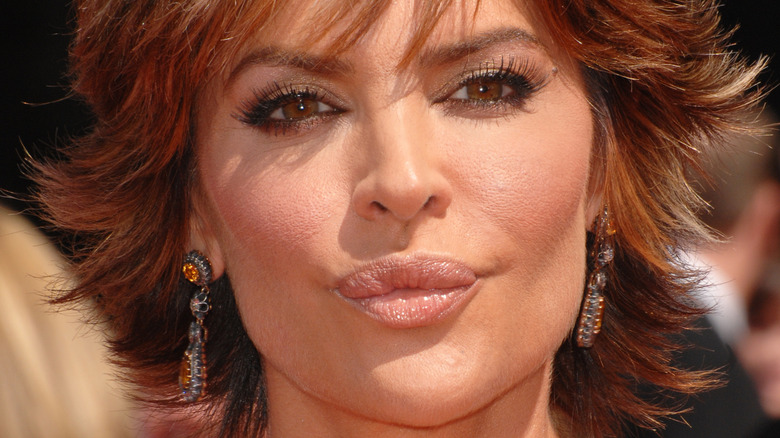 Featureflash Photo Agency/Shutterstock
If there's one thing Lisa Rinna isn't, it's a fan of Donald Trump. "The Real Housewives of Beverly Hills" star has made no secret of the fact she's not the former president's biggest supporter, making her stance very clear back in 2016 before Trump won his single term in the Oval Office. Rinna took to Twitter to slam Trump, writing, "I have spent enough time with Trump to say he should never ever be president," referencing working with him on Season 4 of "Celebrity Apprentice" and "Celebrity Apprentice: All-Stars." She then made it very clear where her allegiance lies following Trump's first term, sharing on Instagram in October 2020 that she was voting for President Joe Biden and Vice President Kamala Harris as she posed in a string bikini.
That came after Richard Hatch, who appeared on Season 11 of "Celebrity Apprentice," alleged to People in 2016 that Trump had made inappropriate comments to several female contestants, supposedly including Rinna. "Watching him in the boardroom making sexual comments ... to all of the women on "The Apprentice,' it was obvious that that's just a part of who he is," he said. "It was obvious and it was grotesque. It was blatant and it was frequent. He did it with Lisa Rinna; He did it with Marlee Matlin. He did it with whomever happened to be there at the time."
But why did Kathy Hilton catch major heat from Rinna over the controversial former president?
Lisa Rinna exposed Kathy Hilton attending Donald Trump's party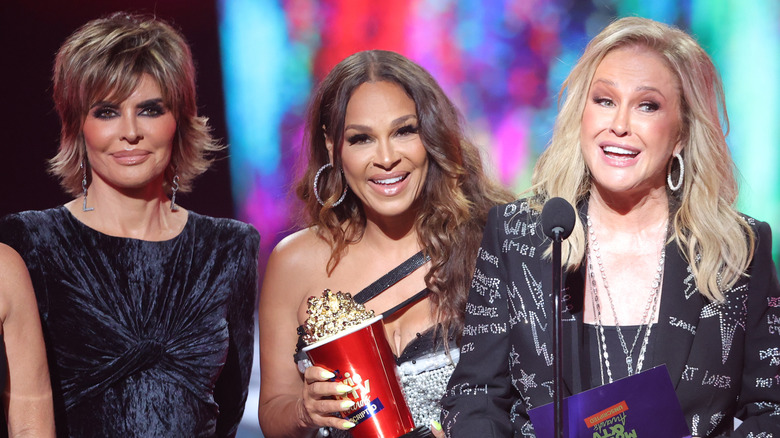 Rich Polk/Getty Images
Lisa Rinna slammed her "Real Housewives of Beverly Hills" feud partner Kathy Hilton for her association with Donald Trump. This one went down in February when Kathy, the sister of full time housewives Kyle Richards, skipped out on the "RHOBH" Season 12 finale to seemingly party with Trump. Rinna took to Instagram Stories to share a screenshot of a Patriot Takes tweet, which showed Kathy attending Trump's Super Bowl party in Florida around the same time the reunion was filming. "Oh that's where she was!!!!!!" Rinna captioned the upload, per All About The Tea.
As for how Kathy's team explained her visit to the Sunshine State to Radar Online? They didn't mention any association with Trump. They denied Kathy snubbed the reunion because she didn't want to film, instead claiming Kathy visited a friend in Florida who'd recently lost her husband and had the trip planned for a while. "Kathy's also hosting a charity event with her daughter, Nicky [Hilton], in Palm Beach on Wednesday. It's the Hope For Depression Research Foundation... So this was all planned way in advance. Production was always aware of the schedule," they said, claiming Bravo was okay with her skipping the reunion taping because she's not an official housewife. 
Kyle Richards explained why fans saw less of her sister on Season 12, telling People, "She was busy doing Paris' [Hilton's] wedding and all of that. But she's definitely there and she's always funny."
Lisa Rinna once said she liked Donald Trump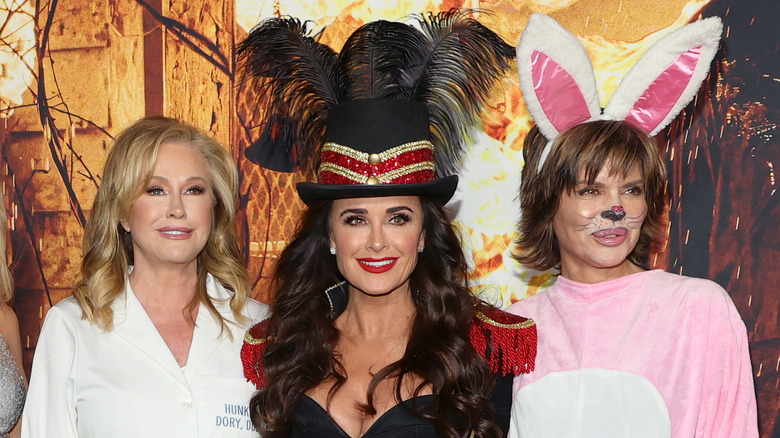 Amy Sussman/Getty Images
After Lisa Rinna called out Kathy Hilton for attending one of Donald Trump's parties, she wasn't exactly safe from the court of public opinion herself. Shortly after, fans resurfaced an interview Rinna did with HuffPost Live in 2013 in which she said, "I like Donald Trump." Though it seems like she's certainly changed her mind since then, Rinna added at the time, "He's only been kind to me and I love people who are non-filtered," while also praising his skills as a father. Rinna added she doesn't always agree with Trump's strong opinions, but called him "such an interesting guy."
Of course, Twitter lit up with comments pointing out that Rinna hadn't always been against the businessman turned political figure. "While Lisa Rinna shades Kathy for her friendship with Donald Trump, here she is praising Trump," one person tweeted. However, others defended the star, pointing out the chat was before Trump ran for president and she's entitled to change her opinion. They tweeted, "okay liking trump pre-presidency and post-presidency are two completely different things. rinna has been consistently anti-trump during his presidency. this clip is from 2013.... little miss propaganda..."
As for where Rinna stands with Paris and Nicky Hilton's mom today? It seems like things aren't good. In May, The Real Housewives Zone shared a screenshot of messages alleged to be from Rinna in which she accused Kathy of being a "homophobic racist." Kathy doesn't appear to have publicly responded.