Are Chris Hemsworth And Tom Hiddleston Friends?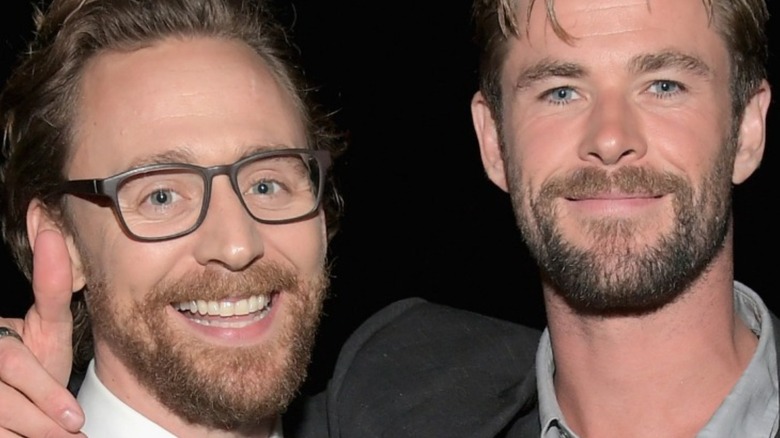 Charley Gallay/Getty Images
Chris Hemsworth and Tom Hiddleston have worked together for over ten years, starting with the first "Thor" movie as Norse gods and half-brothers Thor and Loki. In 2016, the Australian "Ghostbusters" star tweeted a photo of his on-screen brother at a convenience store and wrote: "Just sellin papers with my mate @twhiddleston #PartTimeJob #ThorRagnarok @TaikaWaititi." Hiddleston and Hemsworth give each other grief during interviews, with a running gag about who has the better dance moves. The "Night Manager" star joked with "Extra TV" in 2021, comparing his dance moves with his on-screen brother. When asked who the better dancer was, Hiddleston replied, "Oh, it's Chris definitely, come on!"
The Marvel stars use their fame for good, visiting children's hospitals together. Hiddleston posted one visit on Instagram with Hemsworth showing Thor's hammer to sick kids and wrote: 'Whosoever holds this hammer if he be worthy, shall possess the power of Thor!' (i.e., everyone but the dude in the black suit). Unforgettable meeting all the children."
So the stars have fun together, but are Hemsworth and Hiddleston friends in real life?
Chris Hemsworth and Tom Hiddleston are good friends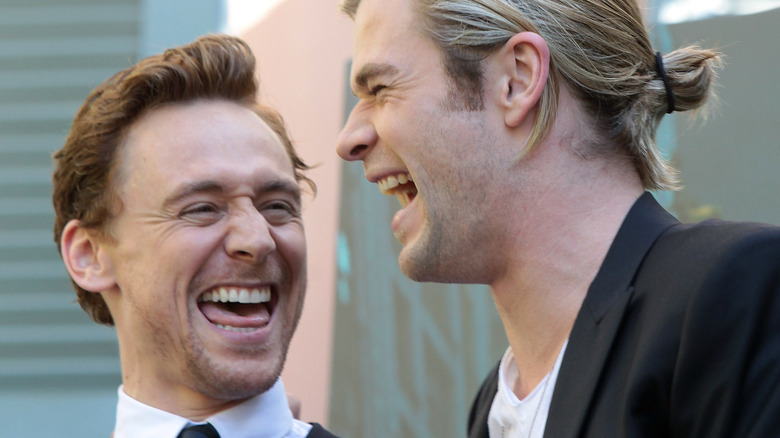 Elisabetta Villa/Getty Images
It shouldn't be surprising that Chris Hemsworth and Tom Hiddleston are good friends. From the first time they worked together in "Thor," the chemistry between the actors was strong. People reported that Hemsworth and Hiddleston met in 2009 at director Kenneth Branagh's home. In a 2021 interview on "Jimmy Kimmel Live," the God of Mischief actor recalled, "Chris Hemsworth walking through the door, and my first thought was 'Oh, they cast the right actor.'" Metro UK reported on a press event promoting "Thor: The Dark World" in 2013. Hemsworth told the reporters that he and Hiddleston "developed a great friendship along the way." The God of Thunder actor said, "From the beginning we were lucky. We just had a chemistry and the same kind of enthusiasm."
Outside of interviews, social media posts give fans a peek into the friendship. When Hemsworth hosted Saturday Night Live, the "Loki" star tweeted: My goodness. My brother from another mother. Ladies and gentlemen:@chrishemsworth."The two actors seem to appreciate their long friendship. In May 2021, the Australian star posted a throwback snap on Instagram with Hiddleston from "Thor" with the caption: "This year marks the 10th anniversary of THOR when two unknown lads were given the keys to the kingdom. It's been a hell of a ride, and we clearly haven't aged a day 😂 @twhiddleston." But the two friends might be doing more together in the future, with recent changes in the "Loki" actor's life.
Why Chris Hemsworth and Tom Hiddleston's friendship might grow
New dad Hiddleston could get tips on juggling family life and work from his "Avengers" costar, as Hemsworth and wife Elsa Pataky are #goals. In February 2021, Mrs. Thor posted a snap of the couple on Instagram and wrote: "Always and forever." According to Us Weekly, the Australian celebrity couple married in 2010, welcomed their daughter in 2012, and twin boys in 2014. In 2015, the "Thor" star told WHO magazine (via Us Weekly) that having kids made him fall deeper in love with his wife. "Once we had kids we were like, 'We're in it, this is it.' All of a sudden I had a greater appreciation for my wife, she kind of came into her own when we had kids," Hemsworth explained. "She certainly keeps me sane. I complain about things, she gets on with it." Swoon.
In June, Hiddleston finally confirmed what we suspected about his relationship with Zawe Ashton. The "Loki" star told the Los Angeles Times he and Ashton were engaged and said, "I'm very happy." But that wasn't all the news! Soon after confirming their engagement, Hiddleston's fiancée Ashton spilled the tea to Vogue that they were expecting their first child! Now that the "God of Mischief" is going to be a dad, it couldn't hurt to get advice from his on-screen brother, and the friendship between the Marvel stars might grow deeper.