RuPaul Has An Unexpected Connection To Judge Judy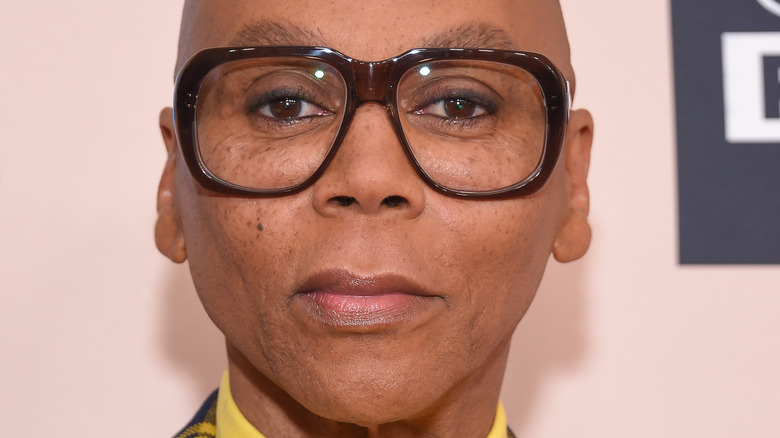 DFree/Shutterstock
TV personalities RuPaul and Judge Judy Sheindlin have both made successful careers from incorporating their personalities into their unique reality shows. For RuPaul, one of his most successful ventures to date has been hosting "RuPaul's Drag Race," while Sheindlin gained fame through the reality courtroom series, "Judge Judy," which was on the air for 25 years, per The Guardian. Since this show ended, Sheindlin has moved on to host a similar IMDb TV reality series, "Judy Justice." 
RuPaul has expressed his love for Sheindlin in past years. While visiting "The Ellen DeGeneres Show" in 2018, he was asked who he would want to be a guest judge on "RuPaul's Drag Race" next. "I would love to have Judge Judy on the show," RuPaul said. "I just live for that woman ... Who better to judge drag queens than Judge Judy?" Furthermore, the "Drag Race" host was asked in 2012 on Twitter, "Which idol would still like to meet (whom u haven't met already)?" In response, RuPaul tweeted, "Only person I idolize now is Judge Judy & I've met her." A conversation between the two later revealed how they met and ended up becoming friends.
RuPaul and Judge Judy became friends after sitting by each other on a plane ride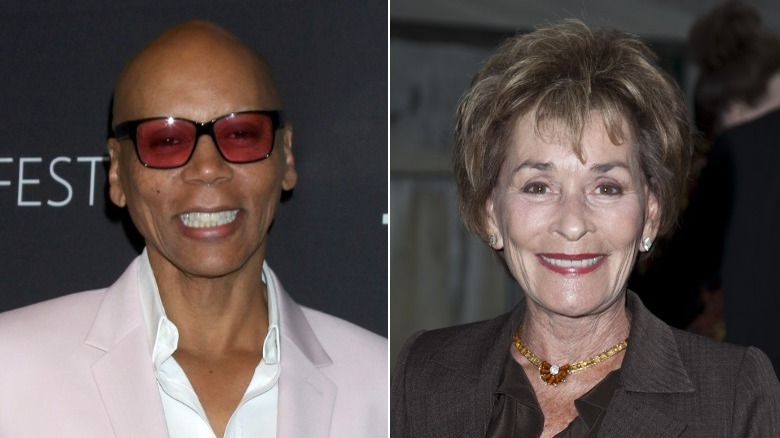 lev radin & Kathy Hutchins/Shutterstock
After a fateful meeting took place, RuPaul and Judge Judy Sheindlin started a friendship. The two television personalities spoke over the phone for an Interview Magazine chat in 2019, when RuPaul posed for a cover story with the publication. 
In this article, it was revealed that Sheindlin is both a "friend" of RuPaul's, as well as an "idol" to him. The actor and drag queen reflected on when he first met Sheindlin on an airplane, which occurred two decades prior. Before their meeting, RuPaul was a fan of Sheindlin's show, "Judge Judy," and talking with her in person revealed that the pair share a strong connection. "It's funny that we sat next to each other on that plane from New York to Los Angeles all those years ago," RuPaul said. "I'd been following you before that, but there was a similarity between us that could not be ignored."
"Who would have thought that 20 years later we would be sitting and having this conversation?" Sheindlin said in response. RuPaul's friend has been honored on his show, as drag queen Bianca Del Rio impersonated Sheindlin during a "RuPaul's Drag Race" scene from 2014. In recent years, RuPaul and Sheindlin have additionally gushed over each other on numerous occasions.
RuPaul and Judge Judy are big fans of each other
RuPaul and Judge Judy Sheindlin are a couple of celeb friends who are vocal in their praise of one another. During a 2018 CBS Sunday Morning interview, RuPaul was surprised with a video message from Sheindlin, who offered her heartfelt support of him. "When I think about RuPaul, I think about three words: talented, brave, and always honest," Sheindlin said. "He knows who he is, he understands life. So I'm glad you're celebrating him this morning."
In response to these kind words, RuPaul expressed what it meant to him to receive the message from Sheindlin. "To hear someone I respect like this say that to me is like hearing my mom say, 'You done good, kid.You done real good,'" RuPaul said. The feeling is mutual between the two, as RuPaul said he "love[s]" Sheindlin and "watch[es] her every single day" in a 2019 "Ron Burgundy Podcast" interview. "I'm not really that impressed with stars, but if I were in the presence of Judge Judy ... I would [get a little nervous]," he added. Now that "RuPaul's Drag Race All Stars" Season 7 is currently airing, hopefully Sheindlin can soon visit her friend's place of work and appear as a judge!