What Maya Hawke's Famous Parents Think About Her Acting Career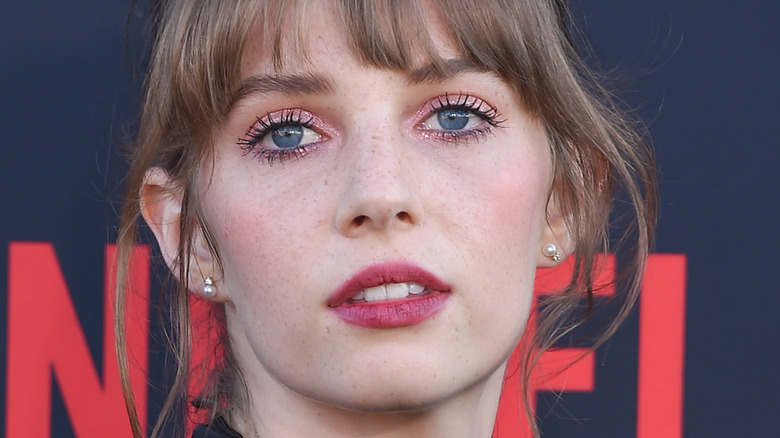 DFree/Shutterstock
Maya Hawke may be relatively new on fans' radars, but she's no stranger to Hollywood. After all, her parents are acting legends Ethan Hawke and Uma Thurman. Maya rose to superstardom when she joined Season 3 of "Stranger Things" as the cynical yet kind-hearted Robin Buckley. The actor has multiple film and TV credits under her belt, including her upcoming movie "Maestro" directed by Bradley Cooper, per IMDb. In addition, Maya is a songwriter and musician and released her highly acclaimed debut album "Blush" in 2020. Pitchfork wrote, "Hawke's voice is beautiful. It is soulful, featherlight, a natural fit for the careful Laurel Canyon arrangements that make up most of the record."
With all of Maya's positive press, where does Ethan stand? Well, one thing's for sure: This is no Angelina Jolie and Jon Voight saga. If you didn't know, the famous father and daughter duo have had a rocky road together, per the Independent. 
As we've witnessed, being part of a celebrity family comes with challenges. However, Ethan and his daughter Maya are seemingly very close. Just watch this heartwarming video of the family singing together during COVID-19 quarantine! But what does the "Before Sunrise" star think about his daughter's acting career?
Ethan Hawke is beyond proud of his daughter Maya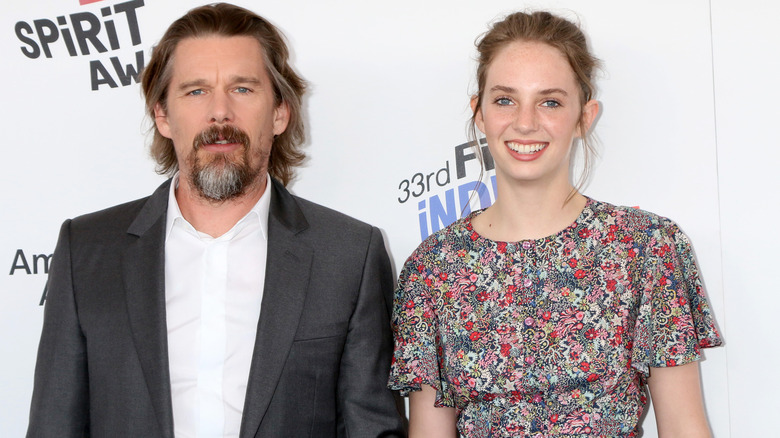 Kathy Hutchins/Shutterstock
Ethan Hawke has some thoughts about his daughter's onscreen performances. In 2017, Maya Hawke, along with her mother Uma Thurman, starred as Jo March in an adapted miniseries of "Little Women." At the Sundance Film Festival, Ethan told People, "It's one of the most amazing moments of my life watching her in 'Little Women.'" He gushed, "She didn't do a good job, she did a great job. To see your child thrive, and to see her thrive at a profession that you have a lot of respect for, that I've dedicated my life to, I was so proud of her."
Beyond that, Maya actually played Ethan's daughter in Showtime's historical drama miniseries "The Good Lord Bird." In a 2020 interview on "Late Night with Seth Meyers," Ethan explained how he initially tried to avoid the nepotism narrative. But after "Stranger Things" came out, a Showtime employee asked if Maya would be interested in playing his daughter on the show. Ethan raved about Maya's innate talent and "grace" she brought to the series. He told Meyers, "She's always been gifted and we've always had an easy dialogue about art. I think one of the things that was most difficult about her being on set was asking myself, 'Am I the actor I told her I was?'" According to Ethan, he previously passed on some important lessons to Maya about the art of acting and storytelling.
Uma Thurman was nervous but supportive of Maya Hawke's acting career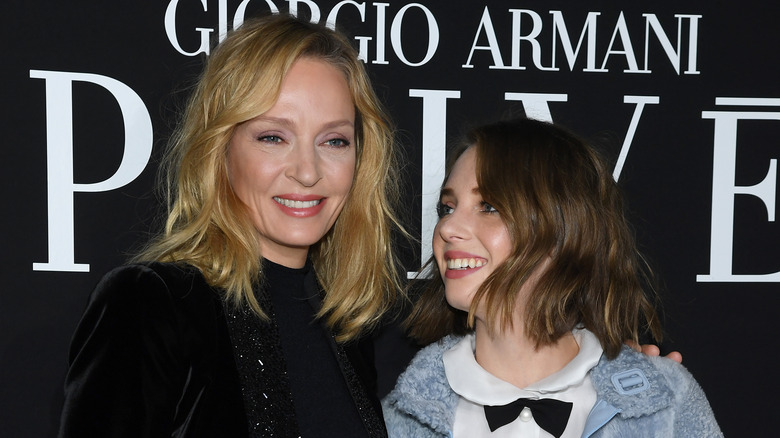 Pascal Le Segretain/Getty Images
What does Maya Hawke have to say about her famous father? In 2019, she told SiriusXM that she's grateful for all the support her parents have given her. She also revealed that they loved "Stranger Things" before she was on it. And according to Maya, her parents aren't just biased. "They're pretty rigorous in terms of their commentary when they like something or don't," the actor explained. When asked if she felt pressure about having celebrity parents, the "Stranger Things" star said, "I just love my family and my parents and it doesn't matter what they do ... I went into acting [because] I love it more than anything else."
With that said, her mom had some concerns about Maya becoming an actor. In a February interview with Access Hollywood, Uma Thurman stated that Maya is a "sensitive person" navigating a "complicated" and "often public facing" career. "But she's in the end such a brilliant actress. Obviously, there's nothing else that she would've ever done."
Being in the spotlight surely has its ups and downs, but Maya's famous parents are cheering for their daughter front and center.