What Happened To Sharon Needles After RuPaul's Drag Race?
This article contains allegations of sexual harassment.
"RuPaul's Drag Race" Season 4 winner Sharon Needles has unfortunately fallen from grace in recent years. When she first appeared on the drag reality show in 2012, Needles was actually a fan favorite. At the time, "Drag Race" had never seen a drag performer like Needles, who labeled herself the "spooky" queen. For example, when she strutted the "Apocalyptic Couture" runway with blood running from her mouth down to her dress, her unique fashion sense solidified her as the early frontrunner. In the Season 4 finale, RuPaul crowned Needles the winner, and she used her reign to encourage people to let their freak flag fly.
Another notable part of Needles's experience in the world of "Drag Race" is her relationship with fellow alumni Alaksa Thunderf*** 5000. After Needles won Season 4, Alaska— Needles's partner of four years— competed the very next season. But due to drama behind the scenes, Needles and Alaska called it quits in 2013.
Although she was once considered one of the most iconic winners, Needles was exposed for problematic behavior after she left "Drag Race."
A 15-year-old fan alleged that Sharon Needles had been extremely inappropriate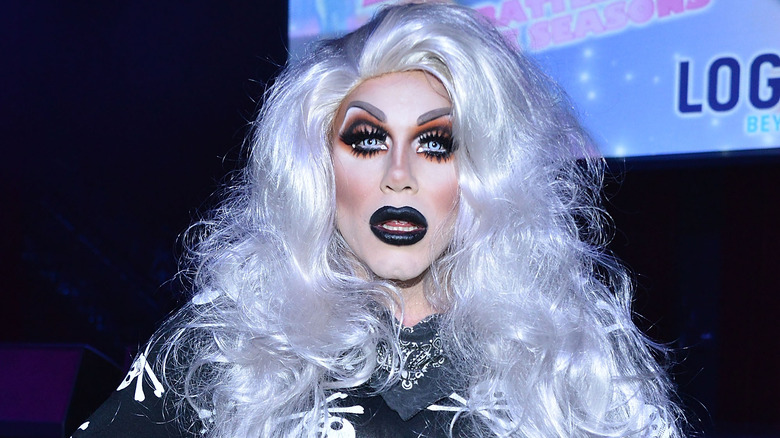 Araya Doheny/Getty Images
While Sharon Needles gained notoriety for her drag persona, the "RuPaul's Drag Race" Season 4 winner was accused of something sinister in her off time. In December of 2021, the Daily Beast published an investigation into allegations that Needles had groomed and abused a then-15-year-old teenager who goes by Annecy (who uses they/them pronouns). The victim reported that they had been a huge fan of Needles when she appeared on "Drag Race," but Needles had taken advantage of that adoration.
Amongst many troubling stories from Annecy concerning Needles, they claimed that the drag queen had encouraged them to harm themselves and even to commit suicide. When the two actually met up, the fan said that Needles supplied the then-15-year-old with drugs and sexually harassed them. Overall, Needles allegedly engaged in extremely inappropriate activity with a young fan of theirs both online and in person. According to the Daily Beast, Needles has denied these allegations.
Alongside the Daily Beast's compilation of Needles came other allegations of deplorable behavior. Fellow Season 4 constestant Dida Ritz claimed on the "Drag Her" podcast that during filming, Needles "walked around calling everybody the N-word behind the scenes and nobody in production reprimanded her." For Needles, the damage was done.
If you or anyone you know has been a victim of sexual assault, help is available. Visit the Rape, Abuse & Incest National Network website or contact RAINN's National Helpline at 1-800-656-HOPE (4673).
RuPaul's Drag Race alumni denounced Sharon Needles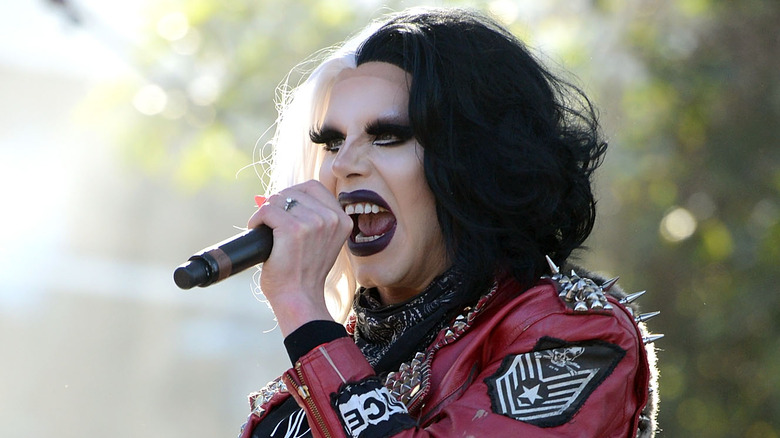 Scott Dudelson/Getty Images
After Sharon Needles's alleged despicable behavior went mainstream, many of her fellow "RuPaul's Drag Race" alumni spoke out against the Season 4 winner. One of the most shocking alumni to denounce Needles was Season 10 winner Aquaria. Like Annecy, Aquaria was a young fan of Needles and the two grew close as Aquaria performed drag herself, per ET.
While Annecy's stories about Needles and her problematic behavior had been circulating on social media, they were not openly spoken about until the comprehensive reporting by the Daily Beast in 2021. So in 2020, Aquaria explained on her Twitter why she had distanced herself from Needles. "For the record ... I have not spoken to or [associated] myself with [Needles] for quite some time now for reasons unrelated to these specific disturbing stories." She continued, " ... I fully support the victim through their bravery." Season 6 contestant Joslyn Fox also called out Needles online after reading Annecy's allegations. "This is heartbreaking," she wrote on Twitter. "Even harder to read when you know it's true." 
But even with these accusations coming to light, Needles's career is not necessarily down the toilet. In 2021, Needles collaborated with the vodka brand, Serv, and is the face of one of their vodka flavors. As of this writing, Needles' Season 4 title still remains intact, and she still has 1 million followers on her Instagram.