What Alaska Has Been Up To Since RuPaul's Drag Race
Alaska Thunderf**k 5000: drag queen from the planet Glamatron! Alaska — whose birth name is Justin Honard — first wowed "RuPaul's Drag Race" audiences with her out-of-this-world style and humor in 2013. When she joined the cast of Season 5, the Pennsylvania-born queen had something to prove since her now ex-boyfriend, fellow drag queen Sharon Needles, had won the competition just one season prior. Sadly, Alaska came so close to winning the title of America's Next Drag Superstar, but lost by a pinch to Jinkx Monsoon in the finale.
Then when "RuPaul's Drag Race All Stars" was revived for its highly-anticipated second season in 2016, Alaska was a shoo-in for the top 4. After stealing the show and winning a whopping 4 maxi challenges, RuPaul finally gave Alaksa the crown she fought so hard for. Although she was first bombarded with snake emojis after the season ended (due to her somewhat shady behavior), Alaska has proven that she is here to stay.
So with her rightful spot in the "Drag Race" Hall of Fame, Alaska has been working non-stop to become the ultimate multi-hyphenate drag queen.
For Alaska, the opportunities have been endless!
Alaska showcased her talented singing voice on "RuPaul's Drag Race," so it was no surprise that she went on to become a recording artist. She has released three solo albums under her drag persona; 2015's "Anus," 2016's "Poundcake," and 2019's "Vagina" (all titles crude yet hilarious). With iconic songs like "Your Makeup Is Terrible" under her belt, Alaska is planning on releasing a new album called Red 4 Filth sometime in 2022, per Genius. She was also briefly a part of a drag singing group called The AAA Girls with fellow "Drag Race" alumni Courtney Act and Willam in 2017.
Outside of music, Alaska has toured with "Drag Race" related tours and performed for her fans around the world. We also get to hear her every week on the "Drag Race" review podcast she hosts alongside Willam called "Race Chaser." She has also made a home at the 3 Dollar Bill nightclub in Brooklyn, New York, where she performs regularly.
And in the footsteps of RuPaul himself, Alaska published a memoir in 2021 called "My Name's Yours, What's Alaska?" Alaska told Variety, "Part of what I love about drag is that there's not really one set path that you have to follow. I can write a book and then I can be in a play ... I see myself in the future as being 90 years old and being propped up in the doorway like Mae West and still being in drag."
Alaska feels snubbed by RuPaul's Drag Race All Stars All Winners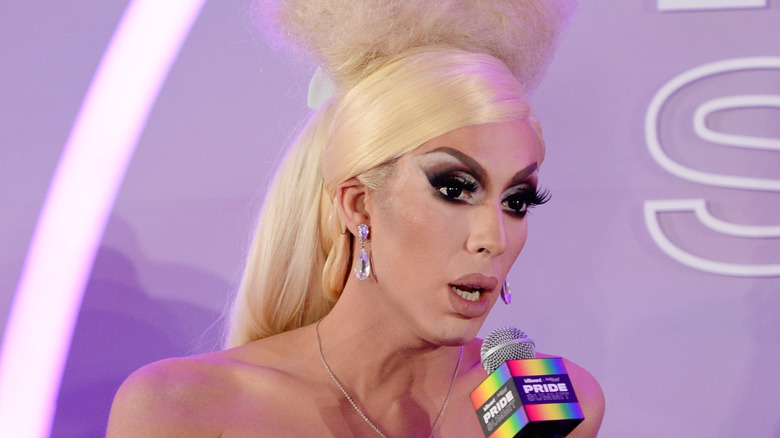 Andrew Toth/Getty Images
After years of begging from fans, the makers of "RuPaul's Drag Race" finally cast the seventh season of "All Stars" with past winners coming back to the werk room to compete! The all-winners season premiered back in February of this year, and they only brought back eight winners out of the dozens of winners across the worldwide "Drag Race" franchise. The cast includes Raja, Jinkx Monsoon, Yvie Oddly, Monét X Change, Trinity the Tuck, Shea Couleé, The Vivienne, and Jaida Essence Hall, per Entertainment Weekly.
"All Stars 2" winner Alaska was noticeably left out of this historic season. Since Alaska's "Race Chaser" podcast reviews each episode of "Drag Race," she made her feelings about the casting snub clear. "I was very apprehensive going into [this season]," Alaska revealed on the podcast (via Out). "Because when I wasn't asked to be on it, I was very, very emotional and I was very, very hurt and sad by that."
Alaska opened up that she was wary about having to watch this season because of her hurt feelings, but was already looking on the bright side during its season premiere. "I'm so glad that this is happening with these girls," Alaska continued. "[With] the energy of 'nobody is going home,' everyone is just [delivering] f*****g home run after home run."