Who Is The Father Of Selma Blair's Son, Jason Bleick?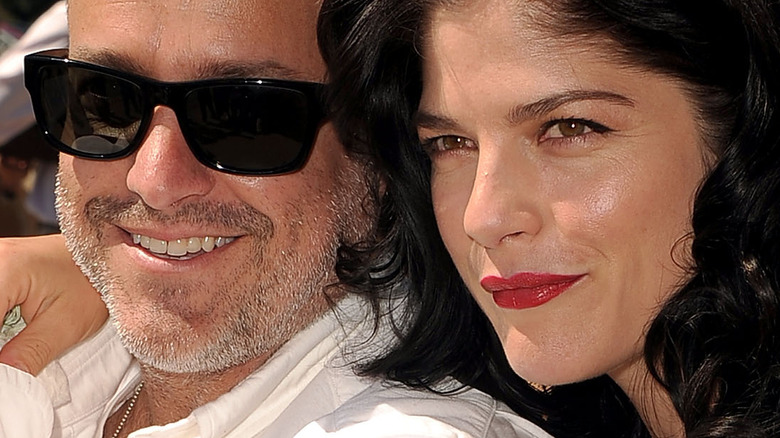 Jason Merritt/term/Getty Images
Selma Blair has gushed over her son, Arthur Saint Bleick, on many occasions — but who's his dad?
Blair first announced she was pregnant with her son in January 2011. At the time, friends of the "Legally Blonde" actor told Cosmopolitan both she and then-boyfriend Jason Bleick were "ecstatic" about their new chapter as parents. According to the outlet, she had spoken to the Vancouver Sun just weeks prior about being "very in love" with Jason, saying "he's a wonderful, wonderful man." 
Sadly for these lovebirds, their romance wasn't meant to be. In September 2012, Us Weekly confirmed that Blair and Bleick had gone their separate ways after hitting a particularly rough patch. The publication cited sources who claimed the former couple were "fighting nonstop" toward the end of their relationship. However, post-split, Jason and Blair seem to be the poster children for healthy, happy co-parenting. Soon after their breakup, they were pictured shopping together (via Daily Mail). And, per Us Weekly, in 2016, the exes took a Father's Day vacation together. More recently, Blair has spoken to People of having a "flexible custody arrangement" with Jason. 
It's pretty clear that, even if these two couldn't stay together romantically, there's a lot of love there. However, our question remains. Just who is Jason Bleick?
Jason Bleick's a fashion designer
Is it really a shock that Selma Blair kept shopping with her ex if he's a fashion designer? 
According to Daily Pilot, Jason Bleick is the former vice president of design at Quicksilver. However, by the time he and Blair were an item, he had founded his own luxury brand, EVER. Speaking to the publication back in 2009, Bleick described the line as "a luxurious, higher-end product that is inspired by travel." In a fashionable fairytale come true twist, EVER marked the spot for Bleick's and Blair's first meeting. Per People, Blair was invited to collaborate on the line ... and the rest is history. 
Unfortunately, just as the couple didn't get their happily — ahem — EVER after, Bleick's brand closed its doors in 2011. But he's still in fashion. As he told California Apparel News in June 2012, a fun collaboration with Deus ex Machina helped him pivot. "All of a sudden, I just kind of fell back into work ... I said, 'Okay, I'll do one more thing for someone else.' Then another thing after that, and now I have a small staff of designers and graphic artists and a full-service design studio." Ten years later, Bleick Studio is still going strong, and per his Instagram bio, he's the "Creative Director + Brand Formist."
Jason Bleick's a family man, first and foremost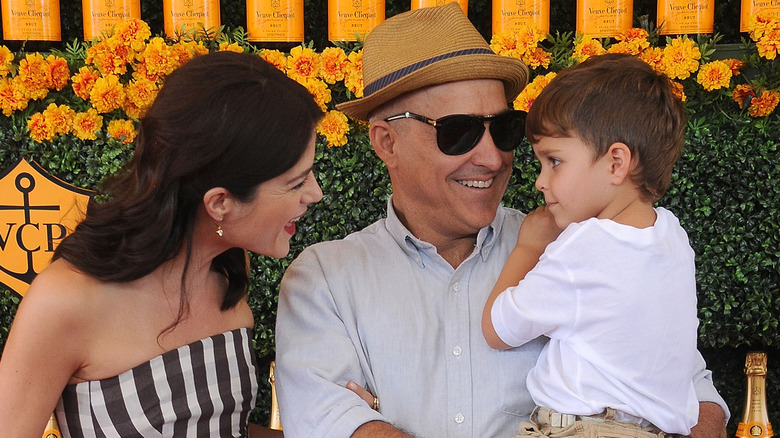 Gregg Deguire/Getty Images
Jason Bleick may list his profession on Instagram, but that's just the second line of his bio. Above that — both literally and figuratively — he's "Arthur's Dad." 
A quick look through Bleick's Instagram is all it takes to see that the fashion designer is a doting father. His profile is full of pictures of him and his son. From motorcycle adventures, to simple birthday messages expressing gratitude for his child, it's pretty clear that Selma Blair's ex is passionate about fatherhood. Blair herself has acknowledged that in the past. In 2019, she took to Instagram to praise him: "He will always know the love of his dad" (via Closer Weekly). More recently, in honor of Father's Day in June 2022, she posted, "[T]hanks for being solid. We love you and all your good vibes." 
Bleick is equally committed to fostering a great relationship with his co-parent. When speaking to People about her journey with Multiple Sclerosis, Blair told the outlet that, especially since her diagnosis, "He's shown up in a big way. I'm really proud of us." Bleick and Blair may not be a couple anymore, but they have got their dynamic all worked out — and we could not be happier for them.