Andy Cohen's On-Set Injury Has Everyone Saying The Same Thing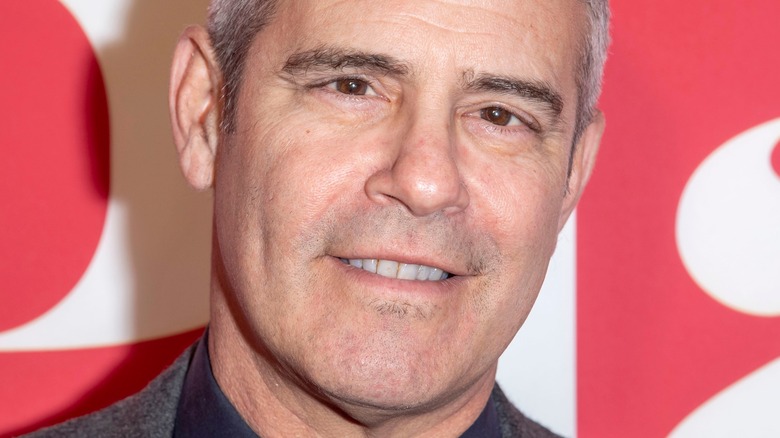 Ron Adar/Shutterstock
Well, not being able to predict what'll happen on live television is, after all, the theme of "Watch What Happens Live," which host Andy Cohen learned the hard way after injuring himself on set during a commercial break. It's obviously not cool to laugh at people when they get hurt, but still, we can't help chuckling a tiny bit at the reactions to Cohen's little mishap on Twitter. 
"Welcome back to 'Watch What Happens Live.' I'm Andy Cohen in the clubhouse where one could drink too much and make an inappropriate statement," Cohen said on-air, via Yahoo! News. "Or they could grab Caroline Brooks' curling iron with their hands during the commercial break and burn themselves, which is what I just did." While holding a couple of ice cubes in his injured hand and fanning himself, Cohen added, "Oh boy. I am in pain. I'm not kidding you." Apparently, the Bravo host had accidentally grabbed the barrel of the curling iron when trying to reach his question cards.
Cue the reactions!
WWHL fans roast Andy Cohen's burn on Twitter
Reacting to the chaotic energy in the "Watch What Happens Live" clubhouse on July 13, one viewer tweeted, "The f***ing bunny fell off the shelf and [Andy Cohen] burned his hand on a curling iron. [WWHL] we need to cleanse this studio ASAP." Another viewer on Twitter agreed, writing, "WWHL is such a hot mess. Andy burning his hands. The awkward silence. The bunny falling." Above a photo with Cohen holding his little ice cube, one Twitter user simply exclaimed, "Andy grabbed Brooks' curling iron during the commercial break and burnt himself!"
However some people were less focused on the mayhem and more on the fact that putting ice directly on a burn is actually a very bad idea. "So no one in the control room can google what's good for burns. Andy looks like he's suffering," someone tweeted. "Andy... If someone could get you a bowl of cool water instead of ice, that would be better at least until you can get it looked at," commented another. Luckily, for all those who were concerned, Cohen did eventually get some actual burn cream and bandages, per Yahoo! News. 
As for Cohen's own reaction, he simply tweeted, "That hurt."