How Did Chris Hemsworth Meet His Wife Elsa Pataky?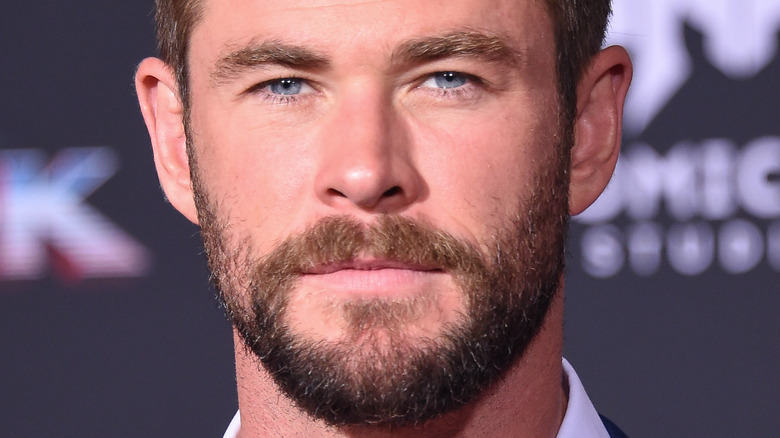 DFree/Shutterstock
Actor Chris Hemsworth has maintained a long-term relationship with fellow celeb Elsa Pataky. Prior to this union, the "Thor" star was in a relationship with actor Isabel Lucas from 2005 to 2008, Us Weekly reported. Although the pair didn't last, it appears they've remained on good terms, since Just Jared showed photos of the two chatting in 2019 as they randomly bumped into each other during coffee runs in Australia.
Following the end of this romance, Hemsworth moved on to date Pataky. The couple eventually married in 2010, according to People, and have been going strong since. When Pataky spoke to Body + Soul in 2020, she opened up about her relationship with Hemsworth and stated that, like any love story, theirs has been one with some imperfect moments. "It's been ups and downs, and we still keep working at the relationship," the mother of three explained. "I always try to see the positives of things." As history goes, over a decade ago, this Hollywood romance kicked off when a mutual colleague introduced the happy couple.
Chris Hemsworth and Elsa Pataky were introduced by a talent agent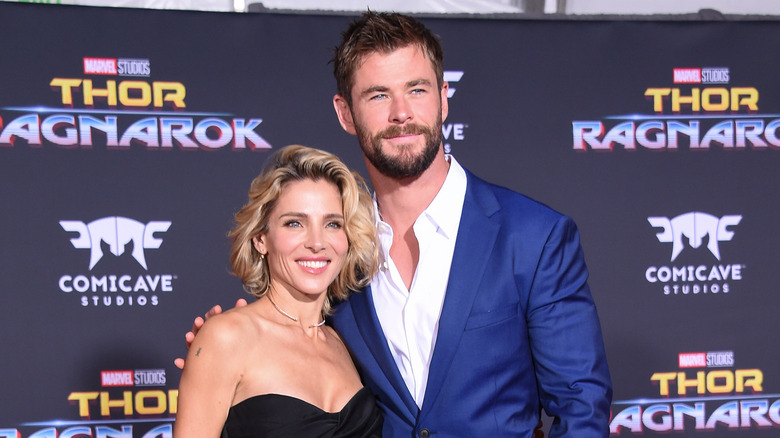 DFree/Shutterstock
Spouses Chris Hemsworth and Elsa Pataky first met when an entertainment industry professional connected them. As Us Weekly wrote in July 2022, the pair were introduced 12 years ago through William Ward, a Hollywood agent whose represents stars like Hemsworth, Cobie Smulders, and Aisha Tyler, and per LinkedIn. 
When he chatted with Elle in 2010, Us Weekly further stated, Hemsworth revealed he always had a feeling Pataky was the one. "From the first time we met, we just made sense," Hemsworth said of Pataky. "She's fun. She's outgoing, and she has a sense of humor and a passionate attitude toward life, which is nice to try to keep up with."
In addition, while Pataky spoke to Access in June 2022 about her movie, "Interceptor," she revealed that a positive sense of humor has made her romance with Hemsworth last since their fateful meeting. "I think my secret with [Hemsworth] is ... he makes me laugh every day, all day," Pataky said. Following their 2010 marriage, the couple has had three children together: India, Sasha, and Tristan, as People reported. Growing their family has only led to more bliss for the compatible, creative couple.
Chris Hemsworth and Elsa Pataky have created a close family dynamic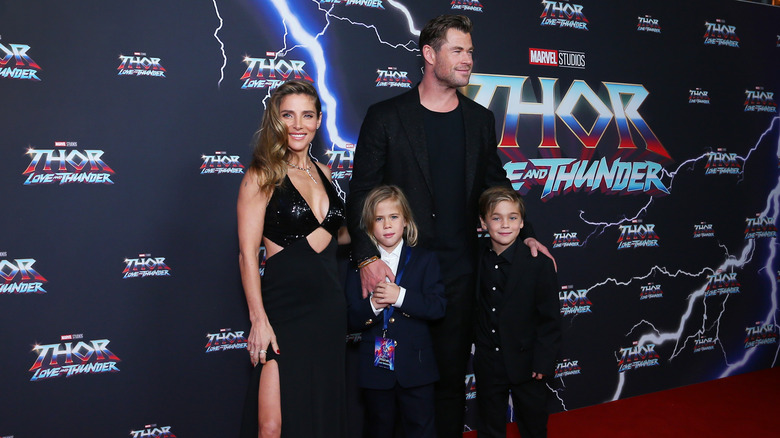 Lisa Maree Williams/Getty Images
Power couple Chris Hemsworth and Elsa Pataky are a pair whose lasting marriage has led to a tight-knit family. The oldest child of the entertainers, India, is 10 years old, while their younger kids, twins Tristan and Sasha, are 8, per Now to Love. Hemsworth talked to GQ Australia in 2018 about how being a father has become the central focus of his life. "There's definitely a couple of films I could've put way more energy into but I was like, 'No, I'd rather be with my kids,'" Hemsworth said.
In one of Hemsworth's latest films, "Thor: Love and Thunder," Pataky and their three children all make appearances. As Hola! wrote in July, India portrays Love, who is the daughter of Christian Bale's character, Gorr. Pataky portrays a wolf woman, and Tristan and Sasha act as a child Thor and an Asgardian child. In a Good Morning America interview earlier this month, Hemsworth said he is "incredibly proud" of this family members' performances in the film. While chatting with Modern Luxury in 2016, per ABC News, Hemsworth said that after he and Pataky welcomed their children, he realized what the priorities in his life were. "Once the kids arrived, I was like, 'Wow, this is what life is about,'" Hemsworth said. Hemsworth and Pataky have definitely found a joyful ending since the pair was first introduced and fell for each other back in 2010!