Inside Kathy Hilton's Relationship With Her Sister Kim Richards Today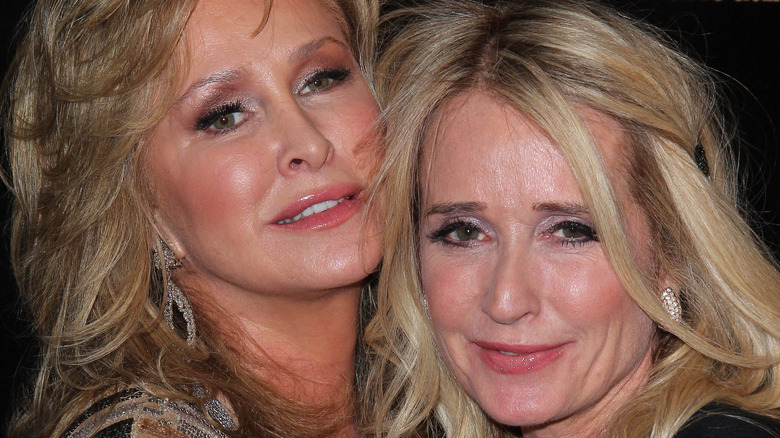 s_bukley/Shutterstock
What exactly is going on between Kathy Hilton and Kim Richards? The two sisters, who are also sisters to Kyle Richards, no doubt have a lot in common and still run in the same circles, having all appeared on "The Real Housewives of Beverly Hills" over the years.
Kyle is still a staple on the Bravo hit after joining the show in 2010 for Season 1 alongside Kim, and the two sisters aired out plenty of their dirty laundry on the show. Though they seemed close when things kicked off, the cracks in their relationship began to show and the two quickly fell out. During the Season 1 finale, Kim famously accused her sister and her husband, Mauricio Umansky, of "stealing [her] goddamn house," because the two bought Kim's share in their late mom's house, per Us Weekly. That then resulted in the two getting into a heated exchange in the back of a limo and the twosome didn't speak for a while after. Today though, things seem better between the two, with Kyle confirming during the Season 11 "RHOBH" finale, per Bravo, "Yes, I do have her current phone number. And we are good."
But what about Kim and Kathy, and why did Paris Hilton's wedding reportedly cause tension for the sisters?
Kim Richards was upset over Paris Hilton's wedding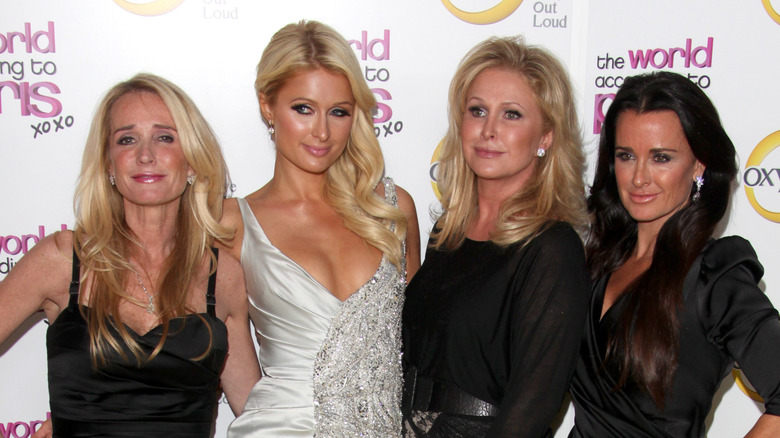 Kathy Hutchins/Shutterstock
It seems like things may have gotten a bit rocky for Kathy Hilton and her sister, Kim Richards, over Paris Hilton's wedding with Carter Reum. Kathy revealed on "Andy Cohen Live" in January that Kim was supposedly not happy phones had been banned during Paris and Carter's big day and thought, as family, she should have been allowed to keep her device with her. "She thought that it was, you know, that she was my sister and that it was okay, and I had to explain to her that it's not our house anymore... So we can't just, like, barge in," Kathy said, revealing she even left her phone at home so no pictures would leak.
That led to reports of tension between the two, and All About The Real Housewives suggested the phone issue may have resulted in social media drama. The gossip account claimed in April that Kathy may had unfollowed Kim on Instagram, though Kathy responded and suggested it was by accident. "Thank you for the heads up you were right I just refollowed," she commented on the post, per Reality Blurb. "I speak to Kim all the time. Thank you for letting me know about the Instagram I will follow again. We all send each other DMs about funny memes???"
That came around a month after both Kim and Kyle skipped Kathy's birthday celebrations, though Page Six reported it was because the two both had prior commitments.
What did Kim Richards think about Kathy Hilton joining RHOBH?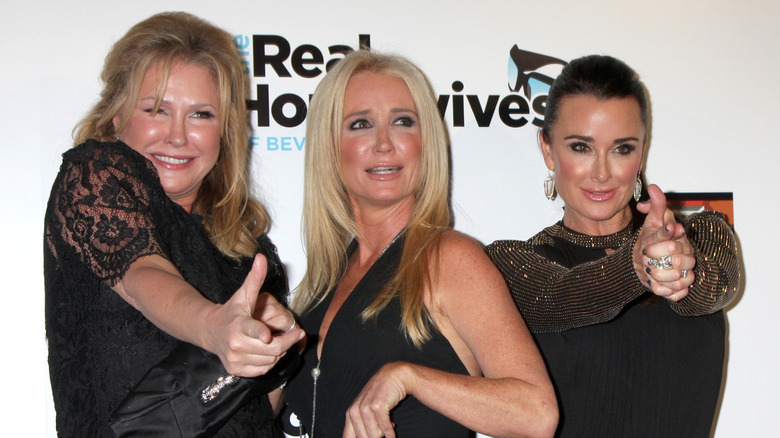 Kathy Hutchins/Shutterstock
As longtime viewers will know, Kim Richards has a pretty rocky relationship with "The Real Housewives of Beverly Hills." She quit being a full time housewife in Season 5 but has returned as a guest in several subsequent seasons, so how did she really feel about Kathy Hilton popping up as a friend of the Housewives for Season 12? "She loves it. You know, I called her, and I talked to her about it. I said, 'What do you think?' And she said, 'Yeah, just don't lose your temper,'" Kathy claimed during the "RHOBH" Season 11 reunion, per Bravo, in November 2021.
Kathy then confirmed in June that things were all good with Kim and Kyle Richards in the wake of the Paris Hilton wedding drama. "Kim and I have had maybe 2 or 3 arguments in the last 5 years . One of us breaks down within 10 days," she wrote in an Instagram comment in June. "Kyle and I have had 1 argument in the last 2 years. I love my sisters very much it hurts me when the press refers to us as half sisters we never felt that way. I am just [too] sensitive," she added.
Kyle shared a similar sentiment the month earlier, telling Bravo's The Daily Dish, "We're sisters, we're always going to have an argument here and there. We always come back together — we're blood."