How Tom Brady Wants To End His Career
Carmen Mandato/Getty Images
American football quarterback Tom Brady shocked the world — or maybe not — when he announced that he was coming out of retirement to play another season with the Tampa Bay Buccaneers, just 40 days after being in retirement. The Bucs' quarterback went to Twitter to announce his return. "These past two months I've realized my place is still on the field and not in the stands," Brady stated. "That time will come. But it's not now. I love my teammates, and I love my supportive family. They make it all possible. I'm coming back for my 23rd season in Tampa. Unfinished business LFG."
Brady ultimately decided to come out of retirement due to pressure from free agency, combined with the fact that he (and his teammates) needed time to prepare for the upcoming season, per Sports Illustrated. He also mentioned his age played a factor in his decision to retire, saying that "when you're their [Patrick Mahomes and Josh Allen's] age, if you were to ask me, 'Are you going to play football next year?' I would say there's a 100% chance I'm playing. And I think as I've gotten older, that's changed because I have other responsibilities."
Brady may not be ready for retirement just yet, but he has opened up about what his dream ending would be for his career.
Tom Brady wants to conclude his career with a dub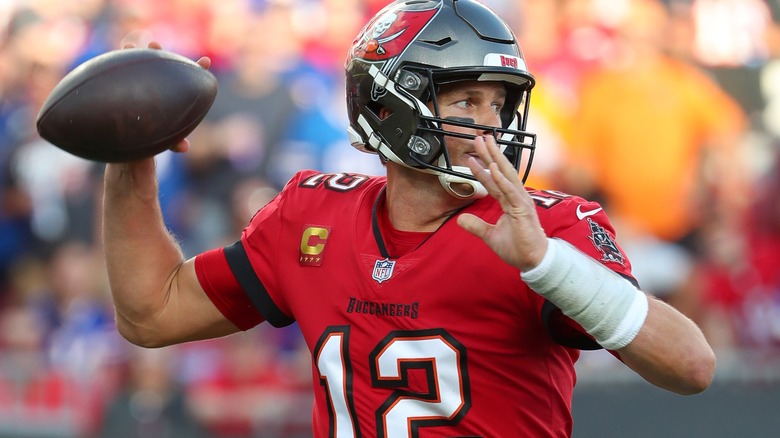 Steve Jacobson/Shutterstock
He isn't done being the GOAT of American football, but Tom Brady has big dreams on how he wants his career to end. According to the "Dan Patrick Show," the quarterback was pretty set on fully retiring, but his competitive side took over. "I had the appetite to compete, and it's going to be gone soon," Brady said. "I gotta, you know, just really appreciate the time I have left because it's not a lot." Now, he's taking it year by year, one step at a time.
"Could this be my last year? Absolutely," Brady told Variety in a recent interview. "Could I change my mind? Absolutely. I've realized I don't have five years left. I want to do it my way. I've had a lot of traumatic injuries over the years, but if things go really smoothly and we win, that'd be great. I think that would obviously be the greatest way to end."
Once Brady does decide to retire for good, Fox Sports announced on Twitter that he will be the lead analyst. The Tampa Bay quarterback responded to the tweet saying, "Excited, but a lot of unfinished business on the field with the @Buccaneers #LFG." Brady also co-founded companies such as autograph.io, Brady Brand, and TB12Sports, and he started a production company called 199 Productions. We're excited to see what the future holds for the quarterback.