How Jessica Chastain Really Feels About Getting Mistaken For Bryce Dallas Howard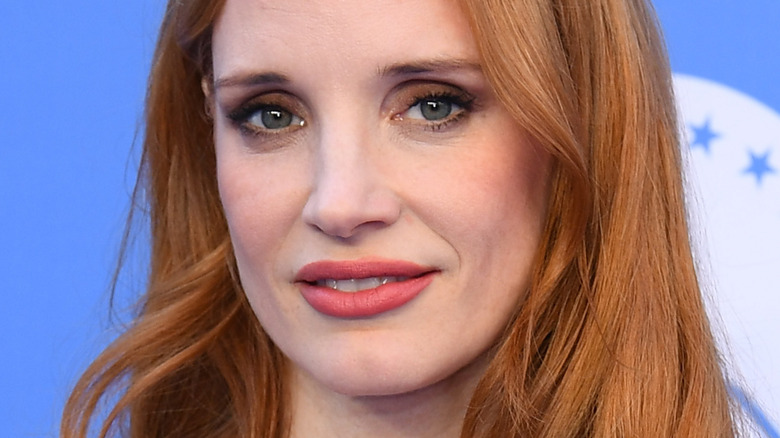 Joe Maher/Getty Images
Some celebrity doppelgangers look so similar that it's hard to believe they aren't siblings. Katy Perry, for example, bears a striking resemblance to "New Girl" star Zooey Deschanel. The "I Kissed a Girl" singer even revealed she used to pretend to be the actor to get into clubs in Los Angeles. "When I first got to L.A., I went to the club. A lot. And I wanted to get into the club, but I had no money, I had no clout, I had nothing, and sometimes I would pose as you to get into the club," Perry revealed to Deschanel in a 2020 Instagram Live (via Vanity Fair). "I'm sorry if I misrepresented you."
Similarly, Isla Fisher and Amy Adams look so much alike that the "Now You See Me" star was able to fool her family by placing a photo of Adams on her annual Christmas card. In 2013, Adams even commented on the comparisons, telling Vanity Fair, "I get Isla Fisher all the time... I get it, but I don't get it" (via Us Weekly).
Another set of entertainers who are often misidentified, are actors Jessica Chastain and Bryce Dallas Howard. Chastain is an Academy Award-winning star, known for her scene-stealing roles in films like "The Eyes of Tammy Faye" and "Ava." Howard, equally successful in her own right, boasts an impressive filmography and is the daughter of Oscar-winning director Ron Howard. And while fans may often mistake the actors for one another, Chastain is apparently not fond of the error.
Jessica Chastain is over being mistaken for Bryce Dallas Howard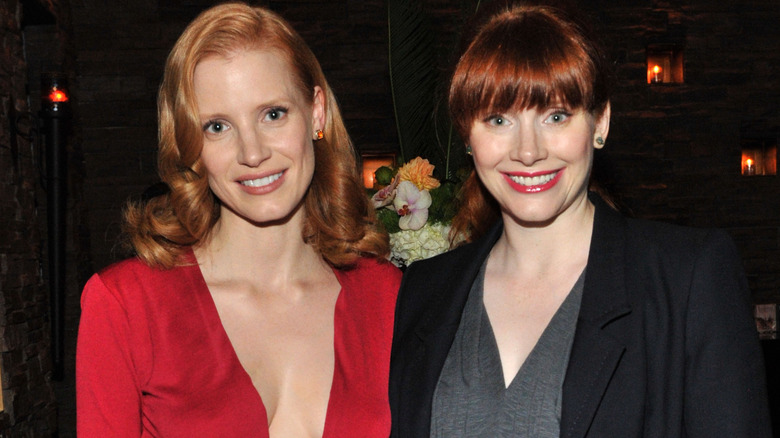 Sonia Recchia/Getty Images
Jessica Chastain has made her feelings about being mistaken for fellow actor Bryce Dallas Howard very clear. Chastain, who won a Golden Globe for her role in "Zero Dark Thirty," has sent a clear message to fans who are unable to tell her apart from Howard. "When you spend 20yrs building a career and they still think you work at Jurassic Park," Chastain wrote, alongside a TikTok using the popular "Sick of It" sound. The video, which shows Chastain rocking a brimmed hat, was seemingly made in jest — as Chastain smiles at the end of the clip.
And while it appears as if Chastain is over the constant misidentification, she once admitted that she does in fact look like Howard. She told AP Entertainment in 2019, that she once saw Ron Howard at an Apple Store and he thought she was his daughter. "My friend who was with me said [Ron] turned to someone and he goes, 'I think I just saw Bryce,'" Howard said, adding, "We look so much alike."
But although Chastain may see the resemblance, does Howard?
Bryce Dallas Howard also sees the resemblance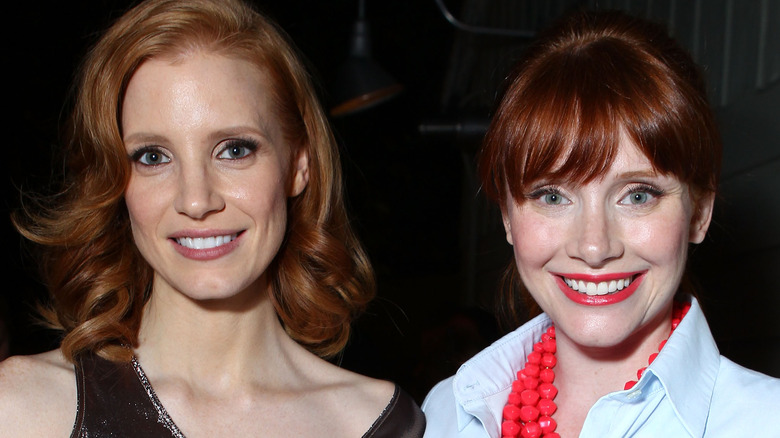 Alexandra Wyman/Getty Images
It seems as if Bryce Dallas Howard also agrees that she and her "The Help" co-star Jessica Chastain look alike. During an appearance on "CONAN," Howard joked that while she does often get mistaken for Chastain, it only happens under certain circumstances. "Only when I'm looking presentable, and I have makeup on," she revealed. "When I look like myself, nobody thinks I look like Jessica Chastain." Fans of the actors rushed to the comment section to voice their opinion on the issue, with many claiming to be able to easily tell the two apart. "Both of them are very beautiful and accomplished actresses. I could tell them apart. I dont know why others can't see the difference," one person commented. "They could Definitely be sisters lol."
However, there were some online who were adamant that the two entertainers were "the same" person. One Twitter user tweeted, "Im still not convinced Bryce Dallas Howard and Jessica Chastain are different people they look exactly the same." So, do the two actors look like? It's certainly debatable, so you be the judge!