Is Jennifer Lawrence Friends With The Kardashians?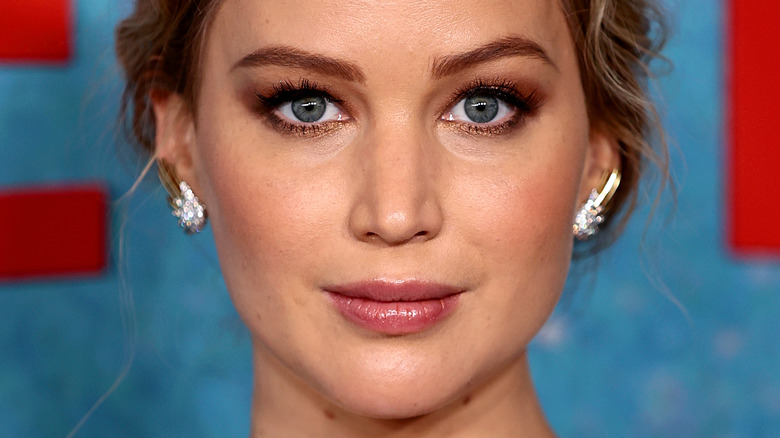 Dimitrios Kambouris/Getty Images
Jennifer Lawrence might just be the ultimate reality TV fan. In 2017, Oprah Winrey interviewed the "Hunger Games" star for The Hollywood Reporter, and Lawrence revealed her interesting choice in dinner party guests. "Three people you'd like to have at a dinner party, living or dead?" Winfrey asked, to which Lawrence rattled off reality stars Scott Disick from "Keeping Up With The Kardashians," and Luann de Lesseps and Bethenny Frankel from "The Real Housewives of New York." Lawrence added, "I'm not proud of that, but that's what comes from my heart." Fast forward to March 2018, and Andy Cohen made her wish come true (sort of) when he surprised the actor with an impromptu dinner party complete with de Lesseps and Frankel. Unfortunately, Disick could not be in attendance.
Lawrence's reality show fan-girling is just one of her many delightful quirks. From interviewing Kim Kardashian on "Jimmy Kimmel Live," to revealing that she has her own go-to cocktail at "Vanderpump Rules" restaurant Pump, to teaching her "Mother!" co-star Javier Bardem all about the KarJenners, Lawrence is a walking, talking encyclopedia of all things reality TV. She also doesn't discriminate, counting shows like "KUWTK," "The Hills," "The Real Housewives," "The Bachelor," and "Vanderpump Rules" among her favorites. Still, "KUWTK" holds a special place in her heart. 
By now, the actor's love for the KarJenners is well-documented, begging the question: is she actually friends with the famous family IRL?
Jennifer Lawrence has spent lots of time with the KarJenners
In 2015, Kim Kardashian opened up to The Sun about her first meeting with Jennifer Lawrence, explaining that J-Law screamed "I love your show!" across a hotel lobby (via Marie Claire). This tracks with classic reality TV junkie behavior, but J-Law may have parlayed her fandom into a budding friendship with the family. 
Prior to interviewing Kim on "Jimmy Kimmel," the "Passengers" actor got to know the SKKN mogul, as well as momager Kris Jenner. "I wanted to get as much information as I could. I wanted to do my due diligence on Kim Kardashian. I went to Kris [Jenner's] house and had dinner with the whole family," Lawrence explained at an appearance for The Wing. Calling the KarJenner clan "smart, grounded, normal, and funny," she did acknowledge that feelings might run a little deeper on her end. "I don't know that [Kim] would call me a friend," Lawrence added. "It's probably a one-sided friendship."
Still, as the KarJenners got to know Lawrence, they welcomed her into the fold the best way they know how: by including her on "KUWTK." Per Refinery29, the "Red Sparrow" star made a cameo on a 2019 episode of the show, in which she purported to be "the new Kris," and gave input on Khloé Kardashian's paintings. After the fact, Khloé showed her appreciation for J-Law on Twitter, calling her friend "sooooo hysterical." Interestingly however, it's the KarJenner matriarch with whom Lawrence is the closest.
Kris Jenner thinks of Jennifer Lawrence like another daughter
Jennifer Lawrence first met Kris Jenner in 2015, when Lawrence's friends enlisted the momager's help in surprising Lawrence with a birthday cake, per Entertainment Tonight. One thing led to another, and Lawrence ended up in bed with Jenner on Instagram. (FYI: NYT writer Brooks Barnes explained the whole thing on Twitter, for anyone who's interested). It was undoubtedly a hilarious interaction, but one that cemented Lawrence in Jenner's heart. After hitting it off, Jenner had Lawrence over for dinner. "Jennifer came over for dinner two weeks ago, I've never seen my mom more drunk in our lives," Kim Kardashian recalled on "Jimmy Kimmel Live." "It was so funny." 
Jenner elaborated on her wild night with Lawrence on Steve Harvey's talk show (via The Daily Mail), explaining, "As girls do when they all get together, we ended up in my closet — looking at clothes ... and she started trying some stuff on."
Jenner and Lawrence have remained tight over the years. In 2019, People reported that Jenner was one of Lawrence's guests of honor at her rehearsal dinner ahead of her wedding to Cooke Maroney. In 2020, the momager gushed that Lawrence was her favorite daughter in an Instagram birthday tribute (via People). More recently, Jenner appeared on Access Hollywood to praise her bestie. "[Jennifer is] beautiful. She's such a good friend and I'm so proud of her," Jenner said. "She's like one of my kids. I'm so blessed to have her in my life."