Lala Kent Reveals Her Last-Minute Decision Regarding Vanderpump Rules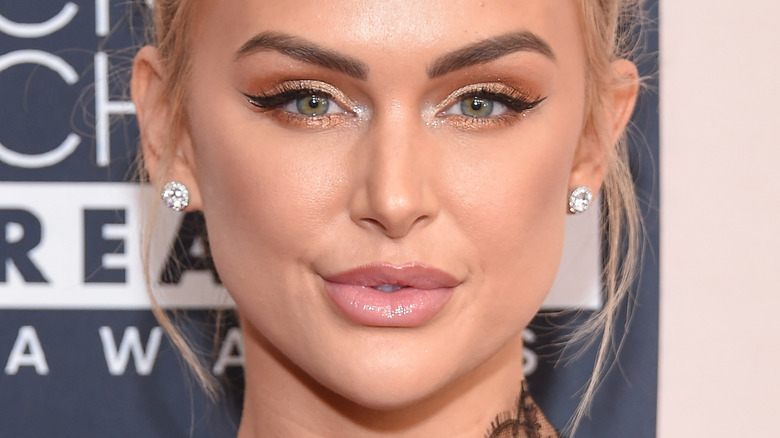 DFree/Shutterstock
Lala Kent has always been one of the more controversial stars on "Vanderpump Rules." However, she has also been one a star who has been able to adapt and grow as circumstances have changed on the series.
After getting engaged in 2018, Kent and Randall Emmett split in late 2021, and she's raising their baby, Ocean, as a single mom. Not only is she a recovering addict, but she has had to put her pride in her pocket when it comes to some of her relationships. She spoke to Us Weekly in July about how her volatile relationship with Jax Taylor. Kent shared, "I'm cordial with him because Brittany [Cartwright] is one of my best friends." Cartwright and Taylor have been married since 2019, and they share a son together. Kent has seemingly realized that friendships sometimes require a little give-and-take, and she needs to get along with Taylor if she wants to be in Cartwright's life. Luckily, the besties know what they have in each other.
In the spirit of change, Kent is also sporting a fresh look. She took to Instagram on July 14 and shared her new hairstyle with her fans. The mom wore her hair in a high bun and put her feathery bangs on display. She captioned the image, "These bangs are making me vulnerable AF." Will Kent wear her bangs in the new season of "Vanderpump Rules?" Will she be making an appearance at all? Kent has finally confirmed her decision about the show.
Lala Kent shows off a different side of her personality
Lala Kent has always been fierce, but fans have seen a new side to her personality ever since she gave birth to her baby Ocean. In 2021, she put it best when she wrote, "I'll get back to being Lala one day... but right now my identity lies within Ocean." 
With all the changes in her life, it seems only natural that she was debating whether she wanted to film "Vanderpump Rules" Season 10. Kent spoke to Us Weekly about the decision, revealing, "I literally was still deciding if I wanted to come back the night before we even started." The Bravolebrity revealed she feels that participating in the show drains her. But, after watching a vintage episode of "The Real Housewives of New York," Kent said she was "itching for a camera to be in my face."
Kent feels that fans will see her in a different light this time around. She said, "This is the first time that people are gonna see me completely single — thinking about my child, venturing into the dating world." The star also divulged that her "life is very different [since season 9]." She felt that she was in a better place and was happier than before. Kent also said, "I'm excited to be back — hanging out with your friends, you forget the cameras there." Fans can agree that Kent letting loose and forgetting that she is being filmed is the best. We're here for that!