James Corden Once Had An Awkward Encounter With Ivanka Trump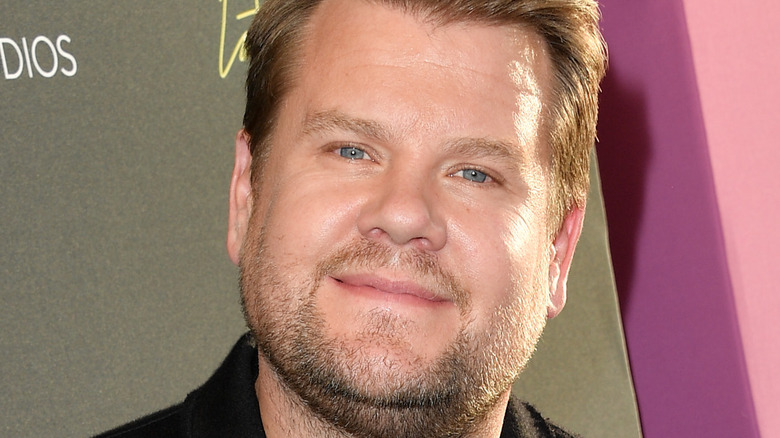 Allen Berezovsky/Getty Images
James Corden, known for his larger-than-life presence on-screen, has had his fair share of interactions with celebrities both on his show as well as a few behind-the-scenes. Since launching his widely popular late night talk show, "The Late Late Show with James Corden" on CBS in 2015, the English comedian has made headlines for his lighthearted segments with well-known actors, musicians, and others in the spotlight through segments such as "Celebrity Music," "Spill Your Guts or Fill Your Guts," and most notably, "Carpool Karaoke." These segments have ranked upwards of hundreds of millions of views on YouTube alone. 
However, there is one well-known celebrity in particular with whom Corden had an uncharacteristically awkward encounter several years ago, and it was in no small part due to her famous father. In 2019, it was revealed that Corden once encountered Ivanka Trump — daughter of former president Donald Trump – and made an attempt to tamper down the inhibitions of her dad. 
James Corden drunkenly told Ivanka Trump to 'do something' about her father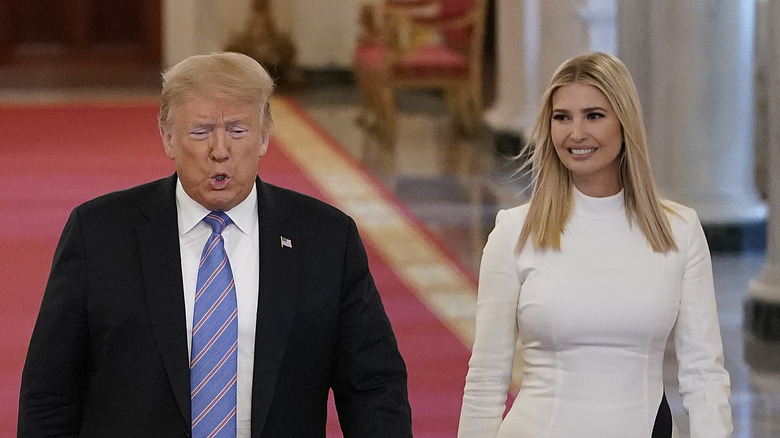 Drew Angerer/Getty Images
In a 2019 episode of "Spill Your Guts or Fill Your Guts" — in which James Corden and a guest on his show have to either answer a personal, tell-all question or eat something unsavory — Corden's guest, former California governor Arnold Schwarzenegger, picked a card which asked Corden what he talked about with Ivanka Trump when the two of them attended a wedding together. Trump was not only the daughter of the president at the time, but she was also a formal (though unsalaried) advisor to the president. 
Corden answered by saying that at the wedding, he saw the young Trump at a bar. While drunk, Corden and his friend Orlando Bloom — who was also a guest at the wedding — started shouting at her from the other end of the bar. "Ivanka, you can do something! You can make a difference," Corden recalled himself saying. "You can make it better!" Trump's response to this statement? Apparently, she told the two inebriated celebrities, "I'm trying! I'm trying." 
Corden said that the following day, he saw her outside, near a garden. "I had forgotten all about it, until I saw her," he said, "and it all came back." According to Corden, all Trump said to him was, "I bet you've got a headache this morning."  
James Corden's pleas may have been in regard to Donald Trump's controversies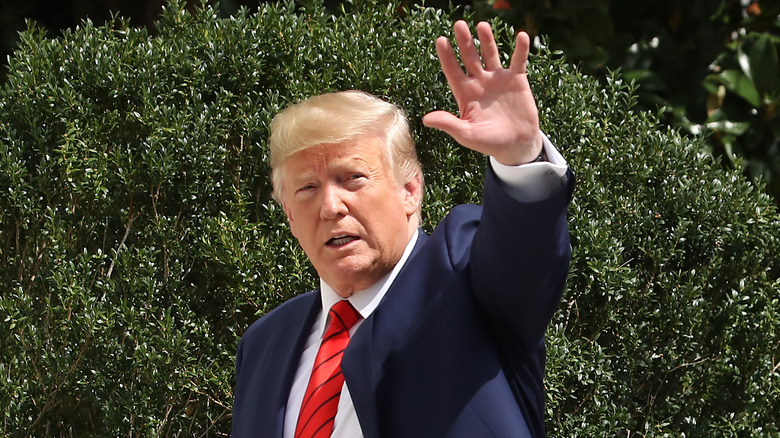 Mark Wilson/Getty Images
The wedding which James Corden spoke of was likely that of fashion designer Misha Nonoo and her husband, Michael Hess, which took place in September 2019. Of course, anyone following politics at this time would know that former president Donald Trump was highly subject to numerous public controversies, and that day in particular was no exception.
At the time, Donald Trump was under increased public scrutiny for a controversial phone call he had with Ukrainian President Volodymyr Zelenskyy. In the phone call, Donald asked him to open an investigation into Hunter Biden, then-presidential candidate Joe Biden's son, under the threat of withholding U.S. aid to the country if Zelenskyy did not comply. This led to House Speaker Nancy Pelosi opening an impeachment inquiry against him several days later.
Although Ivanka Trump may have told Corden during their awkward encounter that she was "trying" to do something with regard to her father, her words rang hollow in future — and previous — months. In 2017, Ivanka told the public that it was "unrealistic" to expect her to change her father's mind on certain issues. Furthermore, only a few months after the wedding, she defended her father with regard to his controversial phone call and even said that she believed the subsequent impeachment was an attempt by Democrats to overturn the 2016 election, per the Independent. Apparently, Corden's attempts to get Ivanka to "do something" were all but futile.