Inside Priscilla Presley's History With Scientology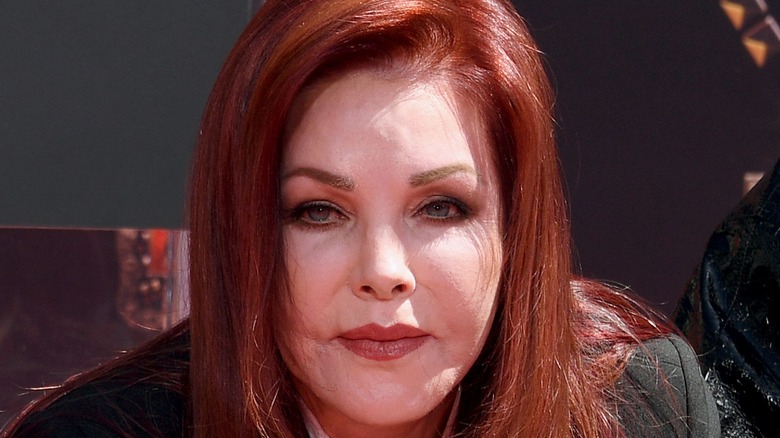 Jon Kopaloff/Getty Images
Priscilla Presley (née Beaulieu) has been in the public eye since the late 1960s due to her short-lived marriage to legendary rock star Elvis Presley. After first meeting the "King of Rock 'n' Roll" in 1959, per Smooth Radio, when she was just 14 and he was 24, they would go on to begin a relationship several years later and eventually get married in 1967, shortly before Priscilla's 22nd birthday. They would also go on to have a baby — Elvis' only child — daughter Lisa Marie Presley, exactly nine months after their wedding. However, they would divorce only six years later, in 1973, only four years before Elvis' untimely death from heart failure in 1977. 
Although Priscilla may well have been well-scrutinized by the media, and the public, for several decades, there are still many aspects of her life which may have eluded fans of the late "King," especially that which took place after their divorce. One of these aspects may be one of the most important in her life: the fact that, like many other celebrities, Priscilla Presley has a history with the controversial Church of Scientology. 
Priscilla Presley has been a Scientologist since Elvis' death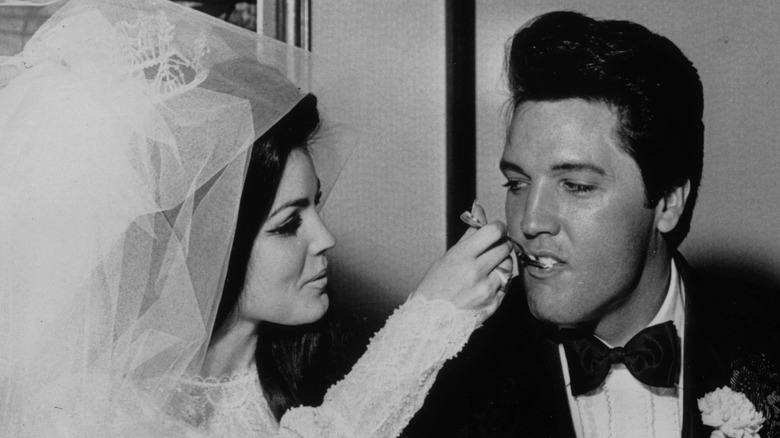 Keystone/Getty Images
It turns out that Priscilla Presley has been involved with Scientology for a fairly long time. In 2017, a source close to Priscilla told the Daily Mail that she reached out to notable Scientologist John Travolta after her husband died in 1977, and "has been in [the Church] ever since." Although it was reported at the time that Priscilla was considering defecting from the church, her representatives denied it, per People. 
Although Priscilla and Elvis Presley were divorced by the time of his death, the two were still very close, with Priscilla even letting Elvis listen in on the phone while she made love to other boyfriends, and refusing to marry anyone else while Elvis was alive. Upon his death, Priscilla was shocked and devastated, per Outsider, which was likely a major contributing factor to her joining Scientology. According to former Scientologist Steve Hall, the cultish so-called religion is akin to Buddhism in how it preaches reincarnation, and the ever-lasting presence of past lives, which, alongside her grief, may have led Priscilla to seek some kind of connection with her late husband. 
Elvis, however, was no fan of Scientology, and almost certainly wouldn't have let his ex-wife become a member had he been alive. According to Janet Reitman's "Inside Scientology," per Rolling Stone, Elvis exclaimed after exiting a Scientology center, "F**k those people! There's no way I'll ever get involved with that son-of-a-b*tchin' group. All they want is my money."
Both of Priscilla Presley's children were also a part of Scientology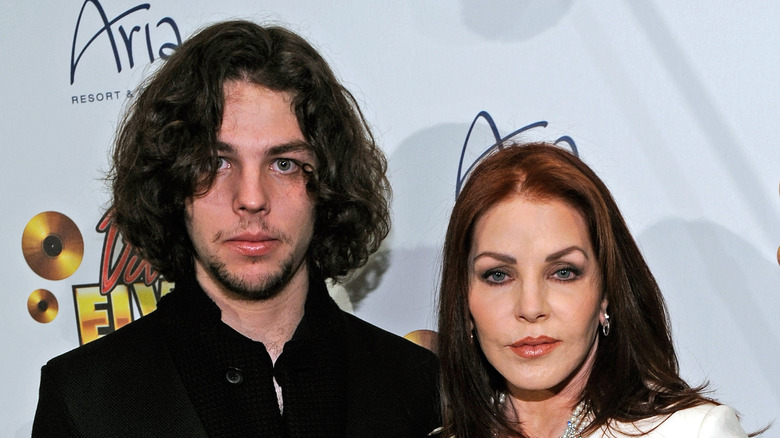 Ethan Miller/Getty Images
Priscilla Presley was not the only member of her family to join the Church of Scientology. According to the Daily Mail, Priscilla and Elvis Presley's only child, daughter Lisa Marie, was involved with the church from the time her mother joined — when she was only around nine — up until around 2014.
"I was slowly starting to self-destruct," Lisa Marie said of the church after departing, per Pop Culture. "They were taking my soul, my money, my everything. I've had enough. I'm done." Lisa Marie's sentiments reflect many of those who have left the controversial church, with many former members calling it a "cult," or abusive. However, despite Lisa Marie's less-than-friendly separation from the church, her mother apparently remains in it to this day.
Priscilla's other, lower profile child has also dabbled in the organization. In 2005, it was reported that Navarone Garibaldi, Presley's then-18-year-old son with Marco Garibaldi, joined the Church of Scientology. Navarone, Priscilla Presley's only other child apart from Lisa Marie, had previously been arrested at the age of 17 for possession and usage of hallucinogenic mushrooms and marijuana, causing an uproar in the vociferously anti-drug church. In addition, Navarone has been arrested for drug use at least once since joining the church. However, there is no word on whether Navarone, now 35, is still a Scientologist like his mother, nearly 20 years later.