Here's Who Priscilla Presley Dated After Her Split With Elvis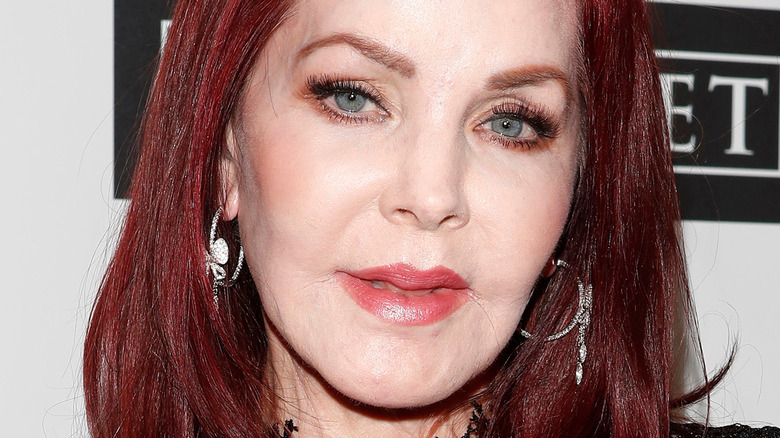 Kathy Hutchins/Shutterstock
Actor and businesswoman Priscilla Presley (née Beaulieu) came to fame across the world for being the only wife of legendary "King of Rock 'n' Roll," Elvis Presley, as well as the mother of his only child, Lisa Marie. She first met the famous rock star, 10 years her senior, at the height of his career in 1959, when she was just 14, per Smooth Radio. They would go on to begin a relationship some time later and would eventually get married in 1967, shortly before Priscilla's 22nd birthday. 
Elvis and Priscilla's marriage was not meant to last, however, and they ended up divorcing in 1973. Elvis, a so-called "womanizer," had multiple extramarital affairs during his marriage, and would go on to have a number of other romantic and sexual relationships before his untimely death from heart failure in 1977. Priscilla, on the other hand, has not remarried in the nearly 50 years since her split from Elvis. She has, however, dated a number of powerful and accomplished men in the time since, and several of these relationships have proven to be rather scandalous.
Robert Kardashian had an affair with Priscilla Presley before he married Kris Houghton
According to well-known celebrity biographer Jerry Oppenheimer, Priscilla Presley not only once dated Robert Kardashian — famed lawyer of O.J. Simpson and first husband of Kardashian family matriarch Kris Houghton, aka Kris Jenner — but she was actually Kardashian's first love. Kardashian and Houghton first met around 1974, according to Jenner herself, and dated for four years before getting married in 1978. However, according to Oppenheimer's 2017 book, "The Kardashians: An American Drama," Kardashian had an affair with Presley in the years before their marriage. Jenner became "totally jealous" of this, Oppenheimer told "Inside Edition" in 2017. 
"Kris Jenner comes from a very blue collar family," Oppenheimer said. "She has very little education ... She saw Robert as her way out of this blue collar life, a way out of being a flight attendant and a Beverly Hills lifestyle, which he had to offer her."
However, although Elvis Presley and Priscilla had already divorced by this time, Elvis was still obsessively controlling of her personal and love life. "While he was making love to Priscilla, she would get incoherent phone calls from Elvis," Oppenheimer wrote (via Radar Online). "She would put the receiver on the pillow and let him listen." Although Kardashian might have been put off by this, it was Priscilla who ended the affair, as she refused to tie the knot with anyone else while Elvis was still alive. Priscilla proved she would keep this promise. 
Priscilla Presley dated other entertainment bigwigs
Robert Kardashian was not the only big name Priscilla Presley got involved with after her split from the famed rock star. According to Interview, one of the most notable relationships Presley had was one with American male model and actor Michael Edwards, which began in 1978, shortly after Elvis Presley died. However, their relationship ended after only six years, largely due to Edwards' unpredictable behavior, as well as the fact that he began developing feelings for Presley's daughter Lisa Marie, who was between the ages of 10 and 16 at the time — behavior which he acknowledged in his 1988 autobiography, "Priscilla, Elvis, and Me."
"He's a sick f**k," Lisa Marie told Playboy of Edwards in 2003. "I know he wrote a book and said he lusted after my developing body as I got out of a pool." She added that he would also come into her room and become "inappropriate while drunk." 
Presley's most notable romance post-Elvis, however, was likely that with Italian screenwriter Marco Garibaldi, with whom she was in a close relationship from 1984 to 2006, per the Daily Mail. Although they never married, Garibaldi is the only other man with whom she had a child: musician Navarone Garibaldi, frontman of the California-based band Them Guns, who was born in 1987. There is no word on whether Presley is currently dating anyone, though there is no doubt she has certainly had a full and impactful romantic life thus far.