This Was The Last Song Elvis Presley Recorded Before He Died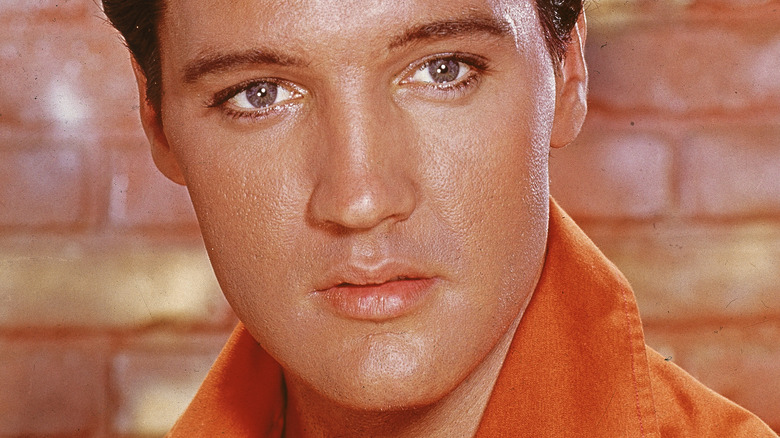 Hulton Archive/Getty Images
Legendary musician Elvis Presley crafted an iconic music collection over the course of his career, which resulted in him being dubbed the "King of Rock 'n' Roll" by loyal fans around the globe. His chart-topping hits like "Blue Suede Shoes" and "Jailhouse Rock" have stayed in the minds of music listeners and endured as classic tunes since their releases. 
Sadly, Presley died on August 16, 1977, at the age of 42. He was found unconscious in his home, and it was later determined that he likely died as a result of an alleged addiction to prescription drugs. Just two months prior to his death, Presley had put out his final album, "Moody Blue," per All Music, which initially experienced some moderate success. After Presley's death, however, the album shot up to No. 3 on the charts. It was also discovered that one song included on the album was the final tune to ever be recorded by the artist and rock star.
The last song Elvis Presley recorded was Way Down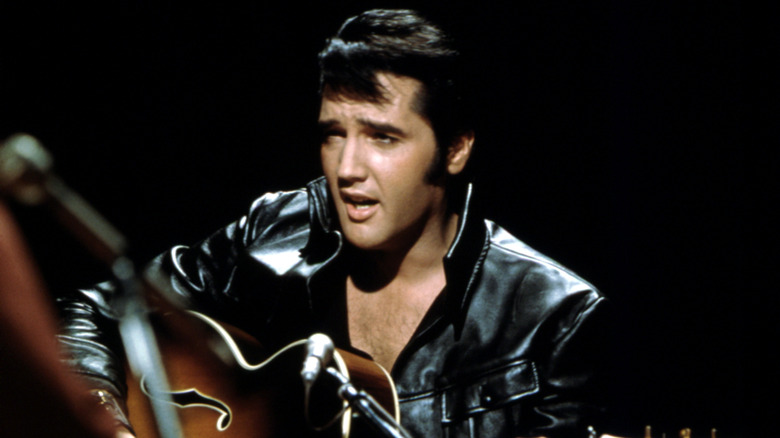 Michael Ochs Archives/Getty Images
The last song music legend Elvis Presley recorded before his death was "Way Down," recorded at Presley's home, Graceland, per Genius. The song was Presley's final track to chart, Rolling Stone reported, and it reached No. 18 on the pop charts following his passing. The song's uptempo beat is accompanied by romantic lyrics like, "Your love is doing something that I just can't describe/Ooh, and I can feel it/Feel it, feel it, feel it/Way down where the music plays." Many fans would call it an enjoyable and memorable love song.
While it was Presley's final tune, "Way Down" was written by songwriter Layng Martine Jr. In 2016, Martine opened up about penning the tune in an interview with the Tennessean. Martine said he passed along a demo of "Way Down" to a music publisher named Bob Beckham, which led to Presley recording the track. "I walked in the door of Creative Workshop and I heard this pulsating, throbbing thing, and I thought, 'That's the beginning of my damn song,'" Martine recalled. "All of a sudden, Elvis started singing, and I (thought), 'That's impossible!'" In addition to continuing his successful music career, Presley had plans of improving other areas of his life before his death.
Elvis Presley had plans to take time off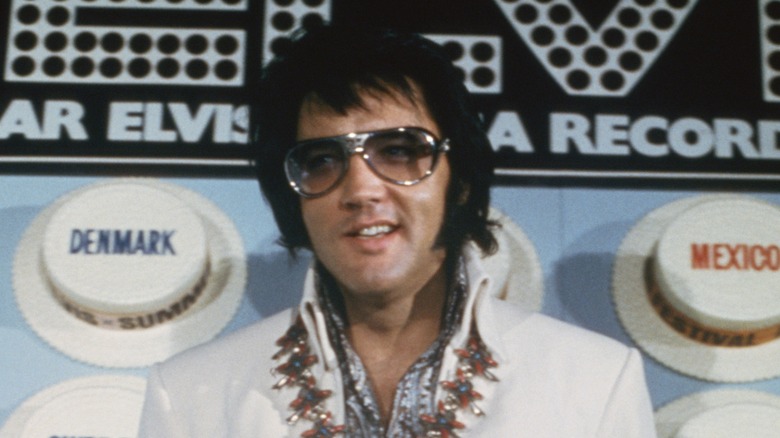 Michael Ochs Archives/Getty Images
After the release of "Moody Blue," which included the single "Way Down," Presley died of a heart attack. (The cardiac event itself was most likely connected to an addiction to his prescribed medication, per PBS.) In 2016, his hairdresser and close friend, Larry Geller, spoke to Closer Weekly about Presley's desire to make a change in his life. "[Presley] was going to quit singing for a year, stop everything, and we were going to go to Hawaii ... swim every day and play football," Geller said. "It's a lesson for all of us. Don't wait ... make changes when we know we have to make them."
Even after death, Presley's legacy lives on. The latest tribute for the King is a movie set to hit the big screen in the summer of 2022. Simply titled "Elvis," the movie has Baz Luhrmann attached as its director, with actor Austin Butler starring as Presley, per the U.K. Express. From his first music recording to his last, Presley won over listeners all over the world — and his story is one that will continue to be told for generations to come.
If you or anyone you know is struggling with addiction issues, help is available. Visit the Substance Abuse and Mental Health Services Administration website or contact SAMHSA's National Helpline at 1-800-662-HELP (4357).