The Uncomfortable Moment Ellen DeGeneres Had With Katy Perry On Her Show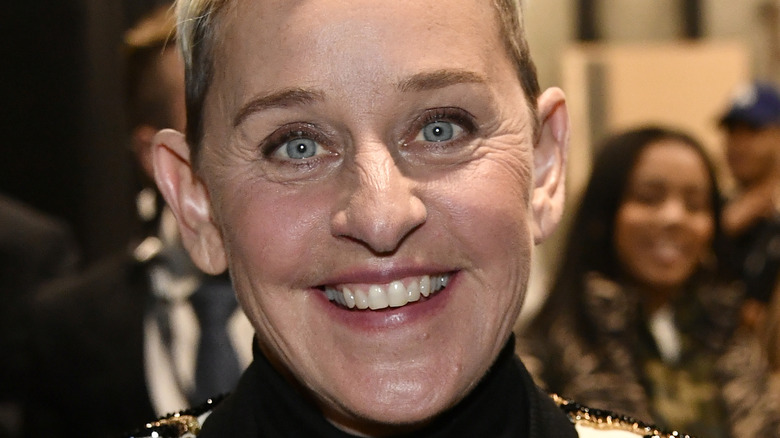 Frazer Harrison/Getty Images
Ellen DeGeneres is no stranger to awkward encounters. The comedian — who rose to fame as the host of "The Ellen DeGeneres Show" — was a staple on daytime television for 19 years. During her time on the popular show, DeGeneres won 30 Emmy Awards – more than any other talk show host in history.
In addition to providing viewers with heart-warming moments and extravagant gifts, DeGeneres was known for putting celebrities in weird situations. In 2008, the comedian gifted Ryan Seacrest a bingo marker, which he mistook for an adult toy. Years later, Justin Timberlake called out the TV personality after she sent him a video singing his hit, "Can't Stop the Feeling." He told DeGeneres that while he enjoyed the clip, she sung the wrong lyrics. "My favorite was you're like, 'Just electric,'" Timberlake quipped. "I was like, 'That's not the words.'"
The hilariously tense moments with Timberlake and Seacrest were only a few that unfolded in 19 seasons of DeGeneres' show. However, one of her most uncomfortable moments came when she spoke with singer Katy Perry.
Ellen DeGeneres forgot Katy Perry was married
Ellen DeGeneres had a strange interaction with singer Katy Perry on a 2017 episode of "The Ellen DeGeneres Show." During Perry's appearance on the show, the comedian suggested the pop star play a game of "Will You Perry Me?" — a version of the popular game "Who'd You Rather?"
Before starting the bit, Perry joked, "Do I have to get married? Again." To which DeGeneres responded, "You were not married." Perry went on to remind the talk show host that she was married at 25 years old to English comedian Russell Brand. "Oh, that's right. I forgot about Russell," DeGeneres said.
Perry and Brand were married for just over a year, separating in December 2011. Brand recently spoke out about his short-lived marriage to the "I Kissed A Girl" singer, and revealed that their union failed due to their busy schedules. "Katy was obviously very, very occupied and very busy. I was [also] occupied and busy," he told UK TV's John Bishop (via NME). Talk about awkward. 
Katy Perry and Ellen DeGeneres are friends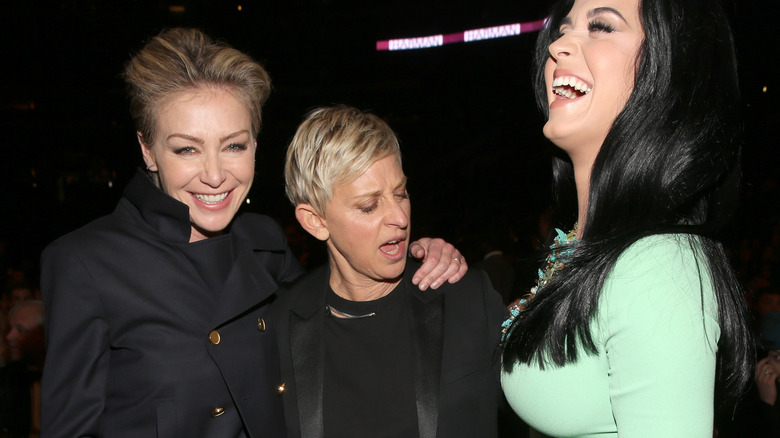 Christopher Polk/Getty Images
Despite their awkward on-air exchange in 2017, Katy Perry and Ellen DeGeneres have seemingly built a strong friendship. Perry even came to DeGeneres' defense when the talk show host was accused of fostering a toxic work environment. Amid the accusations, Perry tweeted a glowing message of support for her pal. "I know I can't speak for anyone else's experience besides my own but I want to acknowledge that I have only ever had positive takeaways from my time with Ellen & on the @theellenshow," Perry wrote, adding, "I think we all have witnessed the light & continual fight for equality that she has brought to the world through her platform for decades."
Perry later doubled down on her support for the comedian and emphasized that she was only speaking to her personal experience with DeGeneres. "I started that tweet off not undermining anyone else's experience," Perry told the Los Angeles Times in 2020. "I wanted to only speak from my own experience. "The Ellen DeGeneres Show" officially ended on May 26, marking one of the most historic runs on daytime television.