Inside Tom Hanks' Relationship With Meg Ryan
Robin Platzer/twin Images/Getty Images
Tom Hanks and Meg Ryan are not only among the biggest movie stars in Hollywood, but they have been so for several decades now, in no small part due to each other. After starring in "When Harry Met Sally..." alongside Billy Crystal in 1989, Ryan became a household name, even securing a Golden Globe nomination for her breakout role. Hanks, meanwhile, became one of America's most bankable stars around the same time, after scoring his own big break with "Big" in 1988, for which he also received his first Academy Award nomination. 
However, Hanks soon became known as one of Hollywood's go-to leading men in romantic comedies and dramedies, mostly for his collaboration with Ryan, which started in 1990 with the now-cult classic, "Joe Versus the Volcano." This continued with the iconic "Sleepless in Seattle" in 1993, as well as "You've Got Mail" in 1998, in which they continued their roles as romantic counterparts. But what is the status of the entertainment behemoths in real life? Have they ever actually dated? Well, there's quite a bit we know about the relationship between the real-life pair who have played partners so often on-screen, but it is hardly romantic. 
Tom Hanks and Meg Ryan have a very strong working relationship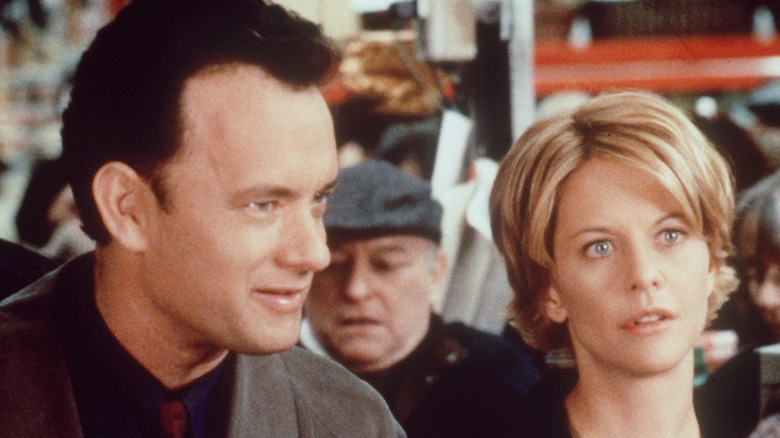 Getty Images/Getty Images
There is nothing to indicate that Meg Ryan and Tom Hanks have ever actually been in a romantic relationship in real life, and both were married for the substantial duration of their working relationship — Hanks to Rita Wilson and Ryan to Dennis Quaid. However, the chemistry between them on-screen is radiant, which is surely what led to so many of their films becoming cult classics. This chemistry is surely due to the close bond the two share which, although it may not be romantic, is still incredibly strong. This is in no small part due to the kindness Ryan says Hanks embodies. 
"He's just so easy," Ryan said of Hanks in 2018, per Today. "He listens; he roots for other people." She added that, unlike many other notoriously arrogant Hollywood big-wigs, Hanks "doesn't like there to be drama. ... We're just really there to have fun, this is supposed to be a creative experience and there's no reason to get heavy."
Hanks seems to feel the same way about Ryan, telling CNN in 1998 – while promoting "You've Got Mail" — that working with Ryan was "not like work. I mean, now, the vast majority of making movies is getting over your self-consciousness." 
The two actors reunited in 2015 for Meg Ryan's directorial debut, 'Ithaca'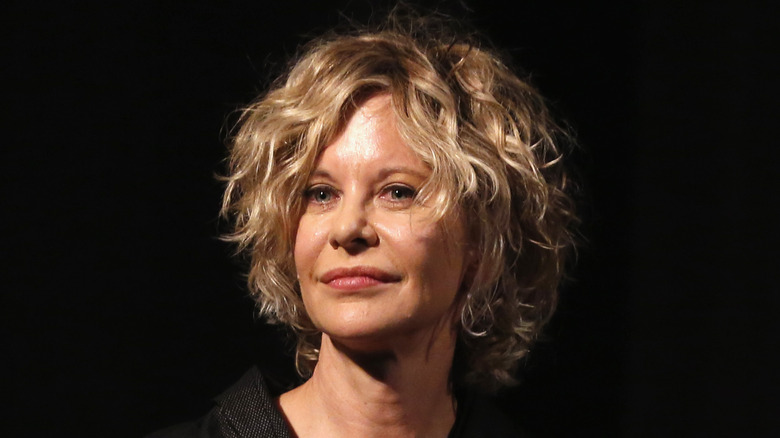 Cindy Ord/Getty Images
Although Meg Ryan and Tom Hanks may be best known for their iconic collaboration in the '90s, they recently reunited on-screen in "Ithaca," a 2015 film in which Ryan starred, as well as made her directorial debut. Although Hanks and Ryan do not have an extended reunion on-screen, it was still impactful for both of them, and certainly made headlines at the time. 
"He's just so dear," Ryan told Entertainment Weekly in 2016, discussing Hanks' role in "Ithaca." "He so did not have to do that." She added that after he finished shooting his scene, Hanks gathered the crew around and told them, "Listen, I know we've gotten to know each other very well over the last 10 hours together, but I just want to thank you for being here for my friend Meg." Ryan added that that action was "such an act of friendship. I love him so much." 
Hanks also couldn't stop gushing about Ryan when they were both on the set of "Good Morning America" in 2016, jokingly referring to the two of them as "America's sweethearts." "I love you sweetie!" he cried out to her while on stage. "I'll find you, I'll wait for you! ... Look at her, fantastic." With both Hanks and Ryan still on the top of their games, we may just be lucky enough to see America's sweethearts reunite for one more film sometime in the future.