Inside Shiloh Jolie-Pitt's Relationship With Her Mom Angelina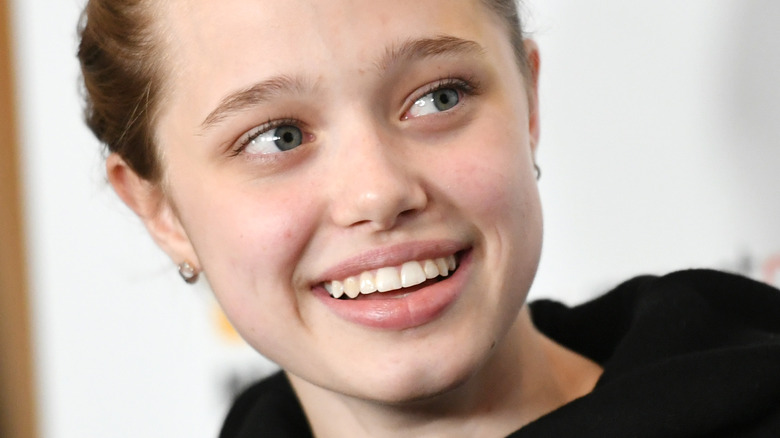 Jc Olivera/Getty Images
In 2006 celeb power couple Brad Pitt and Angeline Jolie welcomed a second baby girl into the family... and another star was born.
In the days, weeks, and months following her arrival, the bouncing baby girl captured the hearts and minds of many and just so happened to set an all-new record as the most bankable baby to grace the cover of a magazine. According to The Hollywood Reporter, People magazine coughed up a staggering $4.1 million for the rights to the first photos of the infant. But that's not all. Hello! Magazine also paid a staggering $3.5 million for the rights to the photos in Britain, per The New York Times. Cha-ching! And just like her famous philanthropic Mama, the proceeds were promptly donated to UNICEF. "While we celebrate the joy of the birth of our daughter, we recognize that 2 million babies born every year in the developing world die on the first day of their lives," the couple said about their decision in a public statement, per the Los Angeles Times. "These children can be saved, but only if governments around the world make it a priority."
But what is Jolie-Pitt's relationship with her superstar mother like now? And do they still bond over charity and helping others? Here's what we know... 
The apple doesn't fall far from the tree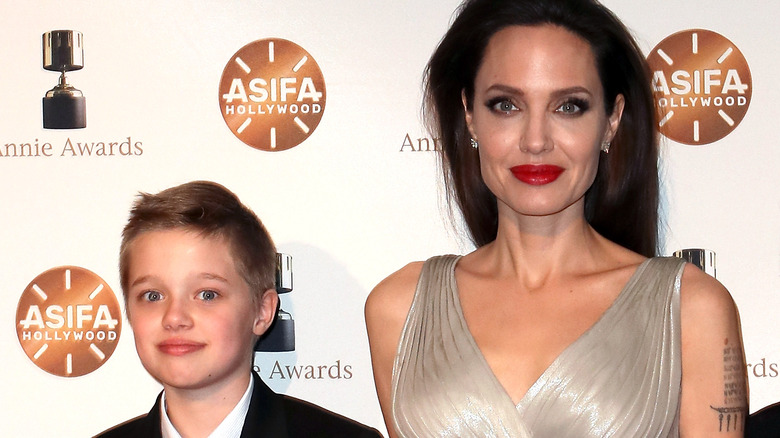 David Livingston/Getty Images
As it turns out when it comes to mother-daughter duo Angelina Jolie and Shiloh Jolie-Pitt the apple doesn't fall too far from the tree. 
In June 2010, Jolie spoke candidly about all of the ways that she and Jolie-Pitt are similar. "Goofy and verbal, the early signs of a performer," she dished to Vanity Fair about her precocious daughter. "I used to get dressed up in costumes and jump around. But at some point, I got closed off, darker. I don't remember anything happening. I think you just get hit with the realities of certain things in life, think too much, start to realize the world isn't as you wished it would be, so you deepen. Then, as I had kids and got older—being goofy, lighter—it all came back," she revealed about her own experiences. 
But make no mistake about it, their love of goofing around and keeping it light isn't the only thing they bond over... 
Angelina Jolie and Shiloh Jolie-Pitt love helping others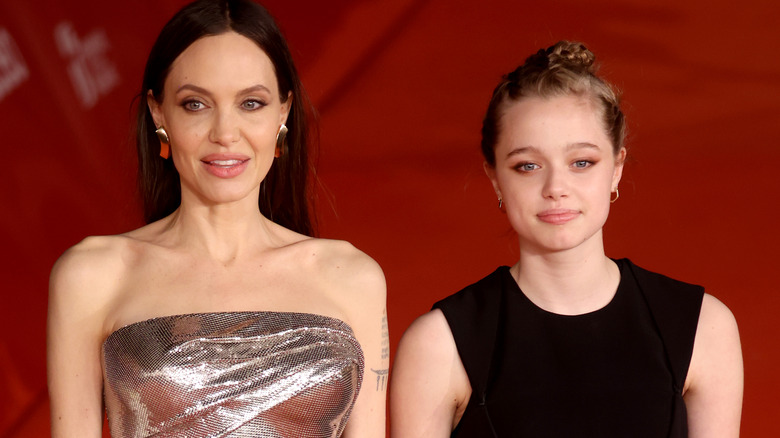 Franco Origlia/Getty Images
Shiloh Jolie-Pitt is serious about giving back... just like her mom, Angelia Jolie.
"When she was sitting on the floor with her UN cap writing her notes as she was talking to someone, I was flashing on myself fifteen years ago and thinking, I know that moment," Jolie recalled to Vogue in 2015 about her daughter's perceived lightbulb moment and innate drive to help others. Still, Jolie is careful not to push her own ideas and aspirations onto Jolie-Pitt. "I think she (Shiloh) is fascinating, the choices she is making. And I would never be the kind of parent to force somebody to be something they are not. I think that is just bad parenting," she declared in a 2010 interview with Reuters. "Children should be allowed to express themselves in whatever way they wish without anybody judging them because it is an important part of their growth," she added. 
In February, the mother and daughter made headlines again when they traveled to Cambodia to meet with various environmental issues including land encroachment and poaching. "A few days in Cambodia among the warm local people, and I feel my soul is recovering. This has always been a special country for me and our family" she gushed on Instagram about the mother-daughter working trip. Here's to hoping these two can continue to bond over their shared love of helping others and healing the environment for many years to come!