How LeBron James Made The Cover Of Sports Illustrated When He Was Still In High School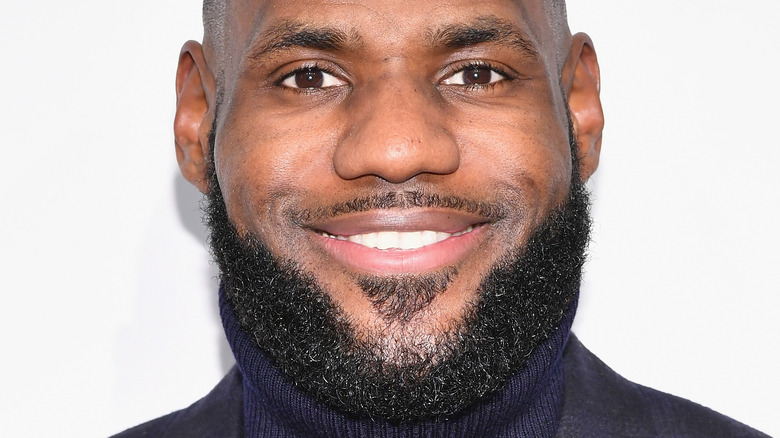 Slaven Vlasic/Getty Images
There's a reason LeBron James earned the nickname King James. The pro basketball star is easily one of the greatest players ever in the NBA, per The Athletic, and he still finds ways to astonish on the court, even as a veteran. He played his 19th season from 2021 to 2022 on the Los Angeles Lakers and amassed an impressive highlight reel. Part of his long term success is James' dedication to always improving. He started as a child prodigy with natural talent but continued to put in the hard work off the court. For example, a Twitter user shared a screenshot of James' Instagram Story revealing he was up and at it at 4:40 a.m. "Let's get it! Time to work," he wrote.
In 2002, ESPN aired its first high school basketball game ever. 10,000 fans showed up in Cleveland to watch the star of the night, James, a senior at St. Vincent-St. Mary High School in Akron, Ohio. Led by the young phenom, James and his teammates upset the number one ranked team Oak Hill Academy. At that point, James was already a star, having been on the cover of ESPN Magazine and Sports Illustrated the year before, as famous college basketball announcer Dick Vitale explained during the broadcast.
In place of other much older sports stars, here's how a young James found his way onto the cover of Sports Illustrated as a high schooler.
LeBron James was the next great baller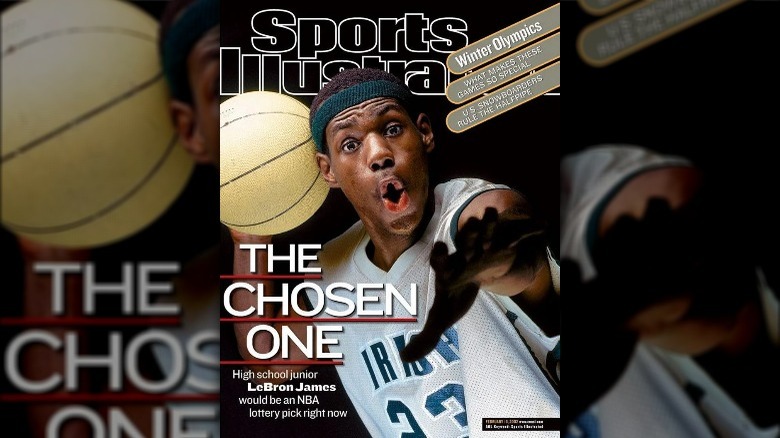 Sports Illustrated
By the time he was in high school, LeBron James was already able to do a slam dunk after first passing the ball between his legs in the air. He was also huge — 6 feet, 7 inches, and 225 pounds as a teenager. On the court, he played for St. Vincent-St. Mary High School and averaged nearly 30 points per game. Opponents remembered James not only was smart on the court, but was also a team player. One former high school player told The Athletic, "What separated him at the time from the rest of us was his footwork. It was tremendous."
As a result, James joined other NBA players like Kobe Bryant who made the jump right from high school to the NBA. Even more, James was considered better than most of them. "At this age LeBron is better than anybody I've seen in 37 years in this business, including Kevin [Garnett] and Kobe [Bryant] and Tracy [McGrady]," an Adidas representative told Sports Illustrated in 2002. A high school coach shared a similar sentiment, claiming that James was even better than Bryant as a senior in high school. In fact, James' popularity became so big that his team began playing in a bigger venue to accommodate the influx of admirers. Pro teams, sponsors, and fans couldn't get enough of James, who certainly met the big expectations for his career in the NBA.
LeBron James was multi-talented in high school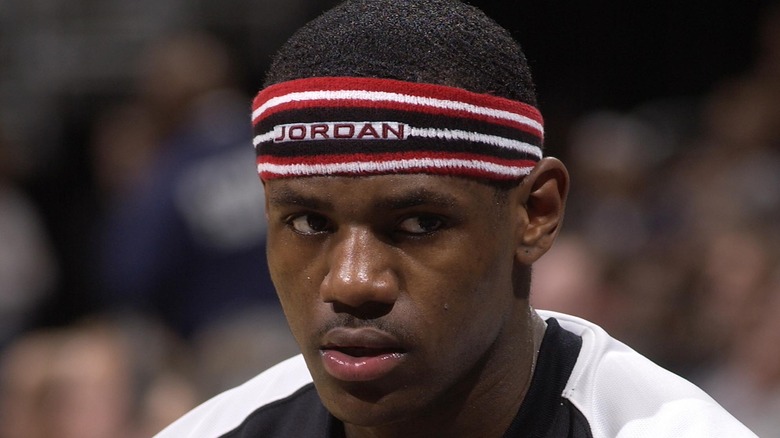 G Fiume/Getty Images
While LeBron James was obviously the best-of-the-best in high school basketball, the young man was extremely gifted on the football field too, playing tight end for his school. During an NFL game, James explained the end of his football career. "If I would have had a better quarterback in high school, I might have continued to play football but I took way too many hits and that led me to the basketball court," James told ESPN in 2021.
Though he changed paths and left football in the past, others saw his potential years later. During the NBA lockout in 2011, NFL owner Jerry Jones offered James to play for his team, the Dallas Cowboys. James explained to ESPN in 2021 that the head coach of the Seattle Seahawks, Pete Carroll, also offered him a contract to play professional football. James was initially excited for the possibility but instead, "We were able to get a deal done in the NBA and I was back on the court in no time. But I definitely thought about it." James still enjoyed the experience and kept the football jerseys gifted to him by Jones and Carroll.
Carroll said that while he may have never believed James would actually leave the NBA, the pure talent seemed too good to pass up. "I don't know what he couldn't do," Carroll said in a press conference, per The Seattle Times. "He's an all-time athlete and competitor."