What Is Taylor Armstrong's Real Name?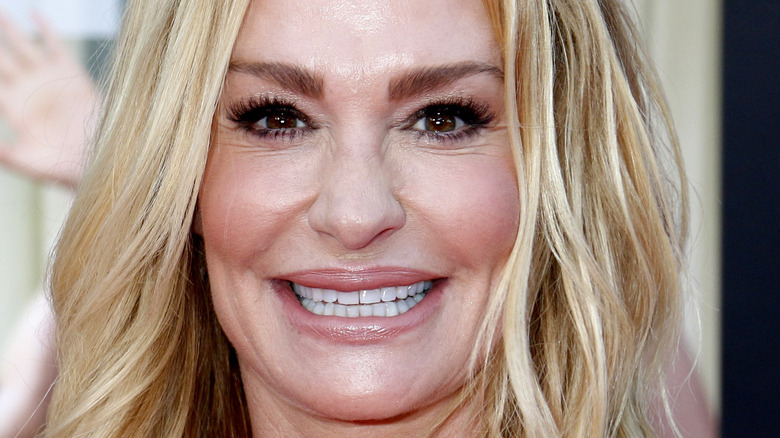 Tinseltown/Shutterstock
Initially, everything appeared peachy for Taylor Armstrong during "Real Housewives of Beverly Hills" Season 1. But it soon became evident that something was rotten in the state of 90210. Taylor's marriage to her husband, Russell Armstrong, was rapidly disintegrating, and their toxic spats and altercations regularly played out on camera. It didn't take long before rumors of domestic abuse started. Taylor denied the allegations, but added fuel to the fire when she filed for divorce in July 2011.
"When I knew the filing had gone through, I just started to cry," Taylor told People. "We tried hard to fix our marriage, but it wasn't healthy." She went on to detail the alleged abuse she'd suffered. Russell denied the charges but admitted to having shoved Taylor. "This show has literally pushed us to the limit," he said. Just weeks later, Russell took his own life. "Our sympathy and thoughts are with the Armstrong family at this difficult time," Bravo wrote in a statement, sharing they were "deeply saddened" by the tragedy.
Taylor left "Real Housewives" in 2013. "[She's] not returning. You'll see her here and there in a few scenes, but that will be the extent," a source told E! News. "I have post-traumatic stress disorder; it's part of my makeup," Taylor told People after hanging up her Louboutins. You'd think that after three seasons of reality TV, her whole life would've been laid bare. However, many people don't even know what Taylor Armstrong's real name is.
Will the real Taylor Armstrong please stand up?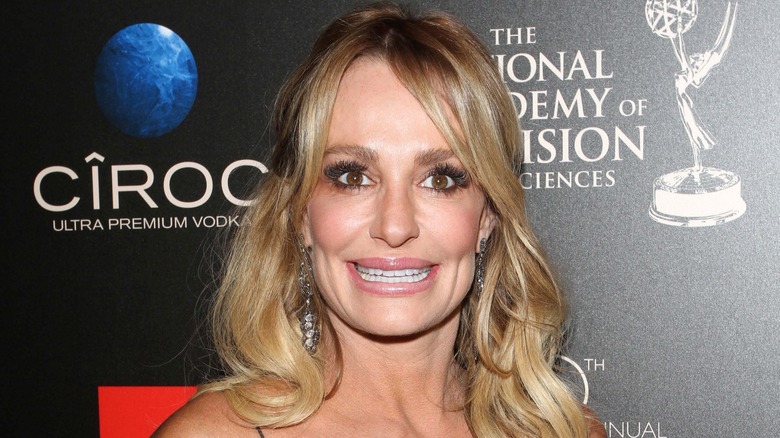 s_bukley/Shutterstock
Despite three seasons of reality TV and a tell-all memoir, believe it or not, there are still things people don't know about Taylor Armstrong. There's one particular mystery surrounding the former "Real Housewives of Beverly Hills" star — her real name. The name Armstrong came from Taylor's marriage to her first husband, Russell Armstrong, in 2005. However, that wasn't her first time at the name-change rodeo.
An anonymous tipster on The Dirty claimed to have been friends with Taylor back when she was in Florida. They alleged that when she attended Tulsa Union High School in Oklahoma, she was called Shana Hughes. The tipster claimed that she'd changed her name from Shana Hughes by the time they met. "She picked the name Taylor Ford when she was in FL because she wanted it to look like she was related to the Ford Motor Co. and seem to come from money," they revealed. "Russell insisted to my husband that she was from the 'Ford' family," the tipster also claimed.
Starcasm backed up The Dirty tipster's claim by posting photos from the Tulsa Union High School yearbook. The pics are from the late '80s when the school's cheerleading squad, which Taylor was part of, won a national championship. In the photos, she's called Shana Hughes. Starcasm claimed that Taylor has used "many aliases including Shana Hughes, Shana Ford, Shana Taylor, Taylor Ford, and Taylor Ford-Armstrong." So, what is her real name? Over to Taylor.
Even Taylor Armstrong appears to not know her real name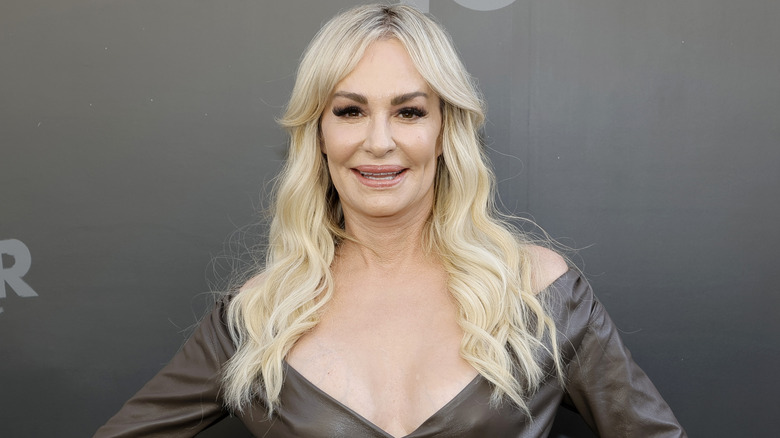 Kevin Winter/Getty Images
Andy Cohen quizzed Taylor Armstrong about her mysterious name-changing past during an episode of "Watch What Happens Live" in 2011. "Why did you change your name from Shana to Taylor?" Cohen asked. "Taylor was my last name," she said, even though in her yearbook it's listed as Hughes. "And that's what I went by with all my friends." Per Jezebel, a cringe-worthy mash-up video includes Taylor's "WWHL" interview snafu. It's posted on YouTube, titled "Taylor Armstrong Is A Big Fat Liar." Ouch.
In the same video, Taylor boasts about how she's known Adrienne Maloof for ages, and they're so tight that she's her daughter Kennedy's godmother. However, Adrienne clearly missed the godmother memo, as evidenced by her reaction when Cohen asked her about it. Adrienne sits looking confused, pondering how to respond, while Taylor nods her head, grinning wildly. "Well ... she's asked me to be the godmother," Adrienne replies diplomatically. Later in the video, Adrienne also debunks Taylor's claim that they go way back. "I've known Taylor for three years," she says. "Our children go to school together, and that's how I originally met her."
Meanwhile, Taylor's kept busy since leaving "RHOBH." She wrote a New York Times best-selling memoir, "Hiding from Reality: My story of love, loss and finding the courage within," which the New York Post hailed as "harrowing." And, she got married again. Us Weekly reported that Taylor said "I do" to attorney John Bluher in May 2014.
If you or someone you know is dealing with domestic abuse, you can call the National Domestic Violence Hotline at 1−800−799−7233. You can also find more information, resources, and support at their website.
If you or anyone you know is having suicidal thoughts, please call the National Suicide Prevention Lifeline​ at​ 988.