How Tall Is Britney Spears?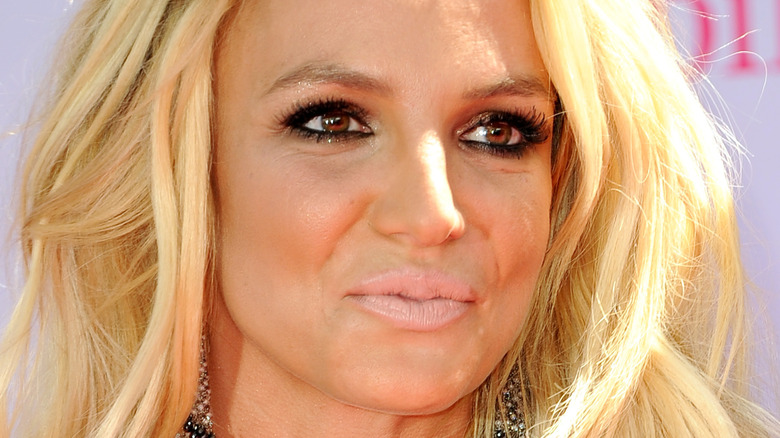 Tinseltown/Shutterstock
Britney Spears is a larger-than-life personality for many different reasons. She's one of the biggest singers and celebrities in the world, and of course, also a proud mother and wife, too. And while she certainly has had a lot of ups and downs over the years, Spears recently reflected on her recent major life changes.
She managed to cut the cord on her almost 14-year conservatorship, married her sweetheart Sam Asghari, moved into a new house, and seems to be feeling pretty good about herself overall. In one now-deleted post that she shared with her fans, Spears made it pretty clear that she's enjoying all the simple things in her life. "I cut all my hair short and my husband just made me a steak ... life is good," she wrote. Not only that, but Spears is calling all the shots in her life for the first time in 13 years. 
And while there might be some fans out there who think they know everything there is to know about Spears, they are often surprised to find out how tall she is. 
Britney Spears' height has been much discussed over the years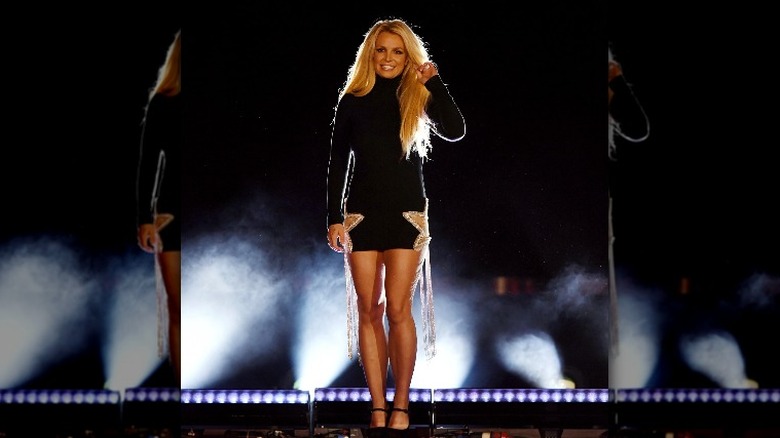 Ethan Miller/Getty
Britney Spears is someone who obviously stands very tall each and every time she's on the red carpet. And that's not just because of her incredible well-heeled shoe collection, but also because the spotlight is always on her whenever she's making one of her public appearances.
That said, fans would be surprised to find out that Spears is only 5 foot 4 inches and one-quarter, according to Celeb Heights. Spears' height and her exact measurements were revealed in a casting notice back in 2013, according to the HuffPost. Apparently, the chart-topper was looking for a body double to help with one of her music videos. The ad said at the time, "Looking for a body double for Britney Spears. Please only submit if you have these measurements or are very close to them all. Height 5'4″, 130 lbs., 32C-27′-35′, dress size 4, shoe size 7." That, and she was also called a "petite powerhouse" by Women's Health, thanks to all of her 5-foot-4-inch glory.
And while Spears has gotten so much attention for being the confident princess of pop that she is (after all, her Instagram account is full of self-love photos and clips), that wasn't always the case for her.
Britney Spears has both her confidence and her freedom back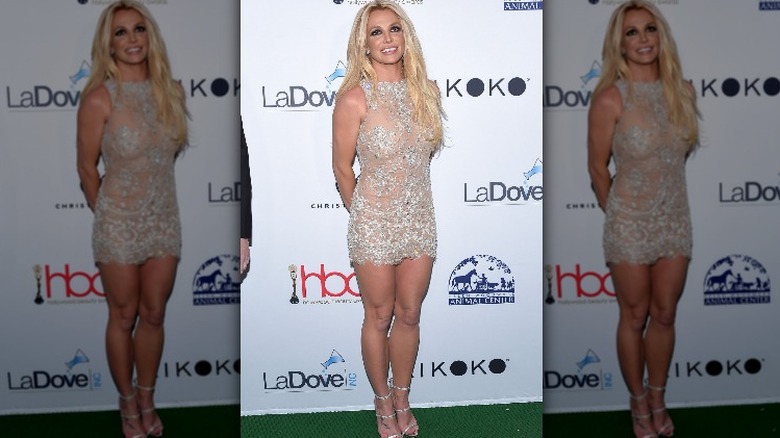 DFree/Shutterstock
Back in March, Britney Spears admitted in a now-deleted Instagram post that she wasn't always feeling super confident about her body. She even said that her father Jamie Spears, who controlled many aspects of her life during her 14-year conservatorship, certainly didn't help in that department, either.
Brit Brit wrote (via the Daily Mail): "My dad always told me I was fat and being the heavy girl on stage wasn't fun... it was humiliating." That, and the singer also touched on how the media certainly didn't help, either. She added, "I had one good cover in the 13 years of my conservatorship...the rest were all extremely bad. They could have at least cheated and used technology... but they used it to make it worse."
Thankfully for Spears, she's regained her confidence along with her freedom and maybe even an outlet as she's been posting plenty of dancing clips and living room fashion shoots on her Instagram account, much to the delight of her fans. While the media has often reported about her height, her measurements, and even her shoe size in the past, if there's anything that we've learned about Spears over the years, it's that she will always appear like the tallest person in the room — and no one needs stats for that.