The Messiest Part Of Brandi Glanville And Eddie Cibrian's Divorce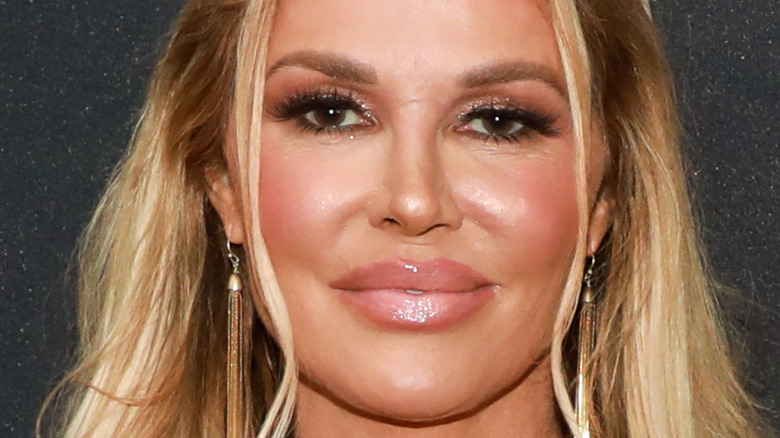 Jason Mendez/Getty Images
As any "Real Housewives of Beverly Hills" fan is aware, Brandi Glanville is a pro when it comes to doing "messy." She even did a podcast episode called "I Confessed My Mess." The outspoken reality star isn't afraid of speaking her mind and calling people out, resulting in some decidedly disorderly and cringe-worthy confrontations. She's also the queen of shade, utilizing Twitter to diss and destroy her detractors and enemies.
Glanville announced she was joining the "RHOBH" cast in 2011. "Moving to the hills of Beverly on April 22," she tweeted (via MTV News). Her divorce from Eddie Cibrian was finally completed a year prior, following a bitter battle between the two. They'd been married for eight years and shared two sons together. Glanville had been head-over-heels in love with Cibrian, thinking he was her forever one. She was utterly unequipped for the bombshell about to explode in 2009. And when it did, it blew Glanville's life apart and tore her heart to pieces.
The details of their acrimonious split would inevitably rear their head throughout Glanville's "Real Housewives" journey. And, oh boy, she didn't disappoint. Glanville spilled the scalding hot tea on every aspect of their relationship, breakup, and the aftermath. There was a lot to wade through, but it didn't take long to ascertain what the messiest part of her and Cibrian's divorce had been — and still was. Their once loving partnership had turned into a total trainwreck, and fans were there for it.
Brandi Glanville and Eddie Cibrian's war begins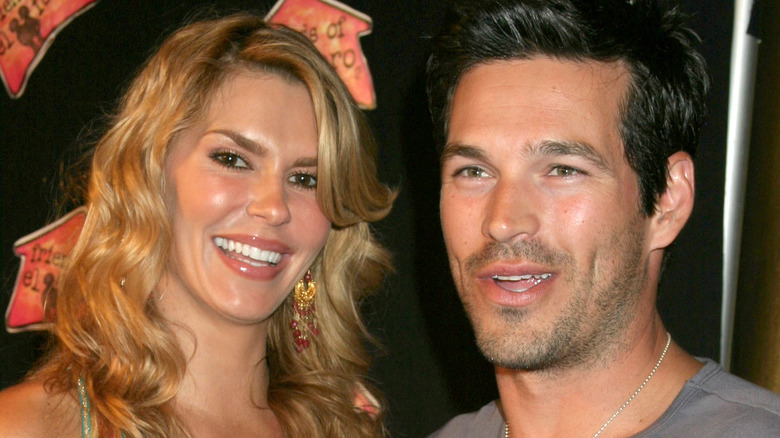 carrie-nelson/Shutterstock
The messiest part of Brandi Glanville and Eddie Cibrian's divorce was his relationship with LeAnn Rimes. Cibrian and the singer began an affair in 2008 while working on the Lifetime movie "Northern Lights." Glanville had suspected something was off with her husband for a while. "I'd sometimes visit him on set and notice chemistry with certain co-stars," she wrote in The Sun. However, Cibrian apparently gaslighted Glanville when she confronted him, calling her "crazy" and "jealous."
Cibrian reportedly continued the gaslighting and lying after Us Weekly published pics of him and Rimes making out like bandits. And even when the tabloid released video footage of them feasting on each other's fingers. Cibrian maintained that he loved Glanville, swore that he didn't care about Rimes, and suggested therapy. However, he continued seeing Rimes throughout their marriage counseling, per The Sun.
Glanville's extreme feelings toward Rimes over her affair with Cibrian resulted in her wanting to "kill" the star and even herself. "I was broken. If I didn't have to take care of my kids, I probably wouldn't be here now," she shared in The Sun. Thankfully, she changed her mind. "[Cibrian] filed yesterday, and I accept it. We're getting a divorce," Glanville told E! News (via the Daily News). However, instead of drawing a line in the sand over the end of their marriage, the divorce filing sparked a battle among Glanville, Cibrian, and Rimes that became more bitter and messy by the day.
Brandi Glanville, Eddie Cibrian, and the 'bonus mom'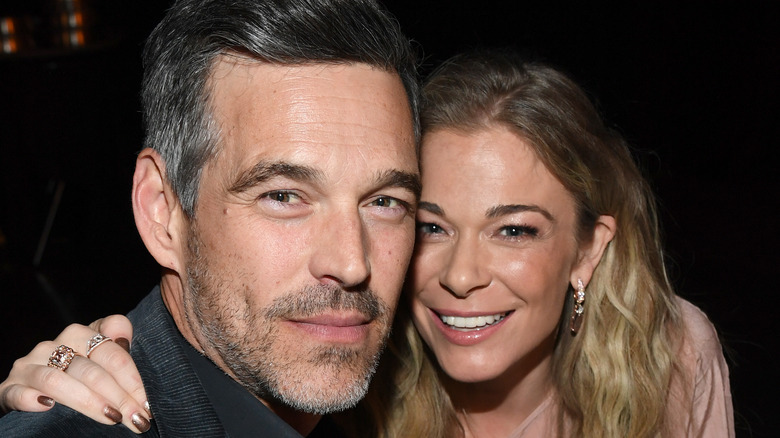 Kevin Mazur/Getty Images
The Leann Rimes cheating scandal blew Brandi Glanville and Eddie Cibrian's marriage apart, in addition to spelling the end of her own marriage to Dean Sheremet. Rimes had no remorse, however. "It happens every day to so many people," she said in an interview with ABC News (via Us Weekly). "You had two couples whose marriages didn't work who really stumbled upon each other and fell in love," she continued.
Glanville and Cibrian have two sons together, and when they asked what had happened between their mom and dad, the new couple didn't hold back any details. "The kids came to us and asked, you know, very nonchalantly like over dinner and Eddie was very honest with them in the way that you can be with a 7-year-old and an 11-year-old," Rimes explained to "Extra."
Following Rimes and Cibrian's marriage ceremony, her feud with Glanville went nuclear. Rimes played soccer mom in front of the paparazzi and threw shade with a happy "bonus moms" tweet on mother's day. However, Glanville and Rimes finally buried the hatchet for the boys' sake in 2018. "They love her, and she loves them — it's like everyone's happy. I think the hardest part was just her and I going at it, and now that that's done, the kids are super happy," Glanville told the "Make Speidi Famous Again" podcast (via People). "They've never been happier."