Why Khloé Kardashian Is Terrified To Post Photos Of Herself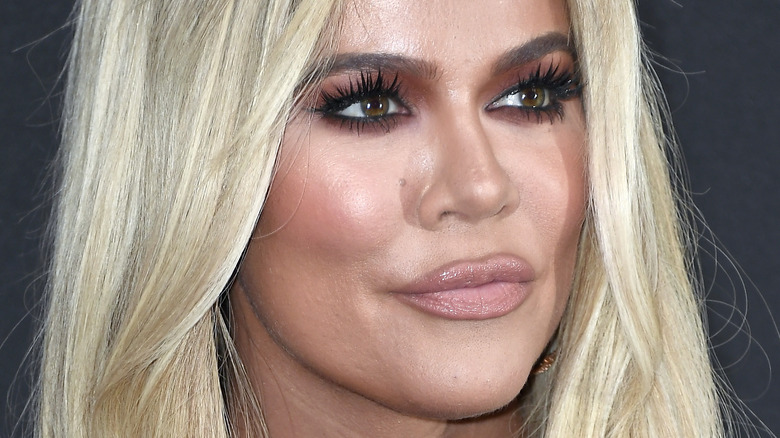 Frazer Harrison/Getty Images
Khloé Kardashian's relationship with social media is a pretty complicated one. The reality star is one of the most followed people on the app and regularly keeps fans updated with the goings-on in her life with daily stories and posts of everything from her lavish vacations to birthday celebrations. So, while you'd be forgiven for thinking Khloé has all the confidence in the world to post so many snaps of herself online — but that's not exactly the case.
The star has spoken out multiple times about how she struggles when it comes to her self-esteem, including getting very candid in April 2021 after a bikini photo Khloé considered unflattering found its way online. "The photo that was posted this week was beautiful. But as someone who has struggled with body image her whole life, when someone takes a photo of you that isn't flattering in bad lighting or doesn't capture your body the way it is after working too hard to get it to this point... you should have every right to ask for it not to be shared," she wrote on Instagram. "The pressure, constant ridicule and judgment my entire life to be perfect and meet other's standards of how I should look has been too much to bear," she then added, noting she struggled being compared to her sisters, Kim and Kourtney Kardashian.
Though Khloé accompanied that sentiment with stunning photos and videos of her toned body, she's since revealed why posting actually makes her feel anxious.
Khloé Kardashian is worried about Instagram backlash
Khloé Kardashian opened up about social media on "The Late Late Show with James Corden" in April, admitting her relationship with the apps has soured since she first started using them. She explained she used to find sharing her life with the world fun, but is now finding it tough to tune out the ever-increasing amount of haters. "I try not to [listen] but when I walk down the street and then even paparazzi is heckling at you the same things you're trying to avoid, it's so deteriorating on your self-esteem, your confidence, the way you view yourself," Khloé confessed, adding she also feels anxious to post on Instagram when she's barely edited her photos. "I'm so afraid to post it because people are gonna say I did this," she said of photoshopping allegations.
Kim Kardashian's younger sister tweeted along as the talk show aired, writing, "This used to be fun. Now everything is riddled with anxiety. The new toxic energy in the world takes the fun out of everything."
Prior to the interview, Corden actually gave Khloé some advice on the haters after she admitted she felt nervous just to step onto the stage. "Why are you even looking at it?" he said of the trolls on "The Kardashians." "All you have to remember is none of these things are about you. It's only a representation and a reflection of them. What somebody thinks of you is none of your business."
Khloé Kardashian's Photoshop allegations
Of course, Khloé Kardashian has had her fair share of controversy over her social media posts over the years, particularly when it comes to being accused of heavily editing her uploads. In January, she was accused of editing an Instagram snap that showed her posing against a wooden fence so much that it made her hands look unusually long, per Lad Bible. Then, the following month, fans claimed they'd spotted yet another editing mishap by suggesting she'd changed the shape of her body in a selfie that made a door frame look curved, per Capital Xtra.
But it's not just snaps of herself "The Kardashians" star has been accused of editing, as Khloé actually copped to doctoring snaps of her daughter, True Thompson, and Kim Kardashian's daughter, Chicago West, at Disneyland. Kim posted snaps of the two seemingly having fun together at the theme park to Instagram in December 2021, but the sisters were exposed in April when Khloé claimed on Instagram Stories she'd just taken True to The Happiest Place on Earth for the first time. After a fan pointed out the discrepancy on Twitter, Khloé responded, "Welllppp I [messed] this one up. Anyways..... let's focus on something else," alongside a crying laughing emoji. As for why they edited the snaps? That's still anyone's guess.