Lizzo Has Bold Take On Kourtney Kardashian And Travis Barker's PDA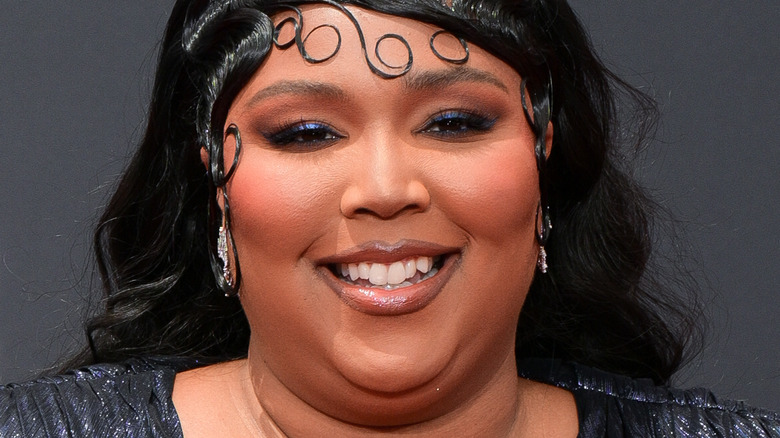 Prince Williams/Getty Images
Besides BFFs Megan Fox and Machine Gun Kelly, Kourtney Kardashian and Travis Barker are the celebrity couple most synonymous with PDA. Whether it's French-kissing at the 2021 MTV VMAs red carpet or professing that they "would die" for each other in Instagram uploads, Kravis has perfected the art of the public make-out. Even Kardashian's own mother, Kris Jenner, told Ellen DeGeneres in October 2021 that things get a little uncomfortable when the handsy couple is around. "You feel like they're the only two people in the room, and we almost don't know what to do with ourselves," she admitted.
Kardashian and Barker's PDA even attracted the critical attention of the hosts of "The View." In a May segment, co-host Sunny Hostin lambasted Kravis for engaging in "germy, nasty kissing" in front of Kardashian's children — whose father is her ex, Scott Disick. "As a child myself of divorce, you never quite get used to seeing your parents with other people, and I think that's a very uncomfortable thing," Hostin mused.
Kardashian, for her part, clapped back at PDA haters on an April episode of "The Kardashians" (via Hollywood Life). As the eldest sibling justified on the show, "Kissing and hugging is not a bad thing. I'm actually grateful that my kids can see a loving, affectionate relationship because they haven't seen that their whole lives." While not all may agree with her take, one celeb is definitely here for it. Lizzo recently spoke out in hilarious support of Kravis' PDA.
Lizzo wants some of that Kravis lovin'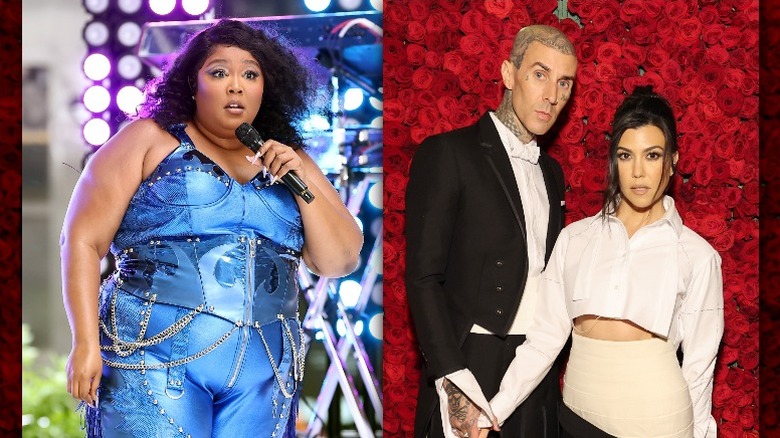 Arturo Holmes & Cindy Ord/mg22/Getty
In a game of "About Damn Time or Don't Waste My Time" on "Watch What Happens Live with Andy Cohen," Lizzo put her stamp of approval on Kourtney Kardashian and Travis Barker's ongoing PDA. "Let me get in the middle of that," the "Good as Hell" singer enthused to host Andy Cohen on the July 18 episode. "I sat next to them at the Met Gala, and I fully enjoyed it," the hitmaker quipped. "So, it's about damn time they call me."  
Lizzo's open-mindedness about Kravis' PDA might surprise some, given how tight-lipped she has been about her own relationship. Going Insta-official with boyfriend Myke Wright in June, the singer still kept details scant on the ins-and-outs of their romance. Only in a July interview on "The Breakfast Club" radio show did she finally offer some intimate insight about her beau. "We were friends. It hit different when they knew you before 2019," Lizzo explained, adding that her celebrity was leading her toward "a really lonely, anxious place in my life" before she and Wright began dating. "It's like I just love you. I'm not worried about nobody else," she further elaborated. "I think that's what we have, which is the most beautiful pure thing ever."