The Real Reason Lady Gaga Dropped Out Of College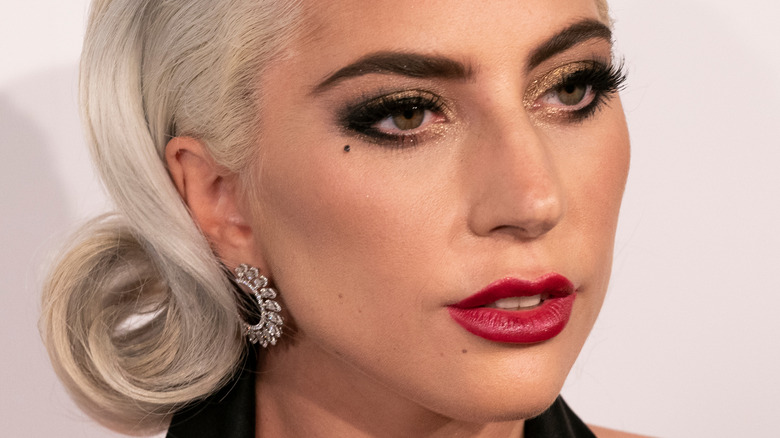 lev radin/Shutterstock
Today, Lady Gaga is a global pop phenomenon and Oscar-nominated actor with a legion of doting fans (hey Little Monsters!). However, once upon a time, Gaga was just Stefani Germanotta, a regular girl with big dreams of making music. Her dreams would, obviously, come true. However, it took a big leap of faith on her end.
At 17, Gaga was accepted to New York University's Tisch School of the Arts. She even lived in a dorm on campus while pursuing her degree. Per Marie Claire, Gaga was a student in the Collaborative Arts Project 21, or CAP 21. It's here that Gaga began to hone her acting chops, as the school is a full theater program. According to the school's website, CAP21 "replenishes the American musical theater by training the next generation of performers and infusing the entertainment industry at large with talent and source."
Lady Gaga ended up dropping out of NYU early on, but she had an understandable reason.
Lady Gaga left NYU to pursue music full-time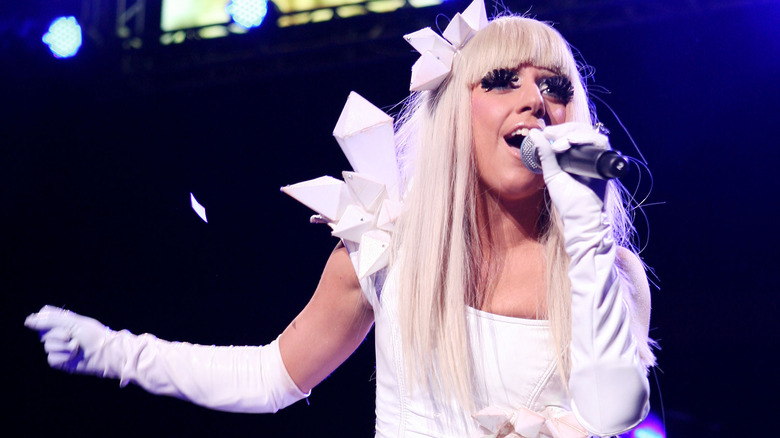 Scott Gries/Getty Images
After only a year in school, Lady Gaga officially left NYU during her sophomore year. She was only 19, but believed that she could pursue her dreams without a formal education. "I loved NYU, but I thought I could teach myself about art better than the school could," the singer admitted in a 2009 interview with Elle. "I really felt New York was my teacher and that I needed to bite the bullet and go it alone."
That leap of faith really paid off. A few short years later, Lady Gaga stormed the music world with her 2008 debut single, "Just Dance." The track went on to be nominated for a Grammy the following year. Her successful debut album, "The Fame," spawned other singles like "Paparazzi," "LoveGame," and the massive hit "Poker Face." Exploring the streets of New York outside of NYU also served as inspiration for that album. So dropping out of school turned out to be the best decision for the singer.
Lady Gaga was also cyberbullied at NYU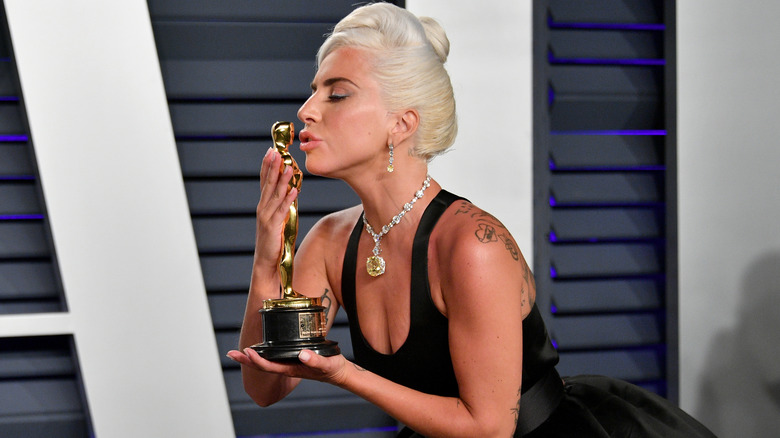 Dia Dipasupil/Getty Images
Though Lady Gaga had a valid reason for leaving NYU, the pop star faced a serious issue while she was there. Gaga was bullied online as a student at the university. Former NYU student Lauren Bohn shared the story in a 2016 Facebook post. "I remember coming across a Facebook group that broke my heart. Its name: 'Stefani Germanotta, you will never be famous.'" The group apparently regularly shared nasty comments degrading Gaga's talent.
Having been picked on since she was a kid, Gaga was no stranger to bullies, sadly. However, the phenom ultimately has had the last laugh. Not only is she famous, but the singer has sold millions of albums and performed all over the world. She is also a renowned actor, starring in "American Horror Story," "A Star is Born," and "House of Gucci." She has won multiple nominations and awards for her work, including an Oscar for Best Original Song in 2019 (for the track "Shallow" from "A Star Is Born").  Alongside her mother, Cynthia Germanotta, Gaga also created her own non-profit, the Born This Way Foundation, which supports the mental health of young people.
Bohn commended the singer not only for her creative gifts, but for her caring spirit. "Stefani, thank you. Thank you for always thinking you're a superstar, for using your cracks to let the light come out more brightly. Humans, let's follow suit." Well said!