Who Is Perrie Edwards' Fiance, Alex Oxlade-Chamberlain?
Perrie Edwards recently revealed some wonderful relationship news worth singing about. On June 18, the Little Mix vocalist posted a series of photos on Instagram showing off her partner, Alex Oxlade-Chamberlain, proposing to her on the beach. 
"Last night the love of my life got down on one knee and I said... YES!" Edwards captioned the sweet images. Per Capital FM, Edwards and Oxlade-Chamberlain have publicly been an item since 2017, around two years after her 2015 split from fellow music artist Zayn Malik.
Although Oxlade-Chamberlain proposed in 2022, Edwards was ready to make plans to tie the knot years ago. In 2020, when asked by Capital FM if she would accept a proposal from Oxlade-Chamberlain, Edwards said she would for sure say yes. "I appreciate him," Edwards explained, per the Daily Mail. "We don't want to rush into it ... But it would be a definite yes from me I reckon." Prior to the news of their engagement, Edwards gave birth to her first child with Oxlade-Chamberlain in August 2021. She later announced in September via Instagram that their son's name is Axel. Read on to learn more about the man who has captured Edwards' heart and started a family with her.
Alex Oxlade-Chamberlain is a professional soccer player of Liverpool F.C.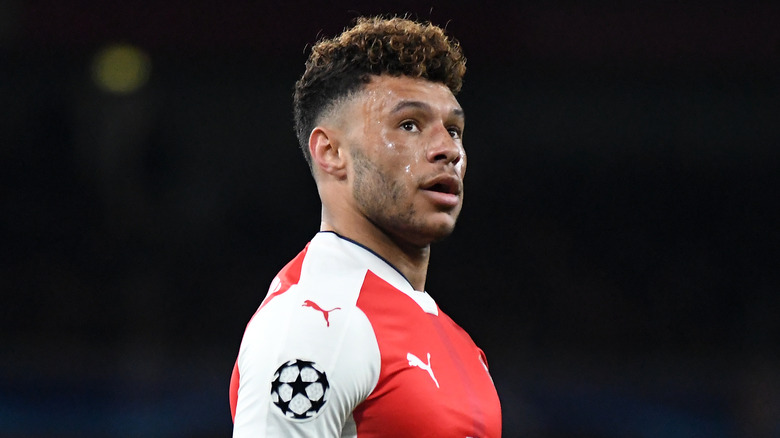 Cosmin Iftode/Shutterstock
Perrie Edwards and Alex Oxlade-Chamberlain are going strong after five years together and a recent engagement announcement. Oxlade-Chamberlain is a professional soccer player for Liverpool Football Club, per his Instagram bio, who first met Edwards some time in 2016, as The Sun wrote. 
The Liverpool F.C. site shows that Oxlade-Chamberlain is a midfielde. The 28-year-old athlete was signed to Liverpool F.C. in 2017 and has made a total of 133 appearances for the club thus far. Although he suffered a knee injury in 2018 that prevented him from playing soccer for a time, Oxlade-Chamberlain had returned to the game by April 2019.
During a 2019 interview with a young athlete, Ramell Carter, Oxlade-Chamberlain expressed his love for what he does as he offered advice to aspiring soccer players. "Always be humble, get ready to learn, enjoy it," Oxlade-Chamberlain shared. "The biggest thing is to enjoy it, love what we do because we're very lucky to have this job." He's also tried to show Edwards some soccer moves, as a 2021 social media video shows the two kicking a soccer ball around and laughing together. With comments the couple has made about each other publicly in the past, it seems that their love for each other has only grown in time.
Perrie Edwards and Alex Oxlade-Chamberlain have shown each other love and support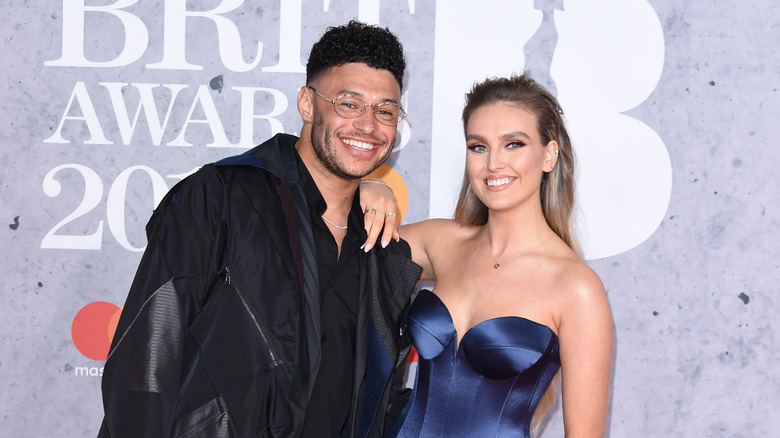 Featureflash Photo Agency/Shutterstock
Celeb couple Perrie Edwards and Alex Oxlade-Chamberlain have provided a strong support system for one other. In a 2019 interview with Notion Magazine, Edwards called her union with Oxlade-Chamberlain a "a lovely balanced healthy relationship" and further spoke about why the soccer star is the right match for her. "He's like, perfection," Edwards gushed. "He's not too much, he's not too clingy, but he's not too cool for school. He's got a perfect balance, he's super supportive of everything I do, which is so nice."
The performer added that the two want "the best" for each other, and being with Oxlade-Chamberlain is just like "a breath of fresh air." Oxlade-Chamberlain has publicly shown his encouragement of Edwards, similar to when he posted an image of the two at the BRIT Awards back in 2019 via Instagram. "So proud of you [Edwards] and what you continue to achieve, picking up your second BRIT award!" he wrote to his future fiance. The joy the two bring one another is clear, as Edwards showed images of herself and Oxlade-Chamberlain with big smiles on Instagram in 2019. Edwards captioned the photos, "I don't normally smile in pictures but how can I not smile when I'm around him?!"