Are Yara Shahidi And Nas Related?
Yara Shahidi is a top Hollywood celeb who comes from a very accomplished family. Yara's mother, Keri Salter-Shahidi, is an advocate and the co-founder of media company 7th Sun Productions, per LinkedIn. One of Yara's cousins, Anousheh Ansari, made history when she became the first woman to be a private-space explorer, as well as the first-ever astronaut who is Iranian-American as Harper's Bazaar Arabia reported in a 2020 cover story with Yara. "I have a very strong family unit who consistently remind[s] me of the fact that I am supposed to be in every room that I'm in," the "grown-ish" star said.
In addition, Yara's father, Afshin Shahidi, is a creative who was the photographer and cinematographer of the legendary late musician, Prince, as the San Francisco Art Exchange wrote. During a 2017 interview with Time, Afshin stated that Prince "was supportive of Yara, and a couple of months before he passed, he had DM'd her on one of the social platforms, just saying what a big fan he was of ["black-ish"] and that her character was his favorite." Aside from these aforementioned influential family members, Yara is also related to a well-known artist, and she's a major fan of her big cousin.
Nas is Yara Shahidi's second cousin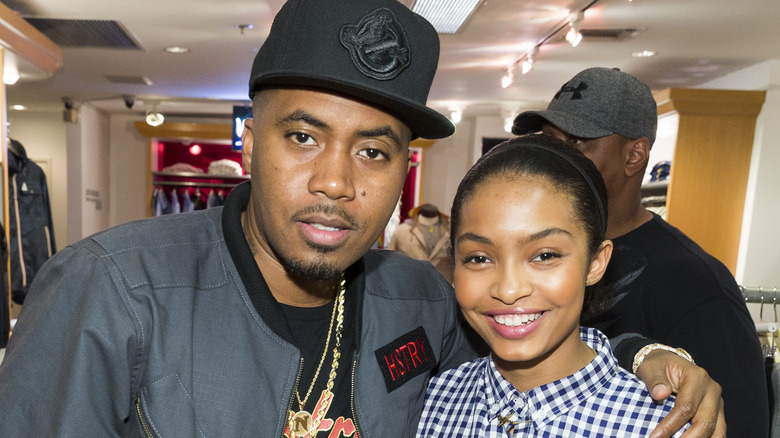 Rich Polk/Getty Images
Yara Shahidi has a very famous relative who many music fans will know –– the legendary New York rapper Nas. They're a talented family, as the "Illmatic" rapper is the son of jazz musician Olu Dara (via the Los Angeles Times). Keri, Shahidi's mother, is a cousin of the Grammy-winning rapper, per Essence, making Shahidi and Nas second cousins. Essence further reported that Shahidi served as a flower girl when Nas married music artist Kelis during a 2005 ceremony in Atlanta. In addition to fulfilling this wedding duty, Shahidi has also shown Nas some love publicly in recent years.
When Shahidi was interviewed on the Emmys red carpet in 2021, she was asked by Karamo Brown on behalf of E! News which musicians were included on her getting ready playlist for the festivities. "Today was 'Duckworth,' my cousin Nas, of course, Amy Winehouse and The Neptunes," Shahidi revealed. The support is mutual, as Shahidi has documented times when Nas offered his encouragement to her. In 2016, Shahidi posted a selfie of herself and Nas on Instagram when he visited the set of her breakout show, "black-ish." "Thanks to my cuzzo @nas for stopping by set, amidst his busy schedule, to support his little cuz (ME)! Family time + work =perfect combo," the actor wrote. Through the guidance Nas has offered, Shahidi's well-known second cousin has had a strong influence on her path.
Yara Shahidi considers Nas to be a 'mentor' of hers
Yara Shahidi's celeb cousin, Nas, has played a very important role in the performer's life. A 2019 selfie with a group of relatives, incuding Nas, was posted by Shahidi to Instagram as a tribute to the people who have influenced her the most. "Grateful for my family / my community/ my mentors/ my peers/ all of the humans who inspire me daily," Shahidi captioned the image.
When she attended a 2016 Revolt Music Conference in which Nas was being recognized for his accomplishments in music, Shahidi spoke before the crowd and discussed her love for her cousin. "We're here to honor Nas, who I get to call my big cuzzo," Shahidi said. "The man who I talk to about James Baldwin, who's been there every step of the way to celebrate and support my goals and aspirations." Shahidi added that she has "always felt [Nas'] impact and the influence of his music" as she grew up, which inspired her to get involved with activism in her own life. Shahidi and Nas are definitely tight-knit family members who mutually inspire one another, as well as their fans around the world.