Who Is Maya Hawke's Rumored Boyfriend, Spencer Barnett?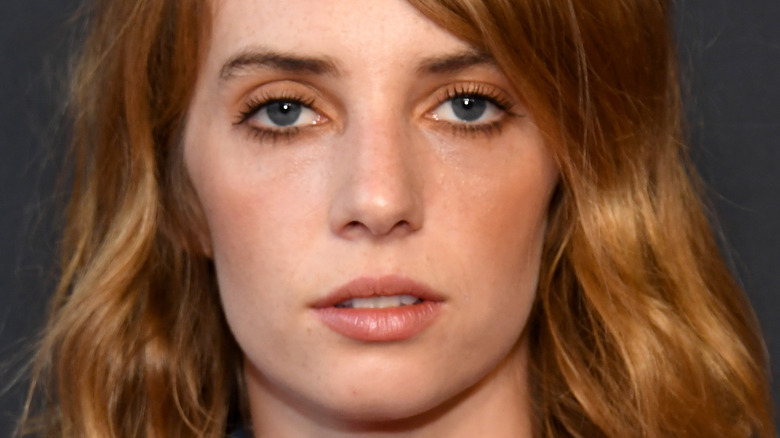 Jon Kopaloff/Getty Images
If you're one of the record-breaking viewers who tuned in to watch Season 4 of "Stranger Things," chances are good that you're familiar with Robin Buckley, brought to life by actor Maya Hawke. Robin was a newcomer on the scene as of Season 3, though she quickly endeared herself to fans with her quirky humor and hilarious one-liners. By the time Season 4 rolled around, she was helping to save the world by taking down Vecna with the rest of the gang.
Robin also carved out a niche for herself by opening up about her sexuality on the show. At one point, she shot down Steve Harrington's romantic overtures by explaining that she liked girls, not guys. In an interview with Variety, Hawke expressed gratitude for the autonomy that showrunners gave her over her character. "It was kind of a collaborative conversation, and I'm really really happy with the way that it went," she shared. "Sometimes we can have empathy for people on screen that we wouldn't normally have empathy for in real life. If I can hope for anything, it's that maybe some people fell in love with Robin and that helped them all in love with girls who love girls and boys who love boys."
IRL, however, Hawke has solely been linked to men, including actor Tom Sturridge and Rolling Stone President and Chief Operating Officer, Gus Wenner, per Distractify. As of this writing, she's rumored to have a new man in her life.
Spencer Barnett is a musician, just like Maya Hawke
In February, Daily Mail snapped Maya Hawke out and about in NYC with boyfriend Spencer Barnett. The two reportedly met through Maya's brother, Levan Hawke, who is friends with Spencer. While Maya is the daughter of acting royalty — her parents are Academy Award–nominated actors Ethan Hawke and Uma Thurman — Spencer's parents are famous, too. Per Daily Mail, he is the son of ex-Manhattan district attorney Sloan Barnett and Shaklee Corporation CEO Roger Barnett.
But Spencer and Maya's similarities don't just end with their famous families. Both of them are also musicians, with Maya having debuted an NSFW music video as recently as July. Per J-14, Spencer found a famous mentor in Third Eye Blind's lead singer, Stephen Jenkins. Inspired by indie-alt artists like Bon Iver and Death Cab for Cutie, he dropped his single "Whatever" in 2017, following up with a debut EP in 2019, and a single called "Dancing" in 2021.
"I like to think of my music as psychedelic pop — a blend of indie, rock, and pop elements," he told Beyond The Stage Magazine. "I don't like to adhere to any single classic 'genre' in my music, but instead have a variety of different feels." Spencer also told Rain-Mag that music has long been a staple in his life. "I wrote my first song when I was 13 ... Music became the forefront of my life around the time I was 14," he said.
Maya Hawke and Spencer Barnett are private people
As for what's next for Spencer Barnett, he plans to temporarily postpone his admission to Brown University in order to pursue a music career, according to Cultured Mag. "My ultimate goal as a musician is really just to focus on the creation of the art," he explained. "As long as I'm happy with the music I'm making and the art I'm creating, that's fulfilling to me." As of this writing, Barnett appears to be following in the footsteps of other Gen Z creators, such as Kid LAROI, by leaning into social media and streaming platforms to appeal to younger audiences. "I think music streaming platforms are such a democratic thing for the industry, and for the listener too," he added.
But while Barnett is busy making a name for himself in the music space, he's kept his relationship with Hawke under wraps, as has she. Neither have confirmed their relationship, and they do not currently appear on each other's social feeds. This tracks with how Hawke has shielded her personal life from the press in the past, which is something she picked up from her famous parents. "They were wary of the public life side of acting and the difficulties of that," she told The Guardian in 2021. Uma Thurman also told Access Hollywood in February that her daughter is "sensitive."
Therefore, it sounds like Hawke and Barnett are navigating their relationship with maturity and caution. More power to them!