The Real Reason Gabrielle Union And Her First Husband Got Divorced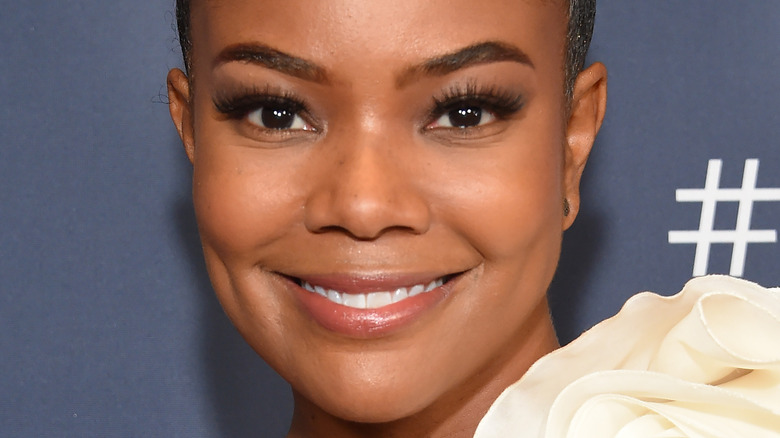 DFree/Shutterstock
In recent years, Gabrielle Union and Dwyane Wade have become one of Hollywood's power couples. The pair — who met in 2007 — often share their adventures online, posting photos of their time together. After tying the knot in 2014, Union and Wade appear to have happily blended their families. Union became step-mom to the athlete's three children from previous relationships, and welcomed her first child, Kaavia, in 2018.
The couple celebrated their seventh wedding anniversary in August 2021, and both stars posted loving messages to their other halves online. "Ain't No Stoppin Us Now. 7 years and a lifetime to go. My best friend, the coolest homie, mentor and inspiration, my love, my husband," Union wrote. Wade shared a photo of the pair alongside their children in Paris, writing, "To my wife @gabunion, Happy Anniversary baby and thanks for putting up with my s**t. I love loving you."
However, long before Union's time with the former NBA player, she was married to someone else.
Gabrielle Union says their trust was broken after an affair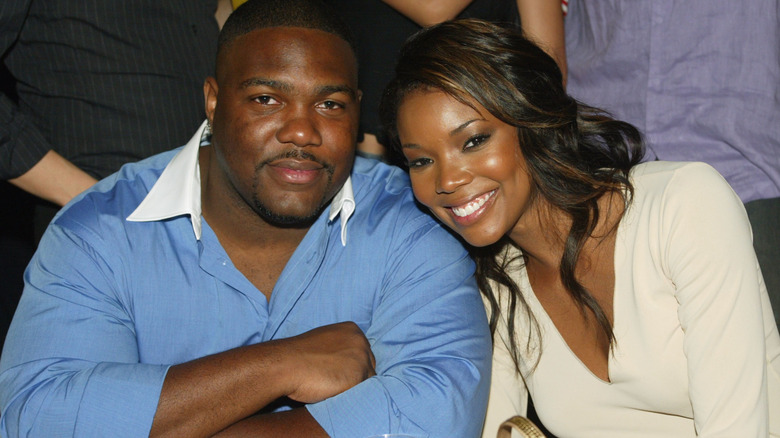 Kevin Winter/Getty Images
Gabrielle Union bared it all in her 2017 memoir, "We're Going to Need More Wine," and dished about many things — including her failed marriage to Chris Howard. From a fried chicken wedding proposal to their hungover bridal party, Union wrote that there were "many ignored red flags" (via Daily Mail).
However, the "Cheaper by the Dozen" actor revealed that their relationship truly dissolved because she feared Howard was cheating on her. In the book, Union writes of an instance where she found the phone number of a woman in Howard's laundry. She recalled yelling, "You think you're gonna call this b***h? YOU THINK YOU'RE GONNA CALL THIS B***h?" And while the number turned out to be for a take-out restaurant, Union and Howard later split after another incident with an alleged mistress named, Cameron Camera.
Union previously spoke of the alleged infidelity in her former marriage in a 2018 interview with VICE Life. During the interview, the entertainer revealed that she found out about a "Greek girl" Howard was seeing, a day after they got engaged. "I go to get on his computer ... And his boy messages him 'Yo, you still got that Greek girl coming this weekend?'" Union recalled. Adding, "I'm a lot of things. Greek is not one of them." Yikes.
Gabrielle Union hit rock bottom after the divorce
Leon Bennett/Getty Images
Gabrielle Union further opened up about her seemingly rocky marriage to Chris Howard, during an appearance on Jada Pinkett Smith's "Red Table Talk." When asked by Pinkett about a moment in her life that changed her perspective, Union recalled a time when she "hit rock bottom," following her divorce.
"I had to hit rock bottom, I had to lose everything," the actor said. "For me, that was my first marriage, going through the divorce process. I lost my show, my show was canceled. And I was having difficult relationships with my BFFs, my day ones. And it was everyone's fault, but my own." Essentially, she was going through a tough time all around.
Union talked more about her life post-divorce during the tour for her 2021 book, "You Got Anything Stronger?" While promoting the book, she told Chaka Zulu that after her split from Howard she "had a bucket list" of guys she wanted to entertain. Union shared a clip of her conversation with Zulu on TikTok, writing, "'Fasten your seatbelts for the F**k Boy Express.' I said to my 2006 self." Although she went through quite the rollercoaster, it seems like Union finally found her happily ever after with Dwyane Wade.