How Did Gabrielle Union React After Dwyane Wade Fathered A Child With Another Woman?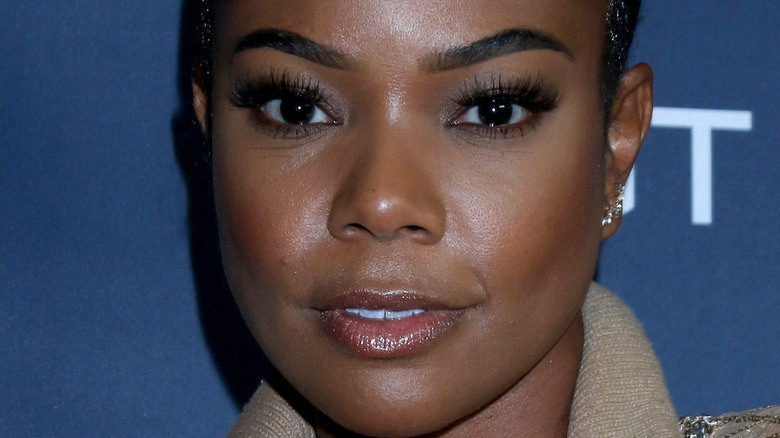 Kathy Hutchins/Shutterstock
Gabrielle Union opened up for the first time about how she reacted to the news that her on/off boyfriend at the time, Dwyane Wade, had fathered a child with another woman. The two started dating in 2009, shortly after Wade split with his wife, Siohvaughn Funches, and the "Being Mary Jane" star was forced to deny speculation that she was the reason for them going their separate ways.
The early years of Wade and Union's romance were certainly a bit of a rollercoaster, and they briefly split in 2013 — which is when Wade conceived his third child. According to People, Wade knew the woman "for years" before their dalliance, and he and Union worked through the matter in private before the news was made public in late December 2013. The two made it clear they were still very much together, with Wade even proposing to Union earlier that month. Union confirmed the big news on Instagram on December 22, 2013, sharing a close-up photo of her stunning engagement ring alongside the caption, "Sooooo this happened..." with dancing, clapping, praying, and heart eye emojis. She tagged her husband to be and made her answer very clear, hashtagging the post, "#Yessss." Cue the confetti and champagne! 
One thing Union didn't really do at the time, though, is publicly address what happened during their break. However, that's all now changed, and the former "America's Got Talent" judge may just be getting more candid than ever before.
Gabrielle Union opened up about the 'trauma' of Dwyane Wade's love child for the first time
Kathy Hutchins/Shutterstock
Gabrielle Union spoke out about what she described as the "trauma" of Dwyane Wade fathering a child, a son named Xavier, during the break in a very candid essay for Time published on September 15. Union admitted their relationship was not in good shape when Xavier was conceived but shared they were doing better when Wade came clean to her about what had happened. "To say I was devastated is to pick a word on a low shelf for convenience," Union wrote in the emotionally charged essay.
However, the situation was also painful beyond the obvious reasons. Union, who has been open about her experiences with adenomyosis, went on to explain that it hit her hard when she and Wade were trying to have a baby of their own, but struggled to conceive. "The experience of Dwyane having a baby so easily — while I was unable to — left my soul not just broken into pieces, but shattered into fine dust scattering in the wind," she shared. Though she struggled with the idea, she came around to surrogacy to have their own child, noting, "We gathered what we could to slowly remake me into something new. There was no way to disguise where I'd been glued back together."
As for why Union chose not to speak about what happened for so long? She explained, "I have not had words, and even after untold amounts of therapy I am not sure I have them now."
How did Gabrielle Union and Dwyane Wade move on after their reconciliation?
Speaking about how they moved past what many couples may not have survived, Gabrielle Union wrote in her Time piece that Dwyane Wade "worked to be forgiven" and made the decision to "love him and forgive him." She added, "Part of this journey of making peace with our love is also making peace with ourselves" and explained she doesn't think either of them would be the people they've become if they hadn't gone through the rough patch.
"I can never know if my failure to carry a child put a ceiling on the love my husband has for me. Yes, I am Baby Mama number three, a label that is supposed to be an insult. If I am telling the fullness of our stories, of our three lives together, I must tell the truths I live with. I have learned that you can be honest and loving at the same time," she shared.
The couple, who are still together as of September 2021, went on to welcome their adorable daughter, Kaavia James, via a surrogate in 2018. Dwyane is also dad to Zaire and Zaya, and he adopted his nephew, Dahveon Morris. As for where Union stands with Xavier? The two appear to be on good terms and she's even shared updates showing their family time on Instagram.
There's no doubting we have a whole lot of respect for Union for so candidly speaking her truth.