How Elsa Pataky Feels About Her Matching Tattoo With Miley Cyrus Now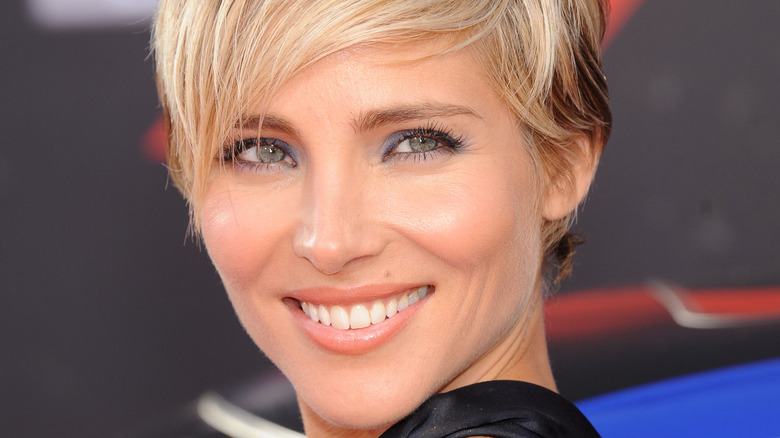 DFree/Shutterstock
Miley Cyrus and Liam Hemsworth divorced in August 2019, following a decade-long off-and-on relationship. While some heartbroken fans hoped for a reconciliation at the time, the two seemingly left things on less-than-amicable terms. By many reports, the breakup's aftermath was as unpleasant as the breakup itself (Did Cyrus not supposedly dedicate the heart-wrenching "Angels Like You" to their failed relationship?)
As Us Weekly reported in August 2020, Liam still had a sour impression of his ex-wife one year after their divorce. A source told the outlet, "Liam kind of has a low opinion of Miley at this point" after Cyrus apparently aired too much personal laundry out for his liking. "It's a shame to him and his family that certain aspects about his and Miley's relationship have been made public," the insider added. The "Prisoner" singer admitted at the time on the "Call Her Daddy" podcast (via Harper's Bazaar) that her separation from the youngest Hemsworth brother was "very public" and felt like "a death."
Liam's family had his back post-Cyrus split. According to Hollywood Life, his mother, Leonie Hemsworth, never fully approved of Cyrus and was even "relieved" when they divorced. As for older brother Chris Hemsworth and wife Elsa Pataky, they even let Liam crash with them at their Byron Bay, Australia mansion after his split per Vogue Australia. Given that Pataky and Cyrus were once so close as to get matching tattoos, how has the split complicated their relationship? 
Elsa Pataky doesn't regret her and Miley Cyrus' matching tats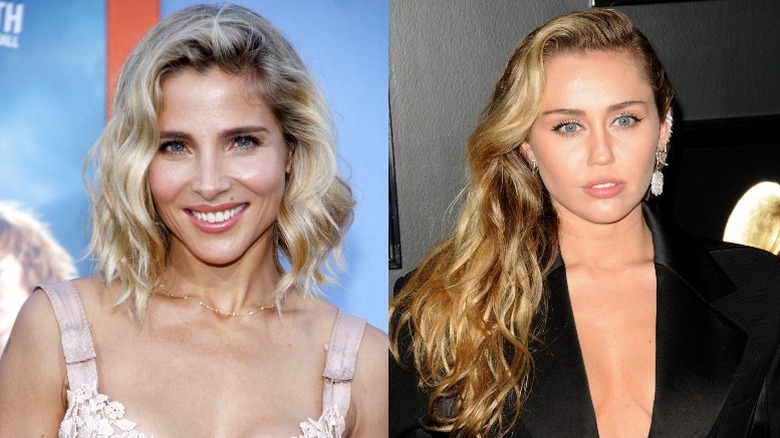 Tinseltown & Kathy Hutchins/Shutterstock
Despite recent reported frictions, Elsa Pataky reflects fondly upon her matching tattoos with Miley Cyrus. The two received the twin ink in 2016 from Sydney, Australia-based tattoo artist Lauren Winzer while Cyrus was engaged to Liam Hemsworth. A symbol of their then-friendship, the tat is a small wave pattern actually drawn by surfer Kelly Slater, per Winzer's Instagram share of her handiwork. Cyrus appeared to have the insignia inked on the sole of her foot, while Pataky had hers done on the inside of her left middle finger. "I don't regret any of them, they're symbols and I love having them and it reminds me of those moments," Pataky told Vogue Australia's February 2020 issue of the tats. 
During the course of their friendship, Cyrus and Pataky were spotted bonding on various occasions Down Under. In January 2016, per Daily Mail, Pataky, Cyrus, and a gaggle of girlfriends were spotted on a private shopping excursion after reportedly celebrating the New Year together. In April that year, the "Fast and Furious 6" actor even posted a touching tribute to Cyrus on her now-defunct Instagram account. "True friends are never apart, maybe in distance but never in heart," Pataky wrote alongside an intimate group photo of her, Cyrus and some other friends, using the hashtags "girls lunch," "best moments," and "love you girls."
However, Pataky's feelings about the "Plastic Hearts" crooner clearly changed after Cyrus' divorce from her brother-in-law.
Elsa Pataky said Liam Hemsworth deserved better after Miley Cyrus split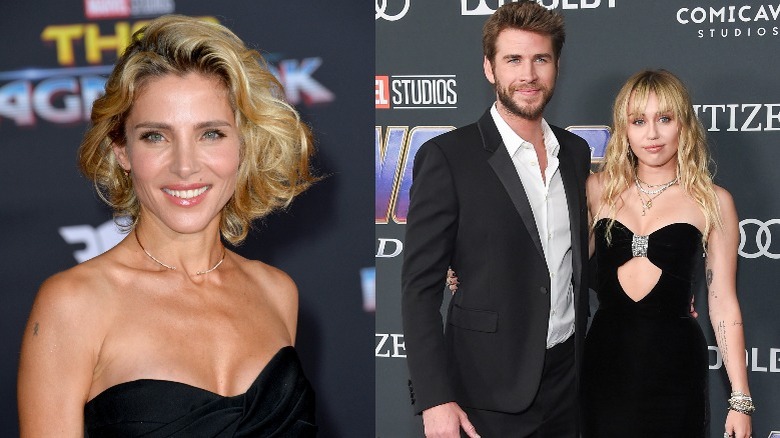 Featureflash Photo Agency & DFree/Shutterstock
Elsa Pataky didn't mince words standing up for her brother-in-law, Liam Hemsworth, following his divorce from Miley Cyrus. Speaking with Hola! in November 2019, Pataky reflected on Liam's well-being at that time, saying, "My brother-in-law, well ... After a relationship that you've dedicated ten years to, he's a little bit down, but he's coping well." Pataky continued by calling Liam "a strong boy" and opining, "I think he deserves much more." 
Luckily for Liam, his older brother, Chris Hemsworth (and Pataky's husband), was equally as protective. "You always find support in your family, and he's joined at the hip with his brother, who has been there to give all the strength he needed," Pataky told Hola! A source also told Radar in 2019 that Chris and Pataky "are the ones picking up the pieces" and will "happily do anything to protect Liam, including shutting Miley out of Liam's life." 
Chris even appeared to throw some shade at Cyrus in a 2020 interview with Aussie outlet News.com.au. Gushing about Liam's newly buffer physique at the time, Chris proudly said, "He's out there training and staying fit, and back in Australia doing his thing. It's Australian living, I guess," before adding laughingly, "We got him out of Malibu!" Many took this as a pointed jab at Cyrus about her and Liam's former Malibu home, as well as her 2017 single of the same name.