Is Kris Jenner Really Worried About Kylie Jenner's Spending Habits?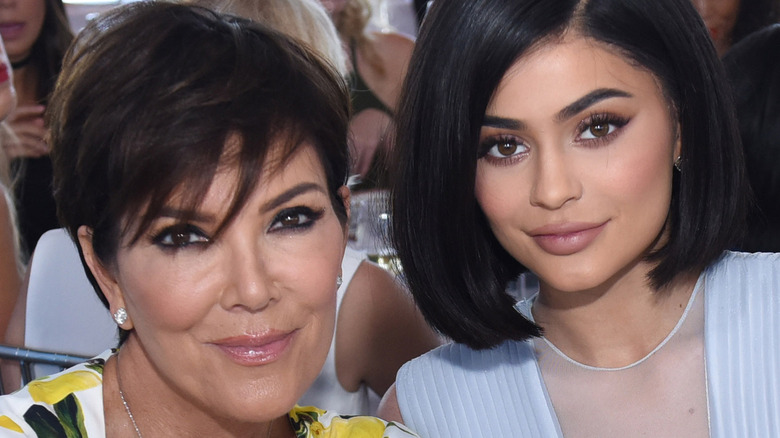 Vivien Killilea/Getty Images
There's no doubting that the Kardashian/Jenner clan are rich. And we mean super rich. Kylie Jenner is said to be worth an insane $700 million, according to Celebrity Net Worth, pulling in that serious amount of cash from appearing on "Keeping Up with the Kardashians" and the Hulu follow-up "The Kardashians," plus her many hugely successful business ventures, including Kylie Cosmetics.
The star isn't exactly afraid of spending that cash, either. According to TMZ, Kylie is the proud owner of a $36.5 million compound in Los Angeles which has more than we could ever even dream of, including not one but TWO guest apartments and its own guardhouse. Well, when your property is worth that eye watering amount of money, you've got to keep it all properly guarded, right?
So, what's a young multi-millionaire to do but to display that incredible wealth on social media. Duh. Kylie (who once celebrated her birthday on a $250 million yacht) has been known to show off her very lavish lifestyle on Instagram more than once, whether she's giving us a glimpse at her jewelry or showing off how she matches her accessories to her custom ride — but it sounds like all that flaunting may just have got her in trouble with her mom, Kardashian matriarch Kris Jenner.
Kris Jenner may have told Kylie to be 'more responsible'
Kylie Jenner's wealthy displays on social media may have rubbed up Kris Jenner the wrong way, as a new report is suggesting the reality star may be encouraging her daughter to calm things down a little when it comes to her finances. Page Six reported that Kris supposedly "had to step in and tell her to slow down" with the spending after seeing Kylie's Instagram upload showing off her and Travis Scott's his and hers private jets. "Kris is urging her to be more responsible with her money, make wise investments. But Kylie is 24, she has her own brand, and she does what she wants," they added.
On July 15, the mom of two shared a black and white Instagram shot of herself and Scott embracing in between their jets and a luxury vehicle, writing, "you wanna take mine or yours ?" Shortly after, a tweet went viral suggesting Kylie may have taken just a three-minute-long journey on her jet, which sparked criticism from many who claimed she was not being environmentally friendly.
Despite reports Kris, who is also Kylie's business manager, has warned her about her spending, she didn't seem too worried about Kylie's jet post at the time. In fact, Kris seemingly supported the controversial double jet photo, commenting, "Decisions Decisions" with two crown emoji. Another source also claimed to Page Six that, despite how it may look, Kylie is actually pretty responsible with her cash.