Inside Kylie Jenner's $250 Million Birthday Yacht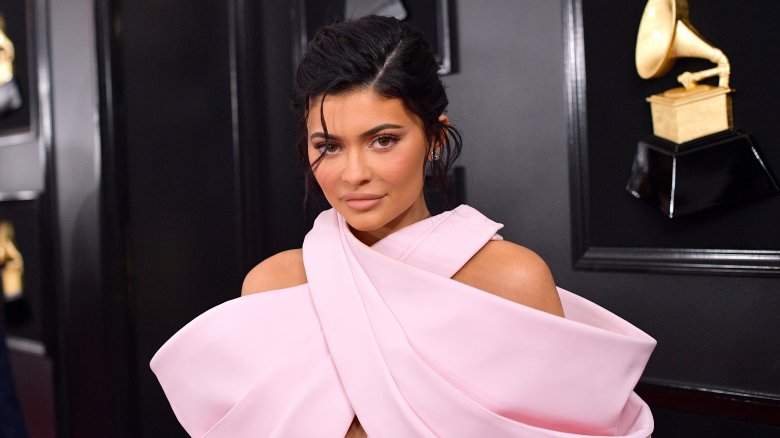 Matt Winkelmeyer/Getty Images
Kylie Jenner turns 22 on Aug. 10, 2019, and being the world's (reportedly) youngest self-made billionaire means she is sparing no expense to celebrate the occasion. 
According to TMZ, Kylie and her friends and family — including mom Kris Jenner, Corey Gamble, boyfriend and baby-daddy Travis Scott, Stassi Karanikolaou, Yris Palmer, Scott Disick, Sofia Richie, and Jenner's assistant Victoria – flew on a private jet to Italy on Aug. 7 to board a $250 million mega yacht named "Tranquility." What else did you expect from makeup mogul Kylie Jenner? A bouncy house?
Let's talk about this yacht, (pitcured below, while it was still called the Equinamity). Are you sitting down? According to TMZ, the luxurious $1.2 million per week rental spans 300 feet, sleeps up to 22 guests in 10 rooms that include a master suite, three VIP staterooms, four double cabins, two twin cabins, two convertible cabins, and two Pullman beds. Take a peek inside the boat right here, if you want to fly into a fit of jealous rage.
If Kylie's guests care to venture out of their cabins, they'll find a swimming pool with underwater lights, sauna, beach club, beauty salon, movie theater, spa, massage room, steam room, gym, and a Turkish bath. Guests might get a little lost trying to find all these places, but they have no need to worry. The yacht comes with a 29-person crew to answer any and all questions.
However, since we assume Kylie Jenner is one of those people who uses the phrase "my birthday month," her celebration started way before she and her guests set foot on the Tranquility. And what better way to celebrate than to promote your own brand? On Aug. 6, the youngest Jenner revealed a new makeup line on Instagram with an appropriate name. "The Birthday Collection launches 8/10 at 9am pst only on KylieCosmetics.com! Thanks for all the love this collection was so much fun to create," she wrote, adding, "check out my stories to see a closer look!"
The collection, per yet another Instagram post, includes an eyeshadow palette called "You're $o Money," three matte lipsticks named "Mama Boss," "Hustle Honey," and "Money Mindset," and liquid "Kyliner." Always be closing, Kylie.
And what would a 22nd birthday be without a grand gesture from your boyfriend? Travis Scott understood this concept well. On Aug. 5, Kylie shared a video on Instagram of the ground floor of her mansion that was covered in red rose petals and matching bouquets — a gift from Scott, the father of her daughter, Stormi (who can be seen playing with rose petals on the floor). "My house is covered in ROSES! @travisscott and it's not even my birthday yet!!!!! Omg," Kylie captioned the beautiful scene.
The two seem to be enjoying their time in Positano, Italy (pictured below) during Kylie's birthday trip E! News reports. "Kylie and Travis left the Tranquility yacht on Wednesday night for dinner in Positano. They took their small boat to shore and were taken to Il San Pietro Hotel for a meal at Zass on a cliff overlooking the sea," an eyewitness told the publication. "Kylie and Travis posed for many photos together and seemed to have a very nice time admiring the beautiful surroundings and the sea below. After dinner, they strolled through the garden taking more photos before heading back to their yacht." Uh...was this eyewitness Kris Jenner?
Love is definitely in the air in Italy right now, but does that mean wedding bells are on the way? TMZ reports that Kylie Jenner boarded her private jet to their romantic destination with what appeared to be a wedding dress. However, the Kardashian-Jenner clan don't give the game away for free, so the publication rightfully assumes that "it would seem odd" for the beauty influencer to "leave the train to her wedding dress exposed, knowing full well there are paparazzi watching." TMZ also reports that her sisters, Kim and Kourtney, didn't make the trip, and Kylie wouldn't get married without them.
And as far as holy matrimony goes, a source tells Us Weekly that walking down the aisle isn't on Kylie's to-do list anytime soon. "Marriage isn't important to Kylie but it's increasingly important to Travis," the source explained. "Travis is definitely into it. Kylie hasn't expressed huge interest in getting married but they've talked about it a lot." However, her sister Kim and a few of her friends think getting hitched would be the best thing for Kylie. "Kim [Kardashian] and some friends are advocating for them to get married because they like the structure of it," the source said. "[They] think it ... could be helpful for Kylie."
Look, Travis. You're in Italy with your billionaire girlfriend Kylie Jenner on a $250 million yacht. Just be happy to be there.