How Tall Is Jennifer Lopez?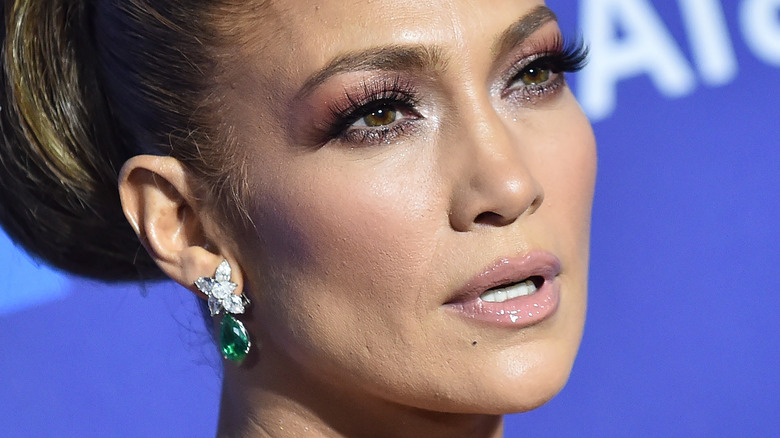 DFree/Shutterstock
Jennifer Lopez knows exactly how to get the world's attention. The superstar has been in the public eye for decades now, but is still a mainstay in the gossip columns like she kicked off her career just yesterday. Whether the world is talking about her latest movie project, music release, or even her ever attention-grabbing personal life, the world just can't get enough of JLo.
But it's her openness with the latter that a lot of people find so endearing about the multi-hyphenate. One thing the world in particular likes to gossip about? Who she's dating. One of the most talked about moments in her personal life has to be her notorious split with Alex Rodriguez (we'll let all the JLo and A-Rod rumors speak for themselves on exactly why they went their separate ways) and her subsequent reunion with Ben Affleck. The couple, who were one of the most talked about twosomes of the 2000s, sparked rumors in April 2021 that they were officially back on after People revealed they'd been spending time together — and giddiness ensued for all those who just couldn't get enough of Bennifer. Fans then rejoiced once again when Affleck got down on one knee in April, and there were gasps aplenty in July when Lopez and Affleck had a surprise Sin City wedding.
But while we know Lopez has reached the dizzying heights of superstardom, one thing you may not know is the height JLo is watching it all go down from.
Jennifer Lopez is proud of her height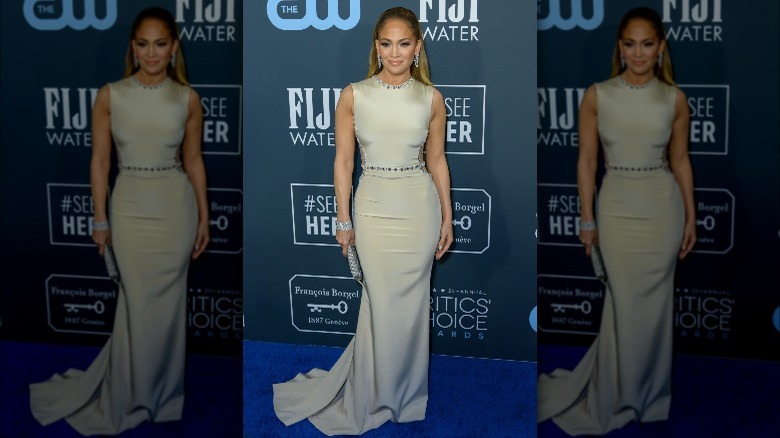 Silvia Elizabeth Pangaro/Shutterstock
Jennifer Lopez is pretty petite. According to Celeb Heights, the "Marry Me" singer stands at 5 foot 4 inches, which is a height she's more than happy with, thank you very much. The star has opened up a few times about her stature, admitting she has no problem with being a little shorter than the average model you might see walking the runway. "I'm not a size 0 or 2. I'm not 6 feet tall like a lot of the models that come around, and I'm like, 'Wow, I'm really short compared to models! I'm just a regular woman," Lopez explained to Vogue in 2012 (via Today).
And it sounds like that body confidence was instilled in the star from an early age, as she admitted six years later while speaking to In Style (via Bravo) that she grew up around strong, confident women who worked their curves. "My mom and my grandmother were the ones who drilled into me, 'This is how we are, and this is what's beautiful.' My dad loved my mom's body — all the men in our family loved the women's bodies," Lopez explained, noting, "Being curvy or not, being 6 feet tall was never a bad thing; it was actually something that was celebrated." She added that she's now trying to instil that same body confidence into her children, sharing that the things that are most important always come from the inside. We love to see it!
Jennifer Lopez loves her heels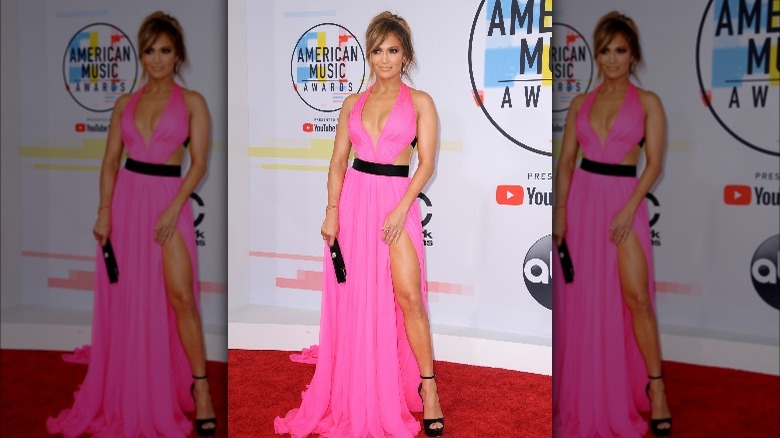 Tinseltown/Shutterstock
But despite being more than happy with her height (as she should be!) there's no doubting Jennifer Lopez is a fan of adding a little height to her 5 foot 4 inch frame. The star has a collection of high heels we're insanely jealous of, and she's even revealed a few big secrets to wearing stilettos constantly over the years. Among those tips for adding a little height but trying to avoid the discomfort that comes with a super high heel (seriously, they hurt!) Lopez told Vogue in 2017, "Try to find shoes with a little bit of a platform, even if it's hidden. It makes a huge difference." She also shared that practicing walking in them at home can change the way uncomfortable shoes fit. "By wearing heels frequently, you figure out how to distribute your weight and posture so that all the pressure isn't only on the arches of your feet, which is what usually causes pain," she explained.
Lopez loves her shoes so much that she even launched her own collection, JLO Jennifer Lopez footwear, in 2020, but she has a much more sentimental reason for rocking heels than wanting to add a little height. She explained to WWD that she wore her shoes until they had holes in when she was a kid, and being able to wear any pair she wants today humbles her. "It was a dream and success and accomplishment... It became a symbol to me," she said.