Has Maya Hawke Ever Acted With Her Famous Parents?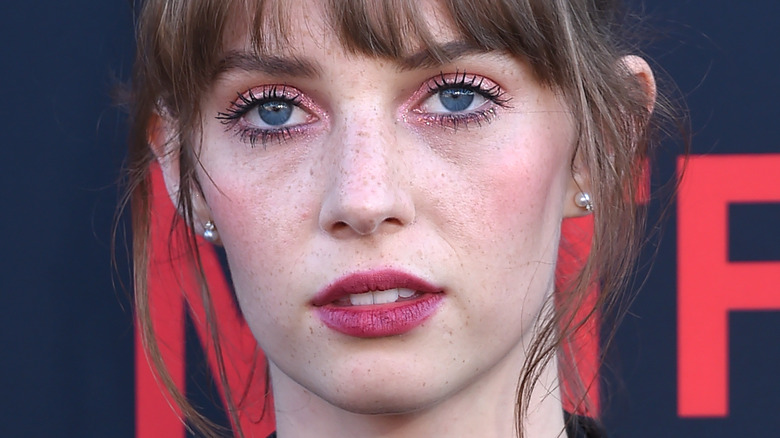 DFree/Shutterstock
Actor Maya Hawke has made a name for herself as a prominent performer in Hollywood, and her talent is certainly in the genes. Both of her parents, Uma Thurman and Ethan Hawke, are two of the most well-respected actors in the business. From films like "Pulp Fiction," which Thurman starred in, to "Dead Poets Society," which is one of Ethan's many memorable movies, Maya's family history is full of amazing performances. That being said, the parents of the "Stranger Things" actor made sure she was protected from too much Hollywood exposure while she was growing up. 
"They also tried to protect me from falling into acting," Maya said to The Guardian of her parents in 2021. "They didn't want to cart me along every red carpet or have me do bit-parts in their movies." Maya has also opened up about how encouraging her famous mom and dad are. "My parents are wonderful and really supportive and have ... given me a lot, and I feel really grateful to have their support," Maya said on "The Jenny McCarthy Show" in 2019. With such talented actors in the family, viewers have been left wondering whether Maya has collaborated with Thurman or Ethan since she decided to follow in her parent's footsteps.
Maya Hawke was in a show with a famous parent and has plans for more collaborations
Fans of Maya Hawke and her celeb parents, Uma Thurman and Ethan Hawke, will be pleased to know that some exciting new projects are on the way! In 2020, it was announced via Deadline that Maya and Ethan would be playing father and daughter roles opposite each other in the upcoming rom-com, "Revolver," whose release date is yet to be announced. The duo additionally worked together on an episode of "The Good Lord Bird," a Showtime limited series. Maya spoke to Entertainment Weekly in 2020 about joining forces with her father for the show, which was based on the James McBride novel of the same name.
"Working with my dad was great. I hope to work with my dad my whole life," Maya said. "He's my greatest teacher and my greatest adviser, and it's an honor to get to work alongside him." In May 2022, the news broke that Maya would next be joining her mother, Thurman, in a comedic thriller film called "The Kill Room," per Entertainment Weekly. The movie will also reunite Thurman with a "Pulp Fiction" costar, Samuel L. Jackson, who is likewise set to star in the movie. When Maya and her parents aren't collaborating professionally, they also make sure to vocalize their support of one another.
Ethan Hawke and Uma Thurman are proud parents of Maya Hawke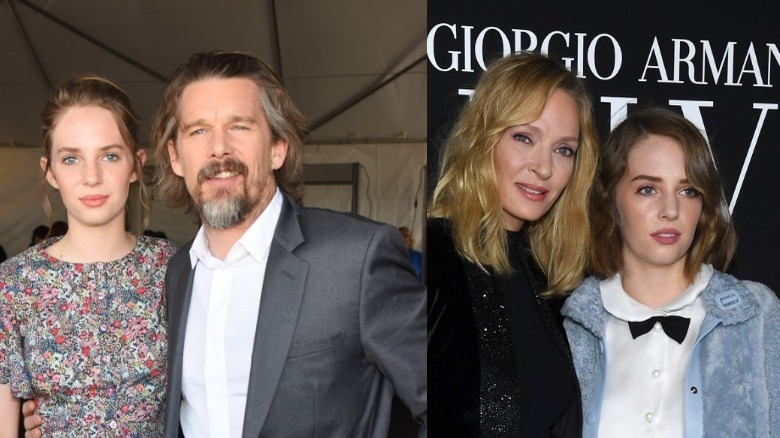 Pascal Le Segretain & Araya Doheny/Getty & undefined
Maya Hawke, Uma Thurman and Ethan Hawke are family members who not only work together, but have each other's backs off set as well. When Thurman chatted to Extra in February 2022, she emphasized how impressed she is with Maya's power as a performer. "I was so scared for her to be an actress, and then when I saw what a brilliant actress she was, it just ... moved me very much. She's so talented," Thurman said.
Ethan has also commented on witnessing Maya's impactful acting skills while discussing "The Good Lord Bird" on "Late Night with Seth Meyers" in 2020. "She has a grace that she gave the show that I didn't know that we needed so badly," Ethan said of his daughter. In addition, during a 2021 Extra interview Maya explained the important tips her parents have taught her about being a public figure. "What I've learned from them is, if you want people to believe you can be anybody, they can't know you that well," Maya said to Extra in 2021 before adding, "And so you've got to be careful with how you use social media." Maya, Thurman and Hawke will hopefully have their joint ventures out sooner rather than later so viewers can witness a combination of their dedicated acting abilities.