The Tragic Story Of Jessica Chastain's Younger Sister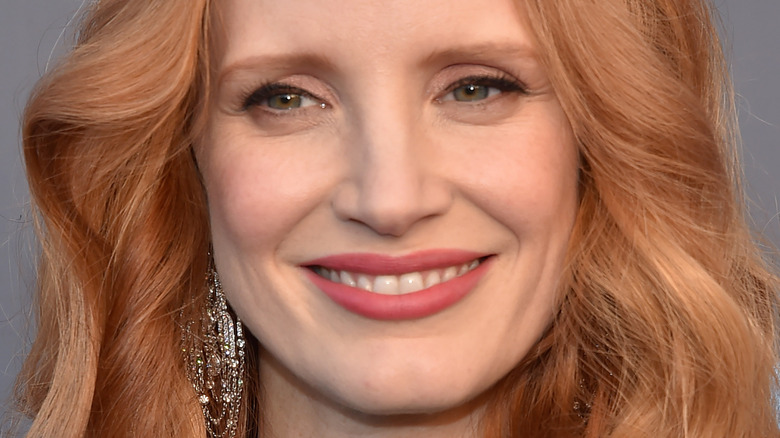 DFree/Shutterstock
The following article discusses mental health and drug use.
Jessica Chastain has it all: fame, talent, millions to her name, and an Oscar under her belt. But "The Eyes of Tammy Faye" star started out with all the odds stacked against her. Born to a 16-year-old and 20-year-old, Chastain was raised amid adversity, according to Us Weekly. A rock musician named Michael Monasterio, Chastain's father was never in the picture, which is why she has her mother's last name. Her mother raised her and her siblings in northern California the best way she could. "It was really, um, it was not what you would expect. When people see me, I think they expect a different background than I have," she told The Times in January.
Despite her mother's best efforts, the family often had to take desperate measures. "We stole food at the store because we didn't have any money," Chastain told ES Magazine in 2017. It wasn't exactly a secret. "Some people knew she was doing it but didn't stop her," she said. "So there is kindness everywhere. We're okay now because people were protecting her."
Knowing her family could never afford to send her to acting classes, Chastain offered to work at the local performing arts school in exchange for tuition. "There were people that saw I was struggling as a kid and they helped me," she told The Times. Chastain clawed her way out of that harsh reality, but tragedy continued to strike her and her family. This is particularly true about her sister, Juliet. 
Jessica Chastain's sister died by suicide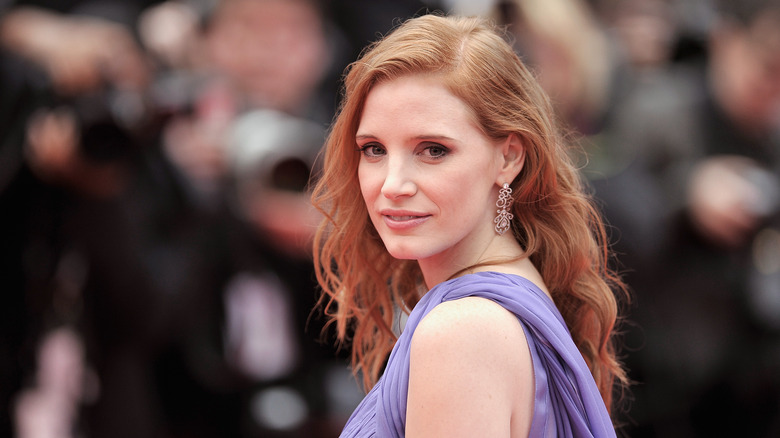 Gareth Cattermole/Getty Images
A scholarship awarded by Robin Williams allowed Jessica Chastain to study at the prestigious Juilliard School, something she would have been unable to do without the financial help. "He made it possible for me to graduate college. His generous spirit will forever inspire me to support others as he supported me," she wrote on a Facebook post in August 2014 (via Entertainment Tonight). Through hard work and the help she received along the way, Jessica carved out a prosperous future for herself. But not everyone in her family had the same luck.
Her younger sister, Juliet Chastain, suffered from addiction and mental health conditions from an early age. Three days before Jessica graduated from Juilliard, her sister died by suicide at 24. "She had struggled a long time with drug abuse, and she had a lot of attempted suicides, but you never really think this is going to happen ... And when you get the call, it's... shocking," Jessica told Modern Luxury in 2016.
Juliet died at the home of Michael Monasterio, with whom she had recently reconciled — something Jessica never did, Daily Mail reported. "Losing my sister did bring us together as a family," she told ES Magazine. Juliet's death also gave Jessica another perspective on life. "It completely changed the person I am. A movie, Oscars, a dress, if someone thinks I'm stupid ... I realized nothing is that important," she told InStyle in 2014 (via Page Six).
Juliet's death inspired Jessica Chastain's activism
In addition to acting, Jessica Chastain is also an advocate for causes that are close to her heart. Among them is mental health, which she supports through To Write Love on Her Arms, a nonprofit organization that helps those suffering from substance abuse, depression, and suicidal thought. The actor came across the NGO about a decade ago. "I started searching online ... my sister killed herself. And that is in my history," she told Yahoo.
The experience urged her to take action to prevent similar tragedies from happening. "For me, suicide is a very important issue. If I can do anything to help someone move through any darkness that they're in, I'm gonna do whatever I can to help," she added. Losing her sister also inspired her to change the way mental health is normally portrayed and understood. "I have so much empathy for people struggling with depression. Because society doesn't really understand it," she told ES Magazine.
The problem becomes glaring when celebrities are afflicted. "I noticed that with Robin Williams and Philip Seymour Hoffman," she added. (Williams died by suicide while Hoffman died from an accidental drug overdose.) "They're made to feel like they're being selfish." This attitude exacerbates the problem because those struggling with mental health conditions often try to hide it. "If someone is dealing with depression, you can't trust that person to reach out to you in a society that doesn't really welcome that," she told Yahoo.
If you or anyone you know is having suicidal thoughts, please call the National Suicide Prevention Lifeline by dialing 988 or by calling 1-800-273-TALK (8255)​.