Khloe Kardashian Proves She's Unbothered As Ever Amid Tristan Thompson Drama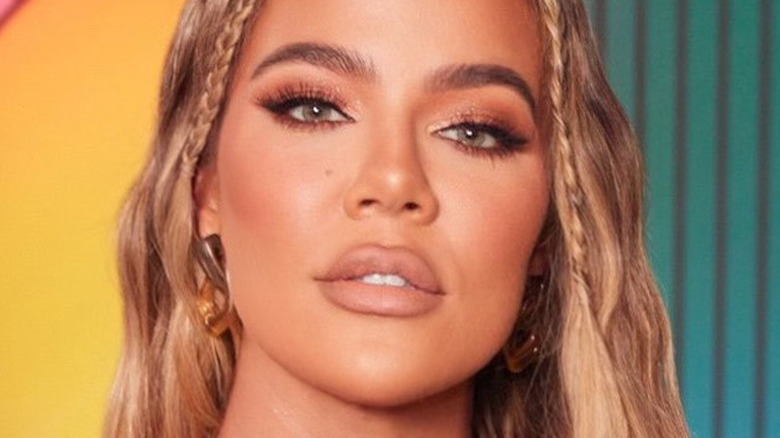 Shein X 100k Challenge 2021/Getty Images
Khloé Kardashian created headlines after the news of her second child with Tristan Thompson broke on July 13. TMZ reported the 38-year-old reality star and Thompson are having a second baby via surrogate, planned before the NBA star was caught cheating on Kardashian again. As expected, Twitter had many feelings about this latest baby news. Fans dragged the Good American founder on social media for having another child with Thompson, who's known to be a serial cheater.
One fan tweeted, "Khloe Kardashian suffers from self esteem issues and it's deep-rooted. Not her having another baby via surrogate with community dick Tristan Thompson. What message is she sending to True? Girl love yourself!" Someone else wrote, "God please shield me from loving a man the way Khloe Kardashian loves Tristan Cheating Thompson." One person is done with the drama and tweeted, "So Khloe Kardashian is having another baby with Tristan Thompson!? Girl bye."
But one fan supported the reality TV star by tweeting, "Tristan Thompson does not deserve Khloé Kardashian. Once a cheater, ALWAYS a cheater!" Far from being upset, Kardashian is proving she's unbothered as ever amid the Thompson baby drama.
Khloé Kardashian reminds fans she's a queen in latest Instagram post
Khloé Kardashian wants fans to know she's still a queen by posting a bikini pic on Instagram and writing, "Don't forget, the crown may tilt at times but it never falls." The "Revenge Body" star looks stunning in her tiny bikini, showing off her intense abs. Tristan who? From her Instagram, it looks like Kardashian and True are on vacation, living their best lives.
On July 14, the Good American founder posted a photo with True on Instagram on the steps of a private jet with the caption, "Wheels Up on Kylie Air [hearts emoji] Kamp KoKo is underway." The 38-year-old also posted an adorable snap with her daughter in the ocean on Instagram, "Me and my best girl making the best memories. I will forever have your back my angel girl." While True's mom is taking the high road, Tristan Thompson's behavior amid the baby drama is exactly what we expected. True's father is making new friends and living it up on vacation in Greece, per TMZ.
On July 14, a source told People, "Just like they do with True, Khloé will co-parent the baby with Tristan." The inside source further explained, "Tristan is the dad, and Khloé wants him involved as much as possible. He is great with True." From her Instagram, it looks like Kardashian is getting a wonderful reset before the new baby arrives.