Tristan Thompson's Behavior Amid Khloe Kardashian Baby Drama Is Exactly What We Expected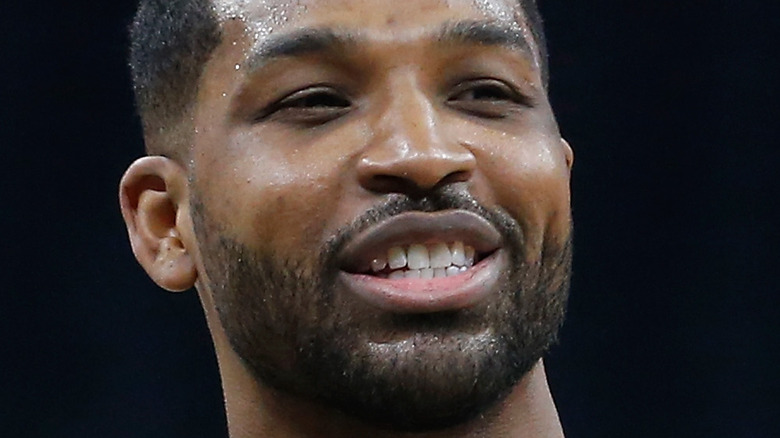 Lachlan Cunningham/Getty Images
Despite Khloé Kardashian's multiple splits from Tristan Thompson, she just can't seem to quit him. Per Seventeen, Kardashian and Thompson first got together in 2016, and to say it's been a bumpy ride would be an understatement. The tumultuous two welcomed their daughter, True, in April 2018, amid rumors Thompson cheated on Kardashian during the pregnancy. They split in February 2019 after TMZ let the cat out of the bag by reporting that Thompson had allegedly cheated again with Kylie Jenner's BFF Jordyn Woods.
"When [the Kardashians heard] Tristan made out with Jordyn, no one really believed it," a source told People. "That Tristan would be inappropriate, yes everyone knows that he can't behave, but that Jordyn would make out with him [seemed like a rumor]." By August 2020, they were back on after COVID brought them together and proved it's hard to cheat when there are no other women around. "Khloe and Tristan have been isolating together," a source told ET. "This alone time has really allowed them to reconnect without outside influences."
However, they split in July 2021, after DNA forced Thompson to 'fess up to cheating again and fathering a baby with another woman. "Khloé, you don't deserve this," he posted on Instagram Story (via CNN). "You don't deserve the heartache and humiliation I have caused you." In July 2022, TMZ reported they were expecting a baby via surrogate. And, not surprisingly, Thompson's behavior during Kardashian's baby drama is exactly what you'd expect.
Tristan Thompson is living his best life as usual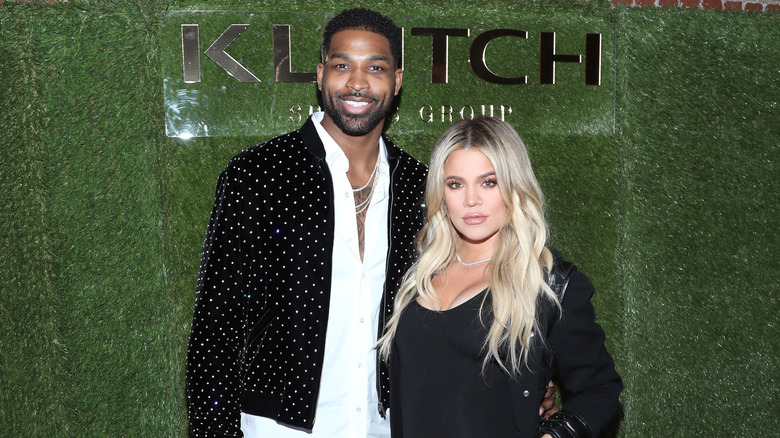 Jerritt Clark/Getty Images
TMZ first reported Khloé Kardashian and Tristan Thompson's new baby was being born via surrogate. A source told the website on July 13 that the little boy's birth was "imminent, within days." While according to another source, he may have already arrived. TMZ noted that the timeline indicates the couple likely already decided on having a second child before splitting over Thompson's last cheating scandal. Whether he is already a father again or not, he's still living his best (seemingly single) life. E! News reported the baller was snapped chillaxin' in Mykonos, a Greek island renowned for its hard-partying and banging nightlife scene.
"You can't fall if you don't climb," he posted on Instagram the same day TMZ broke the surrogacy news. "No happiness in living your life on the ground. Keep climbing, step by step." At the same time, Kardashian posted a pic of her, True, and her brother Rob's daughter Dream in an exotic locale, captioned with a love heart. Keeping everybody guessing, she didn't add a location, but it appears to be overseas.
Which begs the question, will Kardashian be raising the new baby with or without Thompson? Fans certainly hope not, judging by the reaction to her Instagram post. "Khloe, you deserve better; going back to Tristan is just so not right, you might think you're doing the right thing for yourself, but your not," wrote one. "Sis I — ugh whyyyyyy," wrote another.