Brad Pitt Has Been Getting Close To A Much Younger Star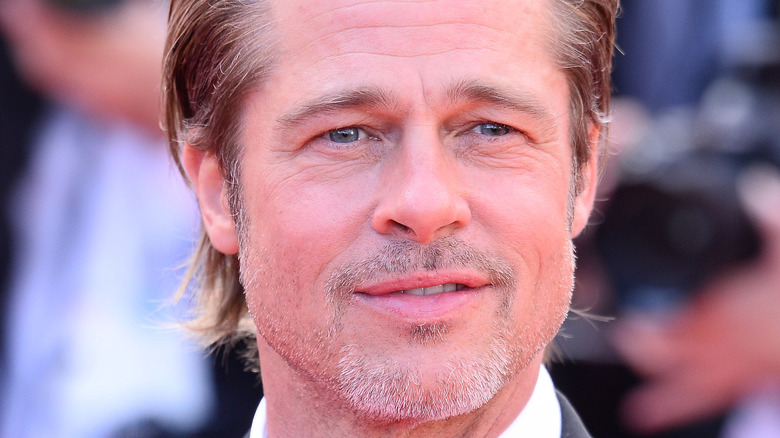 Isaaack/Shutterstock
Brad Pitt has been living it up on his worldwide "Bullet Train" press tour. As the star makes his way from country to country promoting the action-thriller, his jovial attitude has been accompanied by some pleasantly odd fashion moments. Draped in a casually dapper oversized ensemble, Pitt shocked some when he debuted an inexplicably chipped tooth in his smile at the London premiere, per the Daily Mail. 
The real talk of the town, however, has been that skirt moment at the film's Berlin premiere. Pitt rocked a mid-length (and wrinkled) brown skirt, paired with a brown jacket and black military boots. Fans and the media immediately gobbled up the movie star's edgy choice. As the Daily Beast noted, "Younger stars like Harry Styles and Jaden Smith are frequently lauded for their gender-bending looks, but it's rare to see an affirmed, bona-fide Hollywood superstar in his 50s take such a bold fashion risk." Hilariously, Pitt actually had a pragmatic reason for his punk-rock look. "It's all about the breeze," he quipped on the red carpet, per Elle. 
In true Hollywood icon fashion, Pitt, who recently alarmed fans by hinting at retirement, also made the most of his press tour's photocall moments — and he wasn't alone. He and co-star Joey King disarmed everyone with their chemistry while posing for photogs. 
Brad Pitt and Joey King's friendship is absolutely endearing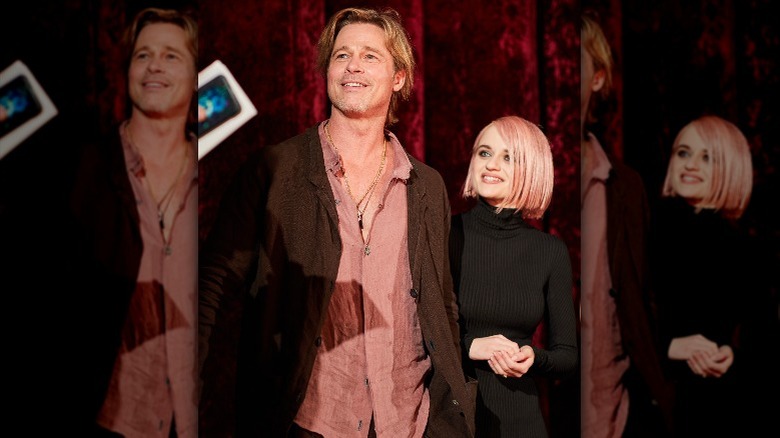 Sebastian Reuter/Getty
This is one friendship we can't get enough of! Brad Pitt and "Bullet Train" co-star Joey King, his junior by 36 years, entertained the masses with their hammy camaraderie during the film's press tour. Often posing alongside costars Aaron Taylor-Johnson and Brian Tyree Henry, Pitt and King stood out for their shared cheeky sense of humor. At the July 20 London photocall, Pitt struck some goofy fight poses, while King deliberately blocked Pitt in other shots with her own dramatic voguing, per Just Jared. Additionally, King showed off their kinship on Instagram, posting a chummy shot of her and Pitt with Taylor-Johnson and Tyree Henry in front of the Eiffel Tower. As one comment read, "Okay this is a flex." 
The cameras don't lie — King really did get close to Pitt during the filming of "Bullet Train." As the "Kissing Booth" star told Men's Journal, "I learned a lot from Brad, some incredible personal life lessons. He's been in the public eye for so long. It's such a weird thing to balance. Only a niche group knows exactly what it feels like. Brad was so gracious in helping someone like me." King also praised Pitt's comedic gusto in the humorous action-thriller, gushing that he "is absolutely hysterical in this movie."
Overall, filming "Bullet Train" was a "zoom-out Hollywood moment" for King, who called her involvement in the star-studded movie "insane."